Solar energy powers up Jinzhai
p.china.org.cn by Wu Tong,July 02, 2019

Adjust font size: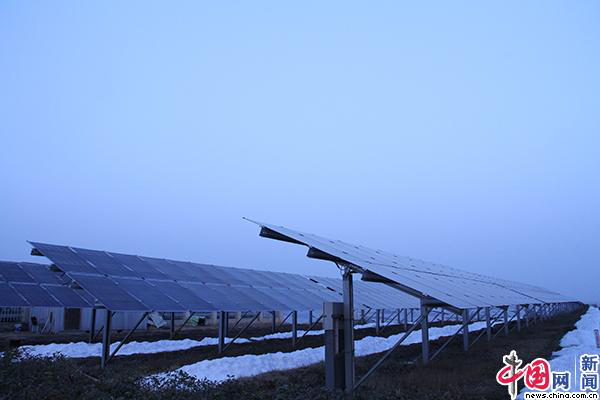 The Baita Solar Power Plant, constructed by Xinyi Solar, is one of many such facilities in the Baitafan town. [Photo byDong Xiaodi / China.org.cn]
Located in the Dabie mountains, Jinzhai is the largest and most populous mountainous county in central China's Anhui province. It was also on the first list of counties with extreme poverty. Through years of poverty alleviation work, the number of its impoverished population dropped from 193,000 in 2011 to 40,000 at the end of 2017, and thus poverty incidence rate fell from 33.3 percent to 6.8 percent. Of various initiatives, the poverty alleviation project by installation of solar PV panels in poor households has won widespread recognition and is listed as one of China's ten demonstration projects for targeted poverty alleviation.
With an annual average of 2,100 hours of sunshine, Jinzhai is rich in solar resources. In 2014, after a thorough analysis, the local government initiated a pilot project that firstly installed eight 3KW distributed solar power panels on the roofs of eight impoverished households. Then the project was expanded to cover 2,008 households within the same year.
Shen Shufa of Xiangchong village was one of the first four villagers who got solar power panels installed in 2014. In 2015 he earned 1,500 yuan (US$220) from power generation. That sum increased to 2,500 yuan (US$360) in 2016 and to 3,200 yuan (US$470) in 2017.
The cost of installing one set of solar PV panels is 24,000 yuan (US$3,500), a large sum of money for a poor family. In 2014, the Jinzhai government adopted a policy that each household participating in the project pays 8,000 yuan (US$1,200), the poverty alleviation fund provides 8,000 yuan (US$1,200), and Xinyi Solar, thephotovoltaic glass producer, contributesthe remaining 8,000 yuan (US$1,200). Those who cannot raise such a sumare able to obtain a loan with interest subsidized by the government. And they can repay this loan with the income from the power generation.
According to Chen Yuting, who works on poverty alleviation in Shen's village, these solar power facilities can generate electricity for 20 to 30 years. They do not need much management and maintenance and can achieve profitability in a short period of time.
To boost the participation of impoverished households, the Jinzhai government has adopted another policy. Each household can take a share in the larger solar power plant built by the village committee at a cost of 5,000 yuan (US$730) and receive an annual dividend of 3,000 yuan (US$440) for four years.
Liuchong in Baitafan town is among the first batch of villages that have eliminated poverty through solar energy. Xinyi Solar rented about 290 hectares of wasteland on slopes in the village and built a 100 MW agricultural solar farm with an investment of 800 million yuan (US$120 million). This brings more than 100 local farmers a rental income of 3,000 yuan (US$440) per acre of land. Connected to the state grid on January 1, 2016, the farm generates 12,000 MWH of electricity a year and its profits and taxes amounted to 30 million yuan (US$4 million).In addition to power generation, the farm also plants tea trees amid the solar panels, providing part-time jobs for villagers.
Once an impoverished household in Liuchong, Jiang Chuansheng owns about 1.15 acres of land. Half an acre is devoted to tea trees, and the rest is rented out. With more than 5,000 yuan income from tea production, 2,000 yuan from land rental, and a 3,000-yuan dividend from solar power generation a year (totaling US$1,460), his family of three have freed themselves from poverty.
According to Zeng Fanhao, Party secretary of Baitafan,the contribution from solar power generation every year – one cent from every KWH of electricity – to the poverty alleviation fund in the town reaches approximately 1.2 million yuan (US$174,000), and these money are used in infrastructure construction and providing a basic security net for local residents.
To date, Jinzhai has installed 3KW distributed solar power facilities for 7,803 impoverished households, 60KW solar plants for 218 villages,and 15,000KW solar plants for 23 towns.
Development of solar power has not only increased incomes for the impoverished inthe long run,but also promoted the use of clean energy. As a result, it has been warmly welcomed. Poverty alleviation teams from more than 90 counties in 20 provinces of China have visited Jinzhai to learn from its experience. It is hoped that such solar panels will power up even more places.