Impoverished students in Longhua get new desks at home
p.china.org.cn by Jin Ling,June 24, 2019

Adjust font size: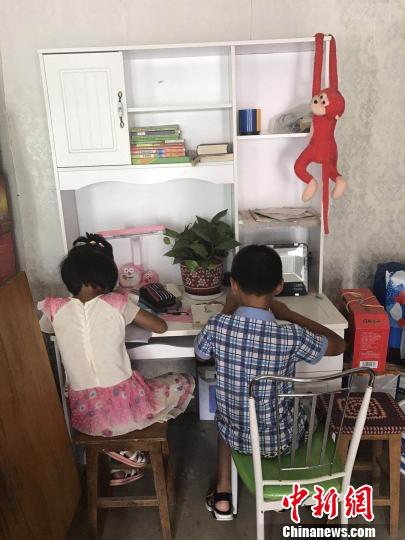 Zhang Xiaoxue (left) and her brother Zhang Xiaohui do their homework at home on a desk donated by a poverty alleviation program. [Photo by Ding Haidong]

Located in north China's Hebei Province, Longhua is identified as a national-level impoverished county. According to the Chengde Volunteers Association, most children from impoverished families there do not have a proper place to study at home. They have to do their homework on their kang (a big built-in brick bed).
"The children said they wanted a desk so that they could sit on chairs to write instead of bending over on the kang," said Gao Yanping, a team leader of the Chengde Volunteers Association.
Having realized that they were mainly supporting these children at school but had overlooked their home education, Li Jian, head of the Publicity Department of Longhua, initiated a poverty alleviation program to provide impoverished students receiving compulsory education with a place to study at home. The project received donations from good-hearted people and philanthropic organizations.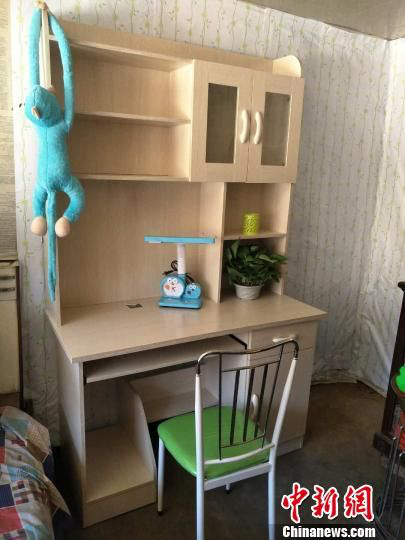 With several overhead compartments, this desk, donated to an impoverished student in Longhua, provides additional storage for dictionaries and literary works, an eye-protection lamp, a potted plant and a monkey toy. [Photo by Ding Haidong]
Some home improvements are done to make a comfortable environment for children doing their homework and reading.
The program is implemented by the Chengde Volunteers Association, and the study facility comprises a desk with several overhead compartments, providing additional storage for stuffs and books. The cost for each household is from 1,600 (US$231) to 2,100 yuan (US$303) and until now around 50,000 yuan (US$7,215) have been put into the improvements.
"It's very comfortable to sit by the desk and I feel more efficient when doing my homework," said Zhang Xiaohui, a grade 6 student in Tianjiaying village. He and his sister Zhang Xiaoxue are beneficiaries of this program.
Dong Yujie's two grandsons are another beneficiary in this village."They didn't have a proper place for studying before. Now they like to study at the desk very much," said Dong, with a broad smile.
"A girl told me that she has started to keep a diary because she could lock it in the drawer now,"said Xie Chenzhao, secretary of the communist youth league committee in Longhua. According to Xie, decorations and details of the desks differ according to gender of these children. "We are doing these things for poor children from the bottom of our heart, hopefully more people and charity organizations will join us to make the program contribute more to poverty alleviation," he said.
In the trial run, 22 households in two villages of Longhua – Tianjiaying and Yabadian – have benefited from this program, and some 600 eligible households in the county will be covered by the program in future.