Gansu: Workshop brings poor women financial independence and a new life
p.china.org.cn,March 08, 2019

Adjust font size:

Ma Daixi, 34years old, who works with her mother-in-law at Zhenxing umbrella poverty alleviation workshop,said joyfully, "I am very happy now.I can buy what I likefor my kids and myself, and I don't need to totally depend on my husband."

Before working here, Ma was a housewife and busy with farm work. She had never been out of town since she was young,far less earned any money. When the workshop was recruiting, Ma's husband wasreluctant to allow her to workthere. But considering the financial situation of the family, he finally gave his permission.Through her work, Ma realized that knowledge is essential, so she started to study every day.

Dongxiang autonomous county, located in Linxia autonomous prefecture of Gansu province, is the only autonomous county of Dongxiang ethnic group and is classified as a national poverty county. Zhenxing umbrella workshop is a project introduced by its assistance counterpart, Huli district of Xiamencity,that aims to help poor households,especially left-behind women. The workshop was established in the relocation center based on the poverty alleviation relocation project. It functions according to the model of "poverty alleviation workshop + impoverished households" and produces umbrellas. At present, Zhenxing umbrellas are exported to Japan and other countries.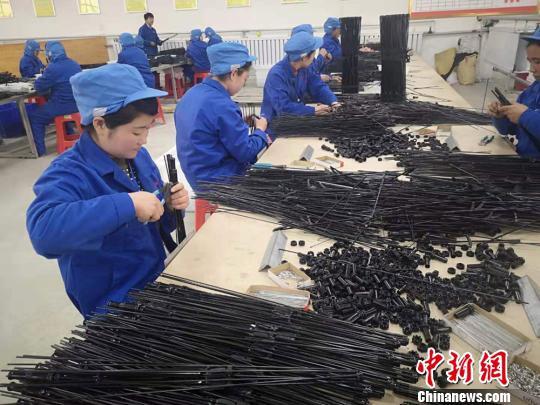 Workersmake umbrellaframes in the umbrella workshop in Dongxiangautonomouscounty,Gansuprovince. [Gao Kangdi/Chinanews.com]
Lin Bingquan, the head of the workshop, said that when he first came here he could hardly understand what his employees were saying and needed help with translation (thecommunication barrierwasmainly caused by local accent). Afterwards, he taught workers Mandarinas well as teaching them how to make umbrellas.
Lin said that the women of Dongxiang care a great deal about their families. They like to leave work around 4:00pm so that they can cook the dinner. Therefore,work in a nearby workshop is a good option.
"We get paid at the end of each day. I can earn 50 yuan plus an extra 20-yuan transport subsidy. When I am off work, I still need to take care of my children and parents. "Although a two-hour commute does not seem to bother Ma, her family will move to a new house next to the workshop after their poultry and livestock are all well settled.
Ma came to work here in early December of 2018 and she will get a bonus every month after completing her three-month training. Ma feels that now she has a say in her family's affairs.
Yang Yuanzhong, Party secretary of Linxia autonomous prefecture said that poverty alleviation workshops serve as a base for new techniques and new ideas.This workshop gives local house wives job and a decent wage. It is obvious that the new model of poverty alleviation through developing rural industry is bringing benefits to local people.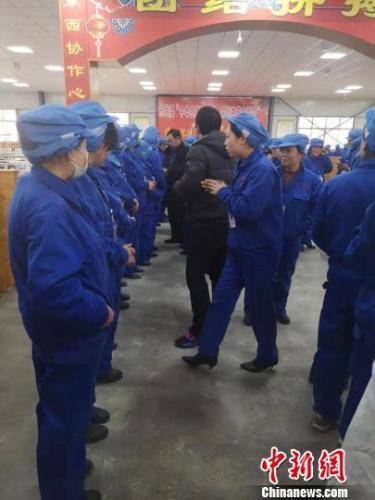 Workersqueue for theirdaily wages inthe Dongxiangumbrella workshop. [Gao Kangdi/Chinanews.com]
According to the local government of Dongxiang county, a total of 22 poverty alleviation workshops will be built, five in settlements and 17 in administrative villages.To date, 12 have beencompleted.
"The workshop has brought a revolution to Dongxiang." Ma Lingzu,director ofthe Standing Committee of Dongxiang county People's Congress, Linxia autonomous prefecture, said that it allows women to make money at home. Earning their own living has changed their mindset and made them more confident. Although many young men have gone off to work elsewhere, the women who work in the workshop have no problem dropping off their children or picking them up and caring for the elderly. They use the money they earn to give their families—especially the left-behind families—a better standard of living.
Ma said that eight residential buildings have been built at the gate of the umbrella workshop, which will accommodate 572 poor households.The water, electricity and heating supplies are now in place, so they can move into their new apartments.The governmentis now planning to boost employment by building a poverty alleviation workshop in every village.
Despite the remote location, local authorities are still careful in selecting companies. "Enterprises are choosing us, and we are choosing them as well," Ma Shengrong, Party secretary of Dongxiang county told the reporter.