NPC deputy gets deep into the grassroots
chinadaily.com.cn ,March 04, 2019

Adjust font size: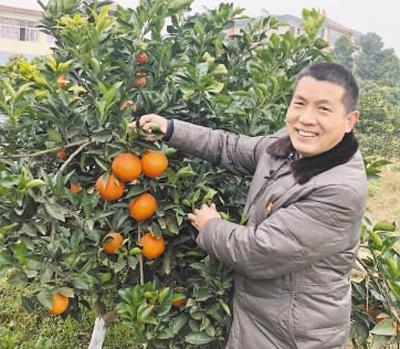 Liu Jiaqi [Photo/people.com.cn]
Liu Jiaqi, Party chief of Muhe village, Fuling district in Chongqing municipality, has been a deputy to the National People's Congress, the top legislature, for one year. He has also been a leader in the poverty relief work in his village.
Liu led villagers in the transition from planting traditional crops to more economically viable fruit trees in recent years. Muhe village, built on hills facing the Yangtze River, has planted more than 1,000 mu (66.67 hectares) fruit trees in recent years.
He has been on the frontlines teaching villagers techniques, bringing in investment, investigating industrial situations and promoting sales. Muhe held a dozen training sessions for villagers last year, with Liu as a trainer.
Liu said: "The train can run fast because of the engine. The Party branch is the engine. We also need to learn more and work harder."
He believes as a cadre and a Party member he should do things well first and voluntarily, which will help him gain support from villagers.
He said retired Party members could offer suggestions, and middle-aged Party members should solve actual difficulties for villagers and help cultivate new Party members.
Liu Jiaqi, recalling what President Xi Jinping had told him in a group discussion during last year's National People's Congress, shared some thoughts on Party-building.
"President Xi pointed out the necessity of building strong Party branches at the grassroots. That's what I've always remembered," Liu said.
Xi joined discussions with the Chongqing delegation on March 10. Liu told him about Party-building at his village by bringing in a new Party member, a returned entrepreneur, to lead villagers toward prosperity in 2017.
Liu said Xi had inquired about the new Party member's situation, such as experience and educational background. Judging from this, he paid attention to Party-building at the grassroots level.
The new Party member Liu talked about was Wang Dengrong, who returned to his hometown several years ago, planting fruit trees and setting up a company to promote the plantation and sell fruit on e-commerce platforms. Wang has helped other 40 families increase their income by 2,000 yuan ($298.84) a year on average.
Liu Guihua, a village official born in 1990s and a college graduate, helped organize four fruit-picking festivals last year. In December, more than 100 tons of navel oranges were sold at a picking festival.
Liu Jiaqi and other Party members agreed to let her join the Party in July. Besides Liu Guihua, three other candidates are expected to join.
Liu Jiaqi also found other problems when villagers were seeking a better life, such as littering, loose livestock and dirty courtyards. He called on building an ecological civilization in the village.
He strived for government subsidies for renovation projects on dangerous houses, and found construction teams to help renovate more than 50 such buildings last year.
Once he found the tap at a public toilet was leaking, so thought there should be good management of public toilets in rural areas.
He said he would propose a motion that grassroots cadres take responsibility in enhancing construction and management of rural public toilets during this year's two sessions.
This year, his village will renovate five public toilets and improve the environment.