Gansu makes progress in poverty alleviation
p.china.org.cn by Chen Lufan,February 01, 2019

Adjust font size: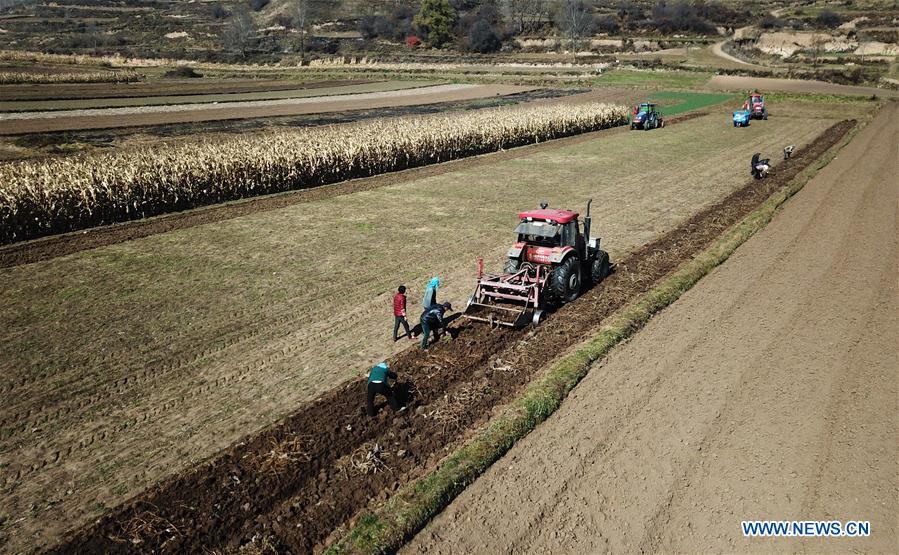 Farmers harvest herbs in Hejiawan Village of Weiyuan County, northwest China's Gansu Province, Nov. 1, 2018. (Photo by Xinhua/Chen Bin)
China's Gansu province witnessed remarkable progress in poverty alleviation last year, said the governor at the 2nd session of the 13th people's congress of Gansu, reported by China Youth Online.

In 2018, 776,000 people emerged from poverty and 18 poor counties shook off poverty, pushing down the overall poverty rate from 9.6 percent to 5.6 percent. The per capita disposable income of registered poor people increased from 4,800 yuan in 2017 to 5,390 yuan in 2018, an increase of 12.3 percent.

In the work report of Gansu Provincial government, Tang Renjian, governor of Gansu province, commented that the government has made efforts to guarantee the basic needs of food and clothing for those living in poverty and ensure that they have proper access to compulsory education, medical care and safe housing. Special focus has been given to areas of extreme poverty, with almost two thirds of the earmarked budget invested in those areas.
According to the report, five pillars have been reinforced—targeted assistance, poverty alleviation through developing industrials, clearly-defined responsibilities of stakeholders, team building in villages and communities, and improved working practices. More than 400,000 officials have been sent to villages or communities to help 2.61 million poor people in 650,000 poor households out of poverty with specific assistance plans.
As a province beset by extreme and widespread poverty, Gansu's achievements will represent crucial progress for the whole nation. In 2019 the province is expected to lower its poverty rate to 1.3 percent by helping 850,000 people out of poverty. Twenty-nine contiguous counties as poor areas and one relatively poor county are expected to be rid of poverty this year.