Fighting poverty through vocational education
p.china.org .cn By Huang Dayi,February 01, 2019

Adjust font size:

Education is important for eradicating poverty, and those in poverty could gain a lot from education.

The Hainan Province Economical Technical School provides accessible education to thousands of young girls from rural areas of extreme poverty, while helping them improve their lives.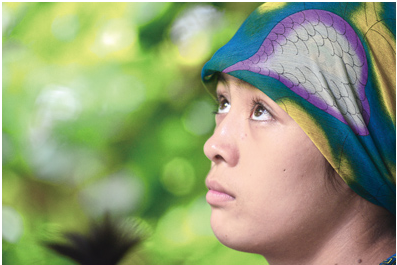 A girl of an ethnic minority group, beneficiary of the charity project [Photo/Xinhua]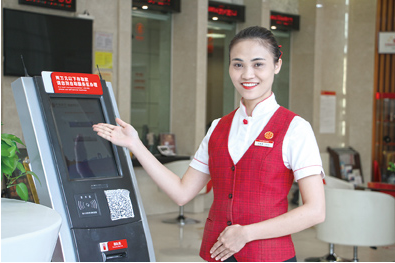 Zhu Xiaoying poses at her workplace, a local branch of China CITIC Bank in Hainan. [Photo/Xinhua]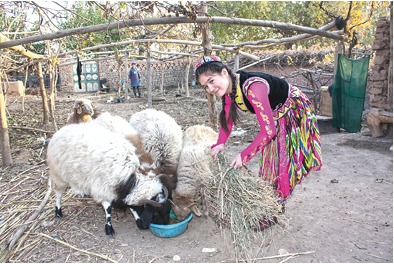 A beneficiary of the charity project feeds her sheep. [Photo/Xinhua]
Poverty's grip
Zhu Xiaoying, a middle-school dropout from south China's Hainan province, said she would never forget the tears her older sister shed for their poor family. To ease the costs of raising children and alleviate the family's poverty, her sister left home to live with a relative.

In the midst of all the heartache and tears, when she was young, Zhu had a big dream —to have the whole family living together under the same roof.

Living in a house with a thatched roof, Zhu's family was one of the poorest in the village in Ledong Li autonomous county. Her family relied heavily on farming for their livelihood, given the area's favorable climate for growing crops. Zhu said her parents were always busy in working on the land. But it was not easy for them to make both ends meet while raising several children.

At the age of five, Zhu, the second girl in the family, began shouldering these responsibilities, taking care of her younger siblings.

In 2007, Zhu was admitted to a local middle school. But one year later, she had to quit her study and work as a housekeeper for her cousin in Haikou, Hainan's capital. She also continued her studies there.

"It seemed to be a very long trip from Ledong county to Haikou, as I was then just 14 or 15," recalled Zhu. Leaving home for the first time was no easy feat, she added.

"I cried almost every day. I thought of it a better way to express my homesickness than complaining about my parents," Zhu said, explaining that her mother asked her not to go home too frequently, as the cost of the journey would be too high - at least 100 yuan (US$16) for a round trip.

Zhu felt uncomfortable living under other's roof. Just before graduation, she quit her studies and decided to look for a job in one of the big cities.

Xu Lihua and Huang Jiali, also from Hainan, share a similar story. Xu's mother is visually impaired, and only her father could work to support his wife and their three children. Huang couldn't go to school because her family didn't have enough money to pay for all their children's tuition. She gave up her chance of being educated so that her siblings could go to school, and she had no choice but to find a job far from home.

Just one chance
In fact, there are thousands of young women with similar stories in Hainan, all of whom attribute their success to assistance from a charity program launched by the Haikou-based vocational school.

"In a meeting with the then-president of the Hainan Women's Federation in 2009, we talked about the plight of girls from poor rural areas who have dropped out of school. The choice is either going out to find a job or getting married earlier, and we believe that no access to a basic or normal education can have a negative impact on family life," said Zhang Yisheng, president of Hainan Province Economical Technical School.

As many as 60 percent of respondents from rural areas in Hainan said they had no intention or ability to offer their daughters a formal education after they completed junior middle school, according to a survey conducted by Zhang's school shortly after the meeting.

According to a report on the status of women in China in 2003, young women aged 14 to 17 face serious challenges in their transition to formal or higher education, employment and marriage. "Girls who are not highly educated are more likely to choose employment, or get married and become mothers, if their parents insist," said Liu Yingzi, secretary-general of the Hainan Chengmei Charity Foundation.

"It is easier to understand these parents' ideas as 'practical' above all else. They are unable to pay tuition and living expenses for their daughters, but the girls can earn money for their families before getting married," said Zhang.

To support girls' education, in 2009, Zhang's school launched a vocational program —"Jinguo Class" — exclusively for girls from poverty-stricken families across Hainan. They had assistance from many partners, including provincial educational and financial departments, the Hainan Women's Federation and the Hainan Provincial Office of Poverty Alleviation.

To further ease the financial pressure on female students and facilitate their development, the school has maintained partnerships with dozens of foundations and enterprises in pursuit of internships and future employment opportunities. In addition, the girls there are allocated a subsidy that ranges from 150 to 350 yuan (US$24-55) each month.

From 2009 to 2016, a total of 7,914 young women were admitted to the school to learn vocational skills. Among them, 6,138 completed their studies, and most have become key employees at their workplaces as well as primary earners in their families.

As for the above-mentioned Zhu Xiaoying, she graduated from the school in 2012 with a major in hotel management and now works for a local branch of China CITIC Bank. Since graduation she has helped her family pay off debt and supported her parents' efforts to continue farming in the face of financial crisis or natural disaster. In 2016, with her savings of 60,000 yuan (US$9,507) as well as low-interest loans and subsidies from the bank, she helped build and decorate her family's home.

"As many as 12 parents from the neighborhood have sent their daughters to the school while enjoying the charity program," Zhu said excitedly. "They've seen how well I have done since graduation. "More and more parents now believe in benefits of sending their girls to schools, she added.

The story is much the same for the Xu sisters. Xu Lihua and her older sister Xu Lizhen, another beneficiary of the charity project, now work as a saleswoman and quality inspector respectively, earning thousands of yuan each month. Xu Lihua credits the school with giving her a chance to make a fresh start, adding that many of her schoolmates are deeply grateful to the school and the program.

To promote and benefit
To educate poor students and strengthen their resolve to escape poverty, the school has opened some motivational courses, which makes it different from other vocational schools, said Zhang Yisheng.
According to Zhang, these courses, which specifically target girls, are designed to teach positive behavioral skills and help students build self-confidence. In addition, an extensive collection of thought-provoking and inspiring quotes on education have been posted around the school building as a way to inspire students and teachers alike.

The school offers needy students an education in morals and values, and provides substantial support to lay the groundwork for their future careers. To make the students more competent and provide them with job-related experience, the school has partnered with several renowned and enterprises, including the Sanya duty-free shop affiliated with one of the world's top three duty-free operators, the China Duty Free Group and Shenzhen Bao'an International Airport.

To further meet the increasing needs of its students, the school has allied with hundreds of local companies to make sure enough jobs are available for new graduates. These companies have promised to provide more than 3,000 jobs every year.

Li Xuelian, a 2012 graduate, said her schooling was the fresh start she really needed, and she is grateful to have been employed by the school as a teacher upon graduation. She expressed genuine gratitude, saying "After receiving a free education, in hindsight the thing was just like a 'pie-in-the-sky'."

Along with the diploma and the skills they gained, students are helped by the school and its program to become fully prepared to fight poverty and realize their true worth to their families and communities, said Tan Xiaodan, another teacher at the vocational school.

Since 2011, the program has been popularized across the nation, especially areas populated by ethnic minority groups, like northwest China's Xinjiang Uygur Autonomous Region, southwest China's Tibet Autonomous Region, and north China's Inner Mongolia Autonomous Region.

Girls from minority and indigenous groups struggle to find opportunities for education because of their isolation and distance from basic education services. Educating girls, particularly those from ethnic minority groups, has a profound impact on society, said Liu Yingzi. She was sure that an educated girl will have higher earning potential and help reduce poverty in her community.

In partnership with vocational schools in 10 provinces, the Hainan Chengmei Charity Foundation has also launched a charity program, "Chengmei Class," which is similar to "Jinguo Class." The new program allocates 6,000 yuan (US$951) to every poor girl of ethnic minority groups during their two years of schooling.

As of 2017, the foundation had raised 10.73 million yuan (US$1.7 million) and helped 2,031 girls change their lives.

Lan Fengzhao (or Fengchao), a specialized secondary student from south China's Guangxi Zhuang Autonomous Region, was admitted to college last year.

"I never thought I could fulfill my dream," she said. "But now I can, thanks to the government's poverty alleviation campaign and the vocational program, as well as the 300 yuan (US$48) of assistance each month."

Zhang Yisheng attributed success of poverty alleviation through vocational training to concerted efforts of the government, charity organizations and schools. He considered that for girls from poverty-stricken families the "Chengmei" and "Jinguo" programs serve as "dream factories."