Eradicating poverty through embroidery
p.china.org.cn,January 14, 2019

Adjust font size:




Mashan County is located in the Karst Area of Nanning City, Guangxi Zhuang Autonomous Region. It is a poverty-stricken area famous for embroidery with Zhuang ethnic styles, which is an intangible cultural heritage that faces the risk of disappearance as more and more young people are choosing to work in the cities.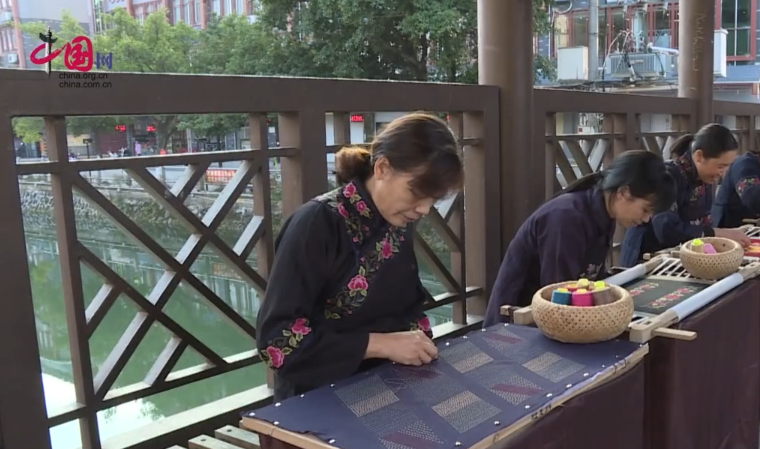 Lan Lin started learning the embroidery from the seniors when she was still a child. "If this craft of our ethnic group becomes lost in our hands, I will feel extremely guilty about it, I think we should keep this heritage alive and develop it," said her.
Lan later founded the Zhuang embroidery studio with the support of her family to pass down this craft. In order to increase its popularity and make it more acceptable in the market, shealso tries to include some modern designs in traditional handicrafts, to keep the traditional elements of it while breaking the old traditions. Now Zhuang embroidery has been sold to over 20 countries and regions around the world, with increasing fame in the international market.

What's even more impressive is that Lan have empowered the local women by providing them with the opportunities to work near home and lifted many of them out of poverty.

"I have been working here for more than 10 years. With this job, I can not only earn more, but also take care of my family, since I don't have to work away from home. So I will stick to the job," said one of the embroiders.

Lan Lin's studio helps carry forward Zhuang embroidery as an intangible cultural heritage, and also contributes to local poverty alleviation efforts.

"Lan Lin has also given lectures and trainingto over 500 people. More than 200 of them are now working for her at home, making money for their families. I hope she'll carry forward the Zhuang embroidery and further develop this distinguished industryso as to contribute more to the poverty alleviation endeavor," said Tan Yingmei, president of Mashan County Women's Federation.
Lan said, she is lucky to become an inheritor of Zhuang embroidery and feels a heavy sense of mission to carry forward this craft while contributing more to her fellow villagers.

"I and my family alone couldn't have built up this craft studio. It is with the support of so many embroiderers that our products are gaining fame and entering the overseas markets. I hope that our Zhuang embroidery will be passed down from generation to generation so that more people can appreciate the outstanding culture of Zhuang ethnic people," Lan stressed.

(Produced by"Aspire–Living Stories" team of China.org.cn)