Alibaba witnesses 63 bln yuan sales from poor counties in 2018
p.china.org.cn,January 11, 2019

Adjust font size:

China's e-commerce giant Alibaba held a conference on technology-driven poverty alleviation in Hebei province yesterday. In the past year, the company explored its own way to help the poor shake off poverty.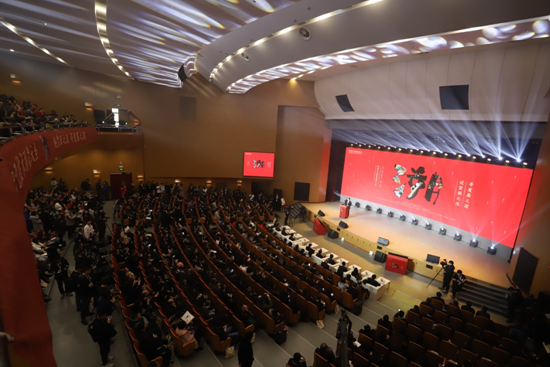 On January 10, 2019, Alibaba's technology-driven poverty alleviation conference is held in Hebei province. [Photo courtesy of Alibaba]
On December 1, 2017, Alibaba announced, in next 5 years, it would invest 10 billion yuan (US$1.48 billion) in ecology, e-commerce, education, female and heath. Last year, more than 600 poor villages became "Taobao villages." The sales of national-level poverty-stricken counties in Alibaba exceeded 63 billion yuan (US$9.3 billion), with more than 100 poverty-stricken counties reaching 100 million yuan (US$14.83 million) in sales.

More than 4.35 millionpoor households in China were covered with health insurance, and around 170,000 women living in poverty-stricken counties obtained the insurance for education, maternity and health.

During the 2-hour sales through livestreaming, there were more than 140,000 deals, with the sales nearly reaching 6 million yuan (US$889,800). One million viewers watched the event on internet. Among 21 products from 20 poverty-stricken counties, 12 were sold out.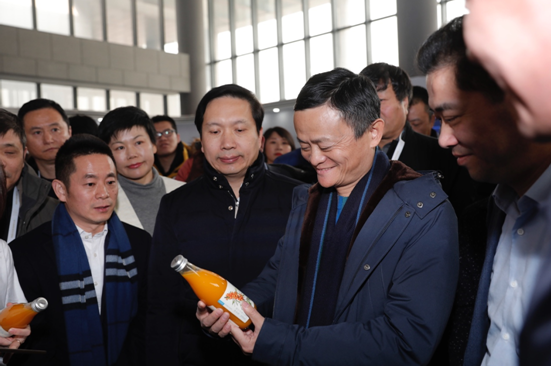 Jack Ma, Alibaba's executive chairman, holds a bottle of sea-buckhorn juice. It was produced by the first ecological economic forest of Alibaba's Ant Forest. [Photo courtesy of Alibaba]

Giving everyone a prosperous life is Alibaba's poverty alleviation conception, according to Jack Ma, the executive chairman of the Alibaba Group. "We should use technologies to vitalize China's villages and help the poor shaking off poverty without destroying the environment," he said.

An agriculture exhibition was also held during the conference to display products from poverty-stricken counties, including potatoes, tomatoes and kiwi fruits. About 200 poverty-stricken counties' heads attended the conference.
By Jiao Meng/Wei Boya