Goodbye to the tough days in mountains
Chinagate.cn by Chi Wanting,October 26, 2018

Adjust font size: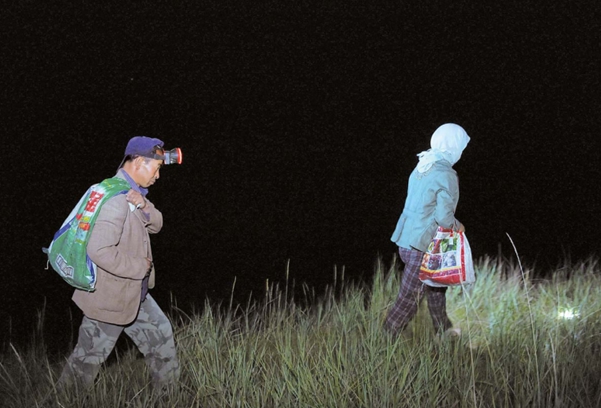 It was two o'clock in the morning when Wang Yuyun and his wife, Xu Qiulin, got up. The couple slept less than five hours the previous night.
After having a breakfast of soya milk and steamed bread, the couple left home for their farmland in the mountains with bags in hands. In those bags, they carried sickles, a kettle and a knife sharpener. They hardly exchanged a word. Only the beams from two headlamps could be seen in this quiet and dark night.
Wang and his family live in Wangfugou Village, Wuwei City, Gansu Province in northwest China. In the village, the poverty rate is as high as 50 percent. Almost all of the village's 500 households make a living by planting peas, wheat and potatoes.
From the air, the farmland atop the mountains seems sliced into tranches by numerous gullies. There were no roads, which became unpleasantly muddy after rain. As Wang and Xu reached the nearest field on which they grew peas, they began to harvest the grain. Their headlamps lit up a small area as they squat and move slowly. Lack of rainfall resulted in bad harvest, predictably one third that of previous year.
At 4 a.m., the temperature hovered at around freezing point. In the dark, the couple cut pea pods, piling them up in silence as they went. Eventually the sickles became dull, so Xu sharpened them.
Wang and Xu have more than a hundred patches of land covering 8.2 acres of mountainside on which they grow peas. Higher year-round temperature makes the pods crack easily so the farmers had to gather the crops in hot summer while lower temperature means that the harvest might even coinside with the first snow of that year.
The couple worked away, loading a tricycle as they went, which they brought to the fields the day before.
To drive a heavily loaded trike along the mountain ridge, the driver needs both driving skills and luck. As the vehicle jolted along the road, Wang would shift his weight for balance. Even for that efforts, they still risked losing control of the trike and even slamming on the brakes would not stop its sliding. In that case, he had to wait until the trike stopped and tried again.
Just past 5 a.m., a ray of light broke through the crevices of the hills. Wang and Xu turned off their lamps and sat down to rest.
Xu took off her scarf and tidied her hair, which was wet with sweat. She took some steamed buns from a plastic bag and broke them into pieces, put them into an enameled cup, then poured in some hot water.
After eating the buns, Wang stood up. He tried to relieve the stiffness in his waist, but as he did so, he lost his footing and fell.
"When can we move off and have some flat land to build a house?" he said, visibly unhappy. "It doesn't need to be big, just big enough for two beds."
When he was young, Wang thought about leaving the mountains and tried, along with a few other villagers, but he never succeeded. There were some time when Wang worked in the city in nearby province because the family couldn't make ends meet. But that wouldn't last long for his family was still here.
As for his family, the death of Wang's father left a shadow in his heart as the bumpy mountain roads destroyed the poor old man's hope of getting medical treatment. Even in his last time, Wang's father would rather suffer aches and pains that came with cancer than be taken to hospital at the foot of the mountain.
As time went by, villagers spoke less about leaving the village and only toiled away day after day.
Day broke, and a light mist crept through the hills.
Moving in
Back in 2013, the Chinese central government announced its plan to build a "moderately prosperous society" by 2020. In its latest Five-Year Plan (2016-2020), it outlined measures to relocate some 10 million Chinese away from inhospitable areas. Wuwei was among the targeted areas.
In 2014, Gulang County, where Wang's village lies, witnessed a large-scale relocation project, which aims to move around 40,000 people from the mountains to the northern part of the county, which had been called Huanghuatan. The 14,000-acre area became convenient thanks to new infrastructure, public services and allocated land for agriculture, husbandry and forestry.
In 2015, a village official approached Wang and asked him if he wanted to leave the mountain. At first, Wang didn't believe what he heard. He was told that the county government was arranging the relocation and everything was ready. The official also assured him that the new land was flat and water of nearby place could provide constant supply.
In 2016, Wang and Xu moved into a detached house with a yard, a piece of farm land (nearly one acre) with easy access to irrigation and a barn for livestocks (as much as 70 sheep).
In Huanghuatan, Xu plans to grow crops and raise sheep, while Wang plans to work in the construction industry, where he can earn about 200 yuan (US$30) a day.
As the sun climbed through the clouds above the fields of peas, the temperature rose. Insects and birds began to chirp and buzz about.
The local government plans to turn the patches of farmland in the mountains back into grassland, once all people have moved to Huanghuatan.
According to Wang, this was the last season he would gather the crops in the mountains. After this harvest, he and his wife will say goodbye to the hills and gullies to start their new life.
"All suffering will end," he says.