Relocation raises living standards for Lhopas
China Daily,October 19, 2018

Adjust font size: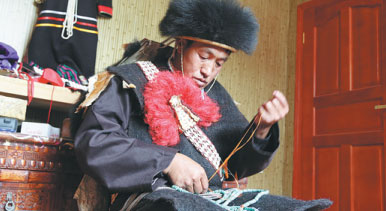 Dawa makes a traditional costume at his home in Manling. [Photo by PALDEN NYIMA/CHINA DAILY]
The lives of members of the Lhopa ethnic group in the Tibet autonomous region have improved markedly in recent decades, thanks to the reform and opening-up policy that was launched 40 years ago.
Until about 50 years ago, they lived in the forest as hunters. Now, about 3,000 Lhopas live in Tibet, in sparse communities such as the group in Manling county, according to official statistics.
Despite his typically Tibetan name, Dawa is a Lhopa man from Tsedro village in Manling. He said he has witnessed many social changes in recent decades, having worked as a village official for many years. He is now a respected maker of ethic costumes.
"We used to live on the mountain and in the forest. We had no livestock and only had small fields for planting corn," the 52-year-old said.
"As hunters on the mountain, we lived in simple wooden sheds and our diet mainly consisted of meat from animals we hunted, corn we grew, and a few edible wild herbs."
He added that people often suffered from hunger, and they were forced to exchange bears' gallbladders and the skins of the animals they hunted for daily necessities such as grain, salt, tea leaves and clothes.
In 1985, 18 households, totaling 80 people including Dawa, were relocated from remote mountain and forest areas to Tsedro, where they were given houses, fields and livestock, resulting in a far higher standard of living. Since then, the number of households has risen to 41, with more than 190 people, he said.
The relocation was the Lhopas' first encounter with modern conveniences.
"Since 1985, the government has paid for house renovations three times, and now our living conditions are good," Dawa said.
A resident named Yari recalled that only one doctor traveled around local villages when the Lhopa lived on the mountain, but he was only able to treat minor illnesses, not serious conditions.
The 65-year-old woman said local women used to give birth at home, which resulted in many birth injuries and infant deaths, but the frequency of such incidents declined greatly after the people were relocated.
After he ceased to be a village official in 2008, Dawa began making traditional costumes to earn a living and to preserve the Lhopa culture.
He learned the skills from older people while the group was living on the mountain, he said.
However, it is hard to find the traditional materials, such as animal skins and fur, in the valley because hunting is prohibited by law. Instead, Dawa uses substitute materials to make the clothes.
In addition, he collects herbs, like other Lhopa families, and raises Tibetan pigs. Last year, his family's income was more than 60,000 yuan ($8,650).
"Thanks to President Xi Jinping, we have received more welfare than in the past, and many of the central government's preferential policies are implemented correctly and efficiently. People like us, at the lower levels of society, are benefiting more."