Making flowers brings income for disabled in She County
p.china.org.cn,September 26, 2018

Adjust font size: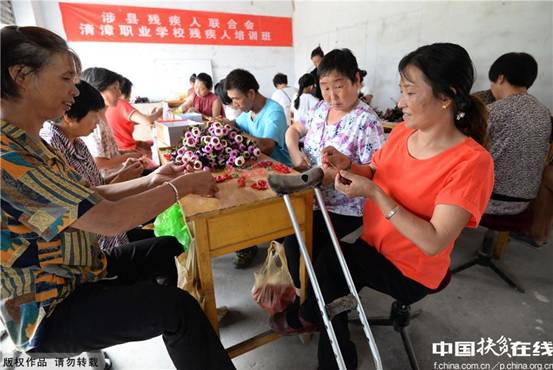 People with disabilities make artificial flowersin Yuanqu Village, She County, Hebei Province in northern China. [Photo by Hao Qunying]
Since 2017, the Disabled Persons' Federation in She County, Hebei Provincein northern China,has had measures in place to help people with disabilities find employment opportunities or launch businesses near their homes.
In order to enable people with disabilities stand on their own feet, the She County Disabled People's Federationhas shifted from a donation-based aid approach to one focusing on development.The latter has seen some 400 people with disabilities trained in areas such as cooking, arts and crafts. Namely, students are trained in making artificial flowers, which are easy to learn and can be produced at home, which can bring in an income.