Tourism lifts poor community
China Daily,September 26, 2018

Adjust font size: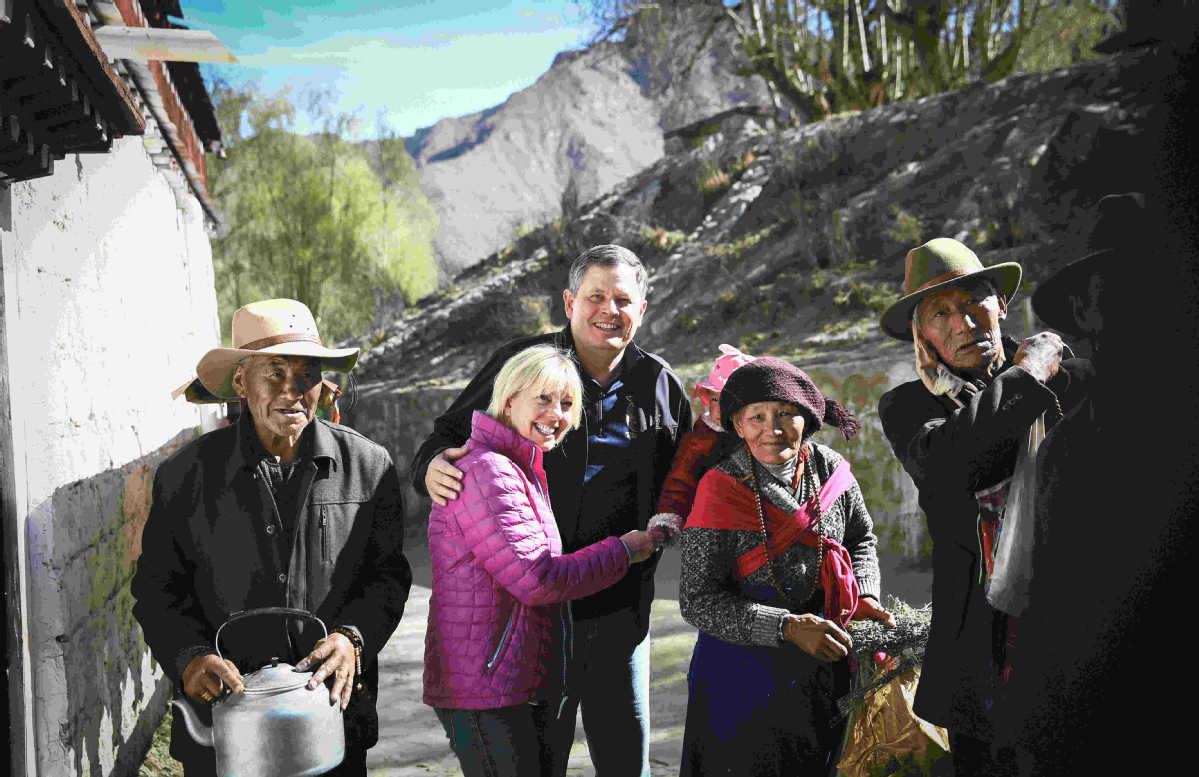 Foreign travelers take a photo with villagers in Dakdong. [LIU JIANG/FOR CHINA DAILY]
Villagers used to make a living by growing highland barley, wheat, corn and potatoes or selling yak milk and meat. But three years ago, some of their land was acquired for defense purposes and the land that remained could barely meet their needs.
The next year, the local government poured 230 million yuan into the renovation of old houses, infrastructure improvements and the development of tourism as part of a national wave of rural vitalization aimed at lifting people out of poverty.
The effort rid the village of shabby houses, muddy roads and an unreliable power network, and led to the establishment of camping sites, a peach orchard and a hot spring center.
The village welcomed 80,000 visitors last year, bringing about 4 million yuan in revenue. From January to early September, the number of visitors reached 150,000, said Tashi Phuntso, deputy general manager of Liuwu Home Rural Folk Culture Tourism, which operates the tourism business in Dakdong.
The company pays each of the village's 822 residents a dividend of up to 500 yuan at the end of year, he said, meaning each family earns between 4,000 and 5,000 yuan a year. The company also offers villagers jobs as security guards, cleaners, waiters and managers, on monthly salaries ranging from 2,800 yuan to 5,000 yuan, he added.
"The source of income of these villagers became more diverse: renting out agricultural machinery and land, part-time jobs, dividends and a stable salary from the company," Tashi Phuntso said.
Two years ago, about 23 percent of the 218 families in Dakdong were poor, but the average per capita income has risen from about 1,380 yuan in 2015 to 12,700 yuan last year, according to local government data.
Former migrant worker Tsultrim Sangmo, 34, used to work as a seamstress but returned to her hometown for a job at the peach orchard.
"I was willing to return," she said. "The village is getting better. Now I don't have to pay for rent and electricity, and I have more time with my children, too."
Tsering Dradul, 25, who graduated from Xizang Minzu University in Xianyang, Shaanxi province, in July, works at the hot spring center. He said his elder brother, who sells homemade yogurt, earns about 2,000 yuan a day. His elder sister runs a teahouse.
Two of his siblings are civil servants.
"The village has changed a lot. In the past, there was not even a road," he said. "Almost every family has its own land, but that is no longer the major income source."
Tenzin Tinley, a village cadre, said the government encourages people to look for new moneymaking opportunities, and the number of shops operated by villagers has grown from eight to 22, selling tea, local specialties and other goods.
A yogurt workshop was established this year, with the government buying milk from farmers. There is also a startup industrial park for young people to begin their own businesses. Tenzin Tinley said all the tourism development is based on preservation of the original landscape and environmental protection.
Xing Xiaoliang, an analyst with market consultancy Analysys, said Dakdong is a good example of targeted poverty alleviation through tourism.
"It attaches more importance to the service industry, which can help make the whole regional industrial structure move in an ideal direction," he said. "Besides, since farmers have more money, they will have stronger consumption power, which can boost regional economic development."