How Will China Achieve Its Poverty Alleviation Targets?
China Today,September 14, 2018

Adjust font size:

Three Transformations Are Key Actions

First, regions affected by extreme poverty should be the top priority. The government will provide focused assistance, such as more favorable policies, to areas of extreme poverty.

Second, the results of poverty alleviation efforts, especially in the long run, should hold a high priority. Therefore, it's important to help establish a solid foundation for the poor to gradually shake off poverty and not to return to poverty again. In this way, efforts should stand the testament of time and practice.

Third, the social security system needs to be improved to help the poor. Former attention was on developing local natural resources and industries as the main way towards poverty relief. Now an improved social security system targeting poor people in different conditions has been added on top of that. The combination is expected to help make the poverty reduction more effective.

Two Systems: Guarantees for Achieving the Goal

First is an improved system to implement targeted poverty relief measures. Files of every impoverished household need to be kept as a way to make sure that all those who qualify are in and those who don't, are out. Besides, data sharing and analysis are important as they are a prerequisite for macroscopic decision making.

As to stationed government officials and working teams in the village, strict criteria should be followed in the selection, especially for the stationed Party committee leaders. Government officials selection and management, the correction of their working style, and insufficient support need to be addressed before they can fully leverage their strengths as expected.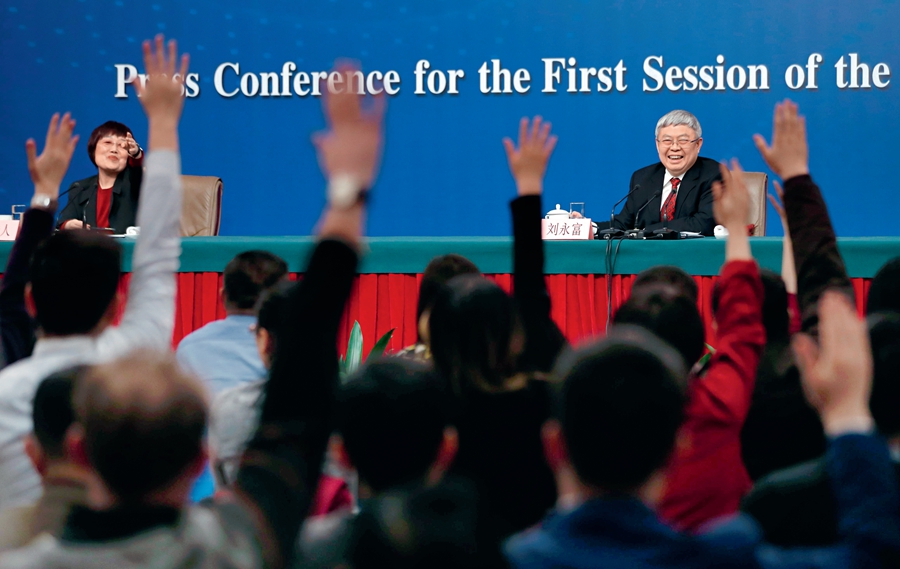 Liu Yongfu, director of the State Council Leading Group Office of Poverty Alleviation and Development, answers poverty alleviation-related questions at the press conference of the first session of the 13th National People's Congress on March 7, 2018.

When it comes to the implementation of targeted poverty alleviation measures, the aforementioned targeted and differentiated measures should be set as the core. For example, developing competitive industries to create jobs can help mobilize poor villagers to train their own skills, which is far better than seeing them wait passively for the allocation of funds and materials.
Besides, strict standards and procedures need to be applied to assess whether people are lifted out of poverty or not. For all the counties, villages, and populations that are just brought above the poverty line, the poverty alleviation efforts will not come to a halt to ensure that the success achieved is sustained.
Second is an improved assessment and supervision system. From 2018 on, for counties which announced their withdrawal from the country's list of impoverished counties, assessment will be managed by each province and random inspections will be made by inspectors from the central government. As for the third-party assessment, procedures need to be simplified to highlight results. Besides, the Party and government leaders who do a poor job will be held accountable and regular talks from supervisors will be arranged. To the problems found out during assessment and supervision, their root causes will be analyzed to facilitate the establishment of a long-term mechanism.
Equally important is to help the poor with policy support and occupational trainings. Meanwhile, the prevention of risks derived from unaccomplished missions, debts, social-economic problems are also high on the agenda. If these steps are taken, the remainder of the population can also be rescued from the clutches of poverty and can look forward to better lives.