To build a world with no poverty and zero hunger-Joint efforts highlighted at China Poverty Reduction Int'l Forum
p.china.org.cn,May 23, 2018

Adjust font size: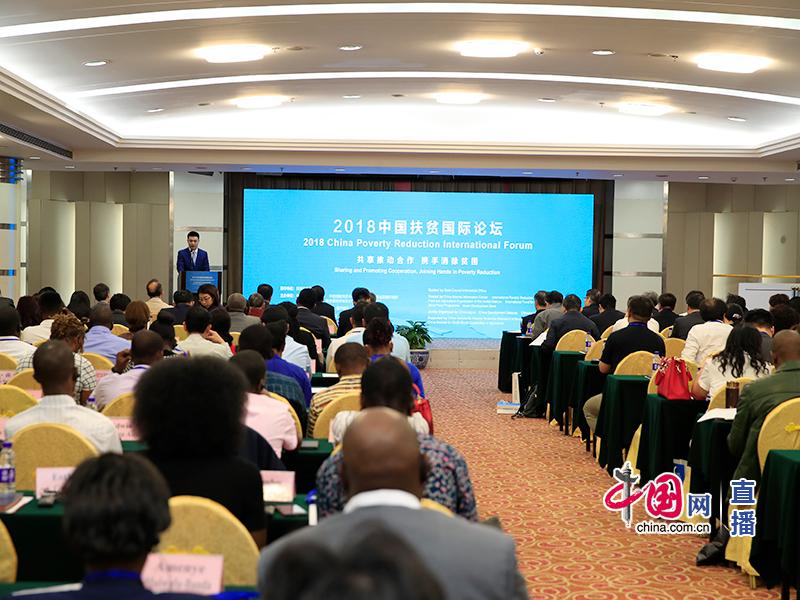 The 2018 China Poverty Reduction International Forum was held today in Beijing. About 200 participants from 28 countries, including high-ranking officials, representatives from international organizations, experts and entrepreneurs at home and abroad as well as trainees from developing countries, attended the event to discuss how to combat global poverty through knowledge sharing.

Themed as "Sharing and Promoting Cooperation, Joining Hands in Poverty Reduction", the forum mainly focused on how China's experiences could contribute to a world with no poverty and zero hunger.
The Global Solicitation and Challenge Prize on Best Poverty Reduction Practices was launched at the forum. The campaign is seeking meaningful poverty reduction case studies from both organizations and individuals working around the world in poverty alleviation, and will select 100 most impactful case studies for recognition. From May 23 to August 23, applicants could submit case studies following the "Writing Standards of Poverty Alleviation Case Studies" in presenting meaningful, clear and concise information, with no less than 5,000 words. A preliminary evaluation committee will select case studies to be submitted to the final selection committee to review. In October the organizers will announce the list of winners. Meanwhile, case studies will be uploaded to the database for public dissemination.
As the first global solicitation of poverty reduction case studies, this campaign has involved many international organizations, and is the latest attempt to deepen and innovate on global partnerships on poverty reduction.
In addition, China Institute for Poverty Reduction of Beijing Normal University presented research findings of using China Shared Development Index to evaluate the shared development between different areas. That includes areas with different levels of poverty, from different regions in the east, central and west, as well as from different cities. As the first indicator system of its kind in the country, the index has provided a new perspective for resolving challenges in development.
The China Poverty Reduction International Forum has been held for 3 consecutive years. In 2016, the Global Poverty Reduction & Inclusive Growth Portal (GPIG) was launched at the forum. With two years of development, it specializes in sharing policy research, data, country profiles and news on poverty reduction and South-South Cooperation. The forum in 2017 has seen the launch of Global Poverty Reduction Online Knowledge Sharing Database. With a standard template, a tree structure and a sharing system, this is another innovative approach to promote poverty alleviation.
The forum was co-hosted by the China Internet Information Center (CIIC), International Poverty Reduction Center in China (IPRCC), World Bank, Food and Agriculture Organization of the United Nations (FAO), International Fund for Agricultural Development (IFAD), World Food Programme (WFP), and Asian Development Bank (ADB). It was jointly organized by China.org.cn, China Development Gateway, and Chinese Voice Think Tank, while supported by China Institute for Poverty Reduction Research at Beijing Normal University, and China Institute for South-South Cooperation in Agriculture (CISSCA).