Construction of Human Rights Discourse and Its Cultural Narrative and Communication
China.org.cn by Bu Wei,April 17, 2018

Adjust font size: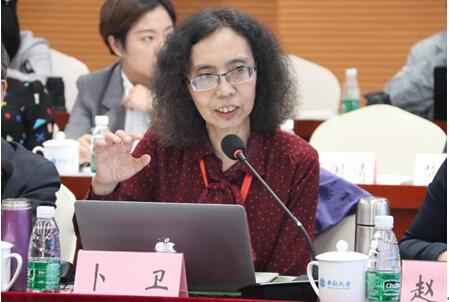 Bu Wei, professor from Media Research Institute of Chinese Academy of Social Sciences / photo by Jia Puyu
Abstract: This paper focuses on the communication of human rights discourse. Communication is not an activity independent from society and culture where "one says and another listens". Instead, the communication of a human rights discourse must be accompanied by the construction of that discourse. Normally, communication itself is a process of construction, and communicators are the constructors. So, a number of questions are particularly worth exploring: who constructs a human rights discourse in our society, what kind of discourse is built, and who the audience is. Behind human rights framework hidesthe human rights discourse construction and its power relationships that are derived from specific social and cultural structures, while the power of discourse analysis lies in revealing this kind of power relationship. Therefore, in this paper, the author first discusses the construction and practice of human rights discourse in the mass media. Then, the author discusses the cultural narrative ofthe practice. Narrative is the reproduction of facts or stories in a certain social context, while cultural narratives give these facts or stories certain social meanings which affect people's understanding of society and their actions. In this section, the author analyzes two cases of human rights discourse—poverty reduction and South-South Cooperation—to illustrate the importance of cultural narratives, based on which the author analyzes the experience and challenges of the communication of human rights discourse in the field of development, and puts forward principles and strategiesfor cross-cultural communication ofthe discourse. In particular these address how to deal with the conflicts between the human rights framework and the news framework in the mainstream mass media, and how to communicate with the public, conduct "political" cross-cultural communication and achieve human rights-based social justice in practice.
This paper is based on previous research, which include "media and human rights education", "human rights discourse construction and cross-cultural communication", "changes of development discourse: from the only focus on economic growth to a people-oriented strategy—commemorating the 30th anniversary of theDeclaration on the Right to Development","development changes, targeted poverty alleviation and media coverage: from the only focus on economic growth to a people-oriented strategy", and "realization of poverty reduction, cultural narrative and South-South development rights".
This paper includes four parts:reflection and construction of the "myth" of human rights discourse; human rights discourse practices and cultural narrative; communication of human rights discourse: experience, challenges andsolutions; andconclusion: cross-cultural communication.