6th ASEAN+3 Village Leaders Exchange Program opened in Xishuangbanna
p.china.org.cn by Xiang Ting,March 07, 2018

Adjust font size: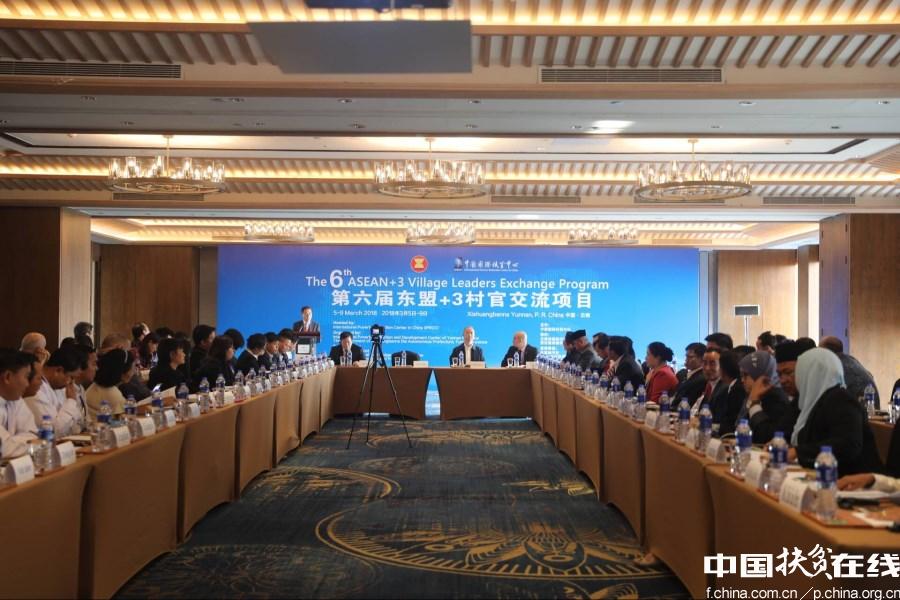 On March 5, the 6th ASEAN+3 Village Leaders Exchange Program opened in Xishuangbanna Dai Autonomous Prefecture of southwest China's Yunnan Province. Present were nearly 100 participants from China, South Korea and 9 ASEAN countries, which included government officials, rural development experts and grassroots.
This one-week program aims to share experience on poverty reduction and promote regional cooperation through panel discussions and field visits.
Dr. Tan Weiping, Acting Director General of the International Poverty Reduction Center in China (IPRCC), delivered the opening remarks. "2018 marks the 27th anniversary of China-ASEAN Dialogue Relations and the 15th of China-ASEAN Strategic Partnership. Our bilateral cooperation enters a favorable period of all-round development, yet how to deepen, enrich and improve that cooperation represents a major task facing us," Tan said.
"Cooperation on reducing poverty is one of the priorities," Tan explained. "With full recognition from all parties, this institutionalized program represents a unique brand event of international exchanges on poverty reduction at grassroots level, jointly owned by ASEAN+3 members."
Mr. Ferdinand Hombrebueno, Director of Basic Sector Coordinating and Advocacy Services at National Anti-Poverty Commission of the Philippines, shed a light on how this platform would promote regional development.
"The 6th ASEAN+3 Village Leaders Program is a venue for community leaders to acquire and arm themselves with new tools on how to combat poverty in their respective localities. This opportunity to share valuable knowledge and experience on rural development and poverty alleviation is a significant effort of the ASEAN and our partners in east Asia for regional cooperation for the benefit of our people," He said.
Hosted by IPRCC, the 6th ASEAN+3 Village Leaders Program is organized by Yunnan's International Poverty Reduction and Development Center and the government of Xishuangbanna Dai Autonomous Prefecture. It is also supported by ASEAN Secretariat, ADB-PRC Regional Knowledge Sharing Initiative and the United Nations Development Programme.