Cross-border trade booms cities in Guangxi
p.china.org.cn,December 26, 2017

Adjust font size:

Located in south China and bordering Vietnam, the Guangxi Zhuang Autonomous Region administers 8 border counties, regions, and cities; among these, three are key national poverty alleviation counties, while five are suffering from stony desertification. In these areas, poverty alleviation remains a challenging task.

Border regions such as Dongxing and Chongzuo have innovatively adopted a "cross-border trade + " poverty alleviation model, taking full advantage of favorable national policies for development pilot zones and financial-reform border zones, as well as a series of reforms easing customs regulations to increase trade convenience.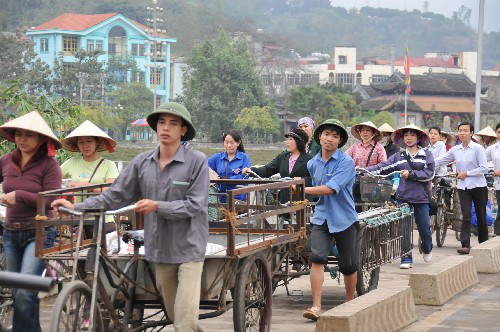 On the busy assembly line in the plant of Dongxing Changying Food Company, workers skillfully sort and clean seafood, among other tasks.
According to Dan Yonghai, vice general manager of the company, Changying has partnerships with more than 10 local mutual-help groups. With 13% VAT deduction for raw materials purchased from these groups and 8,000-yuan (U.S. $1,183) daily duty-free limit, the processed products are selling to other parts of China as well as to Japan, South Korea, and to countries in the Middle East and Africa.

In order to attract more processing enterprises, Dongxing published a series of favorable policies on enterprise legalization, customs clearance and cost minimization. Dongxing established 57 mutual-help groups to contract with 10 pilot processing enterprises in purchasing and processing seafood, nuts, agricultural by-products, and so on. It solved problems of raw-material importation and provided employment for border residents, promoting not just the interactive development of cross-border trade and processing but also poverty alleviation in general.

So far, Chongzuo has introduced 22 processing enterprises; and in the first quarter of this year alone, the processing industry generated 721 million yuan (U.S. $107 million) in revenue, providing about 1,000 stable jobs to locals, driving the economic development of more than 10 nearby counties and towns, and bringing residents 1,000–3,000 yuan (U.S. $148–444) in wages.

By the end of 2016, Fangchenggang, Baise and Chongzuo had established 29 cross-border processing plants; and the introduced enterprises for border trade, processing, and transportation had provided about 10,000 jobs.

According to Ma Jixian, Deputy Director of the Commerce Department of Guangxi, in the next stage, the government will make concerted efforts to improve the policy system for cross-border processing; will pay adequate attention to the construction of border trade industrial parks to attract processing enterprises in Zhejiang, Fujian and other provinces; will actively strive for cooperation among joint inspection, financial institutions, and other departments to solve problems of port congestion and low efficiency in customs clearance; and will increase financing support for profitable mutual-help groups and related import projects.

Booming trade has brought economic benefit not only to China but also to the Vietnamese; meanwhile, enhanced trade has also contributed to regional peace and prosperity. Many hope that more favorable trade policies are on the way as the two countries seek closer ties.