CBED eases the plight of Lintong people
p.china.org.cn,December 21, 2017

Adjust font size: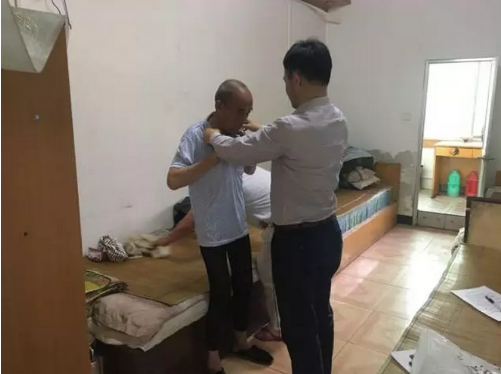 Ren Lufu helps Liu Yumin try on a new shirt. [Photo/CBED]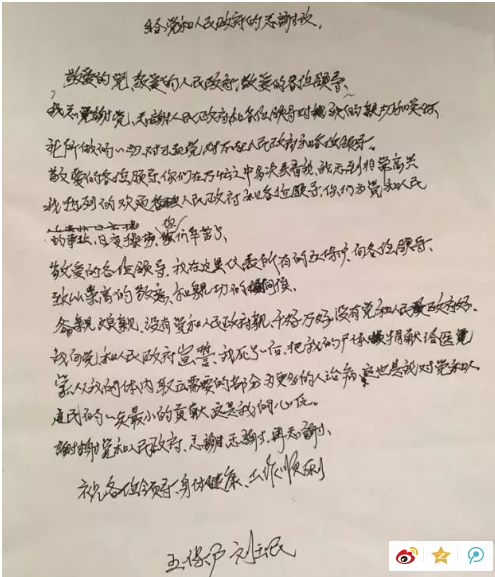 A letter from Liu Yumin thanking the local government and officials for their anti-poverty work. [Photo/CBED]
Through the efforts of a strong anti-poverty work group stationed in Lintong District, Xi'an, capital of northwest China's Shaanxi Province, local residents have been able to free themselves from poverty and can welcome a more prosperous lifestyle. Thanks to the approach adopted by its twin Chan-Ba Ecological District (CBED).
Ren Lufu is a front-line anti-poverty cadre at Liupo Village in Lintong. Each month he makes a 22-kilometer trip to Qinling Residential Home for the elderly several times. Talking with a 76-year-old resident, Liu Yumin, is one of his top priorities.
"Liu wrote to me explaining his experience of poverty, and I wrote back explaining the government's poverty reduction strategies that could ease his plight," says Ren.
He explains that Liu suffers from age-related hearing loss, which is why they communicated in writing.
Liu is one of the frail elderly who do not have families to support him. They are eligible for financial aid from the government with a guarantee of proper food, clothing, medical care, housing and funeral expenses, according to Ren.
"In return, I hope I can be an organ donor and help to save someone's life," wrote Liu.
As an old man Liu also experiences more serious vision problems that demand a high level of medical care and require him to wear reading glasses. Ren, along with other cadres, brought the elderly man to the town to buy them.
Liu said his vision was much clearer and better over glasses. "I can see at a distance clearer now." He got excited when putting the newly acquired glasses on.
"Great things almost always start small," adds Ren. "It is my honor to start at the bottom with small things as that is part of my anti-poverty effort." China has now designed a series of targeted anti-poverty measures and provided relief for the low-income elderly to make sure that they will be looked after properly.