Writing a New Chapter of International Human Rights Exchanges and Cooperation
China Daily,December 08, 2017

Adjust font size:

Editor's note: With the convening of the South-South Human Rights Forum in Beijing on Thursday, Vice-Minister of Foreign Affairs Li Baodong expounds on China's international exchanges and cooperation on human rights.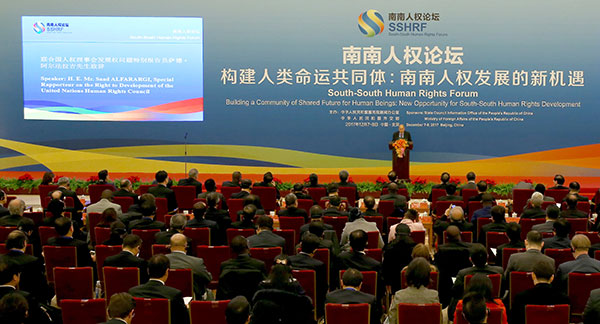 Saad Alfarargi, special rapporteur on the Right to Development of the United Nations Human Rights Council, delivers a speech at the South-South Human Rights Forum in Beijing on Thursday.Zou Hong / China Daily
I.
Facing profound transformation in the international environment, the CPC Central Committee with Comrade Xi Jinping at its core has made insightful observations of the trends of the times and drawn up and implemented comprehensive, strategic and forward-looking plans, and as a result, great progress and development have been achieved in China's diplomacy. As an important part of China's diplomatic endeavors, international exchanges and cooperation on human rights have also registered remarkable achievements, opening up a new vista for human rights diplomacy with Chinese characteristics.
First, we have made new breakthroughs in international human rights governance. Over the past five years, China has taken an active part in international human rights governance and worked for the establishment of a fair, just, reasonable and effective international human rights system. China has hosted a series of human rights related events, including the Beijing Forum on Human Rights, the International Seminar on the 30th Anniversary of the Declaration on the Right to Development, the South-South Human Rights Forum and the 16th Informal ASEM Seminar on Human Rights. In his congratulatory letter to the opening of the Beijing Forum on Human Rights, President Xi Jinping noted that "there is always room for improvement when it comes to human rights protection", "China has embarked on a path for human rights development suited to its reality through combining the universality of human rights with China's specific conditions", and "China will unswervingly stay on the path of peaceful development and steadfastly advance human rights development both in China and in the wider world". These remarks chart the course for China's human rights development and provide guidance for China to fully participate in international human rights governance.
Through the Human Rights Council and other UN platforms, China has incorporated important concepts such as "a community of shared future for mankind" into Human Rights Council resolutions, and raised the visibility of the Belt and Road Initiative. China has worked for the adoption of resolutions entitled "Promoting the Right of Everyone to the Enjoyment of the Highest Attainable Standard of Physical and Mental Health through Enhancing Capacity-Building in Public Health", and "The Contribution of Development to the Enjoyment of All Human Rights", delivered joint statements on behalf of over 140 countries on "Enhancing Dialogue and Cooperation to Protect and Promote Universally Recognized Human Rights", "Realizing Development for the Promotion and Protection of Human Rights" and "Promote and Protect Human Rights, Build a Community of Shared Future for Mankind", among others, and held side-events and exhibitions, including those themed "Promotion of Human Rights: Role of Poverty Reduction" and "Progress of China's Human Rights". These proactive efforts have helped to enhance China's soft power and influence in international human rights arena by translating domestic governance philosophies into international consensus, and highlighting China's human rights practices as fine examples of international cooperation.
China was re-elected to the Human Rights Council by an overwhelming majority for the years of 2014-2016 and 2017-2019, making China one of the few countries that have won the elections four times. China was also re-elected as a member of the UN Committee on Non-Governmental Organizations. Several Chinese experts currently serve on multilateral human rights committees, including the Committee on Economic, Social and Cultural Rights, the Committee against Torture, the Committee on the Elimination of Racial Discrimination, and the Human Rights Council Advisory Committee. China's human rights achievements have gained more international recognition, and strengthened its influence in multilateral human rights agencies and its ability to shape the development and the rules-making process of the relevant agencies.
Second, we have taken new actions to uphold national interests and image. China has thwarted some countries' attempts to deliver joint statements against China and interfere in China's internal affairs in the Human Rights Council, and facilitated the adoption of its Universal Periodic Review report. China has played a constructive role in the meetings of the Third Committee, Human Rights Council and its affiliated mechanisms, resolutely refuted the unfounded accusations made by some countries and anti-China forces, and garnered greater understanding and support for China's human rights endeavors. We have upheld the purposes and principles of the UN Charter and adeptly used UN rules and procedures to make sure that we hold the high ground of morality and rules compliance in fighting anti-China forces, thus safeguarding China's national interests, sovereignty, security and dignity.
Third, we have registered new progress in fulfilling international human rights obligations. China participated in the second cycle of the Universal Periodic Review at the Human Rights Council, during which China elaborated on its achievements in promoting human rights, held candid and constructive dialogue with other countries, listened to their suggestions with an open mind, and accepted 204 (81 percent) of the 254 recommendations they had raised. This demonstrated China's open, inclusive and earnest attitude, and highlighted the policies, actions and measures carried out by the country to promote and protect human rights.
China completed the second periodic review of the International Covenant on Economic, Social and Cultural Rights, which was hailed as "an exemplary review" by the Committee on Economic, Social and Cultural Rights. In a positive, confident, inclusive and open spirit, China also received reviews on its implementation of the Convention on the Rights of the Child, Convention on the Elimination of All Forms of Discrimination Against Women, Convention Against Torture and Other Cruel, Inhuman or Degrading Treatment or Punishment, Convention on the Elimination of All Forms of Racial Discrimination, among others. In the process, China has established its reputation as a major country committed to improving people's well-being, honoring acceded agreements, and enhancing international cooperation.
Fourth, we have adopted new measures for international human rights exchanges. Over the past five years, China has conducted more than 50 human rights dialogues with Western and developing countries and actively and appropriately carried out cooperation with UN human rights agencies.
China has held 29 such dialogues with the European Union, the United States, the United Kingdom, Germany, Switzerland, the Netherlands, Australia, New Zealand and other Western countries. China-US Legal Exchange and China-Australia Human Rights Technical Cooperation were also carried out. These efforts have deepened exchanges among government departments, judiciaries and academic groups, enhanced mutual understanding, effectively managed disagreements and offset the disturbances inflicted by the US, other Western Countries and anti-China elements under the pretext of human rights.
China has held human rights consultations with over 10 developing countries or regional organizations such as Russia, Egypt, South Africa, Brazil, Malaysia, the African Union, Pakistan, Belarus, Cuba, Laos, Sri Lanka and the Shanghai Cooperation Organization. China worked to put in place a regular meeting mechanism among BRICS countries' permanent representatives in Geneva. Through mutual learning and closer cooperation, the unity and coordination among developing countries has been strengthened, the united front for human rights endeavors expanded and our friend circle enlarged.
China has maintained constructive contacts with the UN Office at Geneva, the High Commissioner for Human Rights and others, and encouraged them to perform their duties in an objective and just manner and attach importance to the concerns of developing countries. China contributed funds to the Special Rapporteur on the right to development, invited the Working Group on the Issue of Discrimination against Women in Law and in Practice, Independent Expert on the effects of foreign debt and three Special Rapporteurs including the one on extreme poverty and human rights to visit China, and received members of the Committee Against Torture, Chairperson of the Committee on the Elimination of Racial Discrimination and others. During these exchanges, China focused on its own agenda, demonstrated goodwill, enhanced trust, reduced misgivings, and helped international human rights agencies to view China's progress in human rights endeavors impartially and objectively.
Fifth, we have made fresh headway in increasing our say on human rights issues. China has released the National Human Rights Action Plan and the White Paper on Human Rights, and employed multiple channels such as photo exhibitions, interviews, news articles and briefings to fully and faithfully present China's understanding of and progress in human rights from different angles; China uses the Human Rights Council, the Third Committee of the UN General Assembly and other important international platforms to express its unequivocal opposition to politicizing human rights issues and interfering in other countries' internal affairs under the pretext of human rights, and to speak up for developing countries; China takes the implementation of the Millennium Development Goals and the 2030 Agenda for Sustainable Development as an opportunity to actively engage in international assistance. By 2016, China has provided a total of over 400 billion yuan ($60.5 billion) of foreign assistance and supported more than 120 developing countries in their efforts to follow through on the Millennium Development Goals. Parties involved highly commend China's relevant measures and regard them as support for international peace and development and contribution to the global human rights cause.