A new level of poverty alleviation at JD.com
p.china.org .cn by Wang Ning,December 05, 2017

Adjust font size: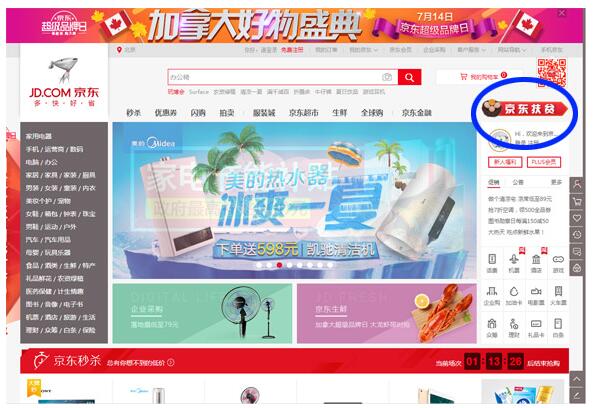 Access to the poverty alleviation program is conspicuous on the home page of JD.com.
JD.com started a pilot of its poverty alleviation program on July 14, becoming the first e-commerce platform in China to roll out such a page.

The program has been jointly launched by the Ministry of Commerce, the State Council Leading Group Office of Poverty Alleviation and Development, several levels of governments, and a number of e-commerce platforms. To make local produce in poverty-stricken areas accessible to more consumers, the websites are supposed to set up a section on their home pages and mobile apps.

JD.com puts two entries on its home page so as to attract more customers. One is prominent in the upper right corner, with white letters against red background; the other is in the central column, with both pictures and texts.

Statistics show that during the piloting, JD's program received 500,000 visits each day and the daily sales once even reached 50 million yuan (U.S. $7.6 million). Recently, it introduced an egg promotion plan, helping to sell out 75,000 kg eggs from poor areas in only one week.

There are a wide variety of products in JD's poverty alleviation program, including food, local specialties, home supplies, clothes, electronic products, etc. Foodstuffs are a major contributor, making up 15-20% of the total traffic.

"The trial run of the program is a new high in the poverty alleviation efforts of JD.com," said Lan Ye, Chief Public Affairs Officer at JD.com. He explained that based on its own strengths and characteristics, a company should contribute to poverty reduction by supporting enterprises in the impoverished counties. Only in this way could products stand out in fierce competition and poverty be eliminated once and for all.