Jianhe County gets a red quinoa harvest
p.china.org.cn by Chi Wanting,November 24, 2017

Adjust font size:

On August 29, 2017, villagers of Nanming Town, Jianhe County in southwest China's Guizhou Province are busy with their red quinoa harvest. The town introduced the crop from Taiwan and has planted it over an area of 4.7 hectares. Taking advantage of geography and climate, Jianhe encourages surplus rural labor to grow commercial crops on idle land. The county has formed an "enterprise+cooperative+poor households" model to boost agriculture in mountain areas. It also promotes an "order-oriented cultivation" approach based on market demand. The extensive demand guarantees additional income to the villagers. Originating from the Andes in South America, the crop was called "mother of all grains" by ancient Incas, and has been listed by the Food and Agriculture Organization (FAO) as one of the "ten nutritional foods".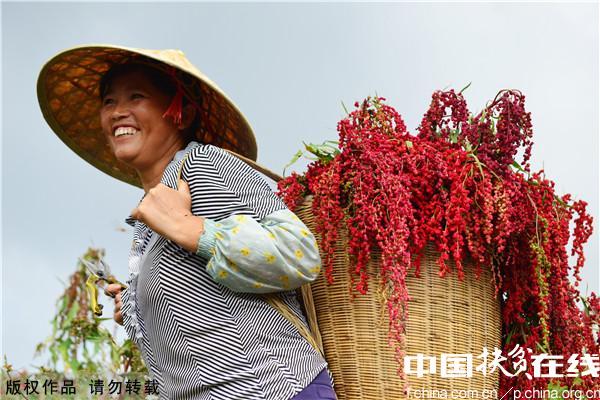 A villager carries a basket of red quinoa. [Photo by Yang Wenbin]