Make the best of poverty alleviation funds
p.china.org.cn,November 08, 2017

Adjust font size:

General Secretary Xi Jinping has expressed his dissatisfaction and even anger toward the abuse of poverty alleviation funds. How can strict evaluation and assessment mechanisms be enforced to create a healthy environment for the war against poverty and to prevent abuse of poverty alleviation funds? What measures are available for improving the efficient use of funds? Minsheng Weekly talks to Liu Yongfu, Director of the State Council Leading Group Office of Poverty Alleviation to find out more.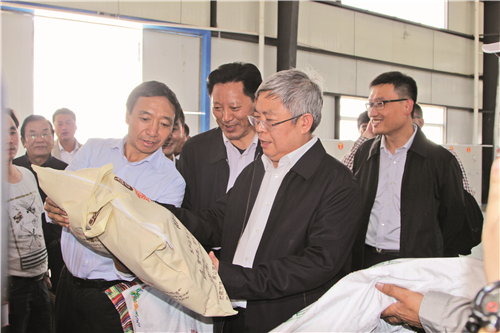 Liu Yongfu (second right) inspecting the Laluka Wheat Processing Plant in Baxoi County, Qamdo, Tibet
Liu Yongfu: Funds intended for poverty alleviation have not been applied to full effect in the past and only scratched the surface of the problem. There are also the related problems of corruption and waste. Since the 18th CPC National Congress, we have seen more measures directed against corruption, and improvements in policy implementation. All sorts of supervisory mechanisms have been gradually improved and the problems referred to above have now been contained.
But new problems continue to arise. Large sums of money available for poverty alleviation pose a challenge to the management capacity of local governments, and there appears to be an inadequate capacity for scientific analysis. Some places are still struggling to figure out how to use their funds for fear of making mistakes. Abuse should be discouraged, but these funds should not be left lying idle in accounts either. Therefore, it is necessary to improve policies and measures to encourage officials to better manage their funds. Most corruption relating to poverty alleviation funds occurs at the township and village level, so departments involved must strengthen their supervision over these two levels of government.
Preventing fund abuse is a systematic project. The State Council Leading Group Office of Poverty Alleviation has strengthened supervision through internal processes and promoted the consolidation of rural funds in poor counties to optimize fund deployment and ensure efficient fund use.
We will improve the poverty alleviation management system. The State Council Leading Group Office of Poverty Alleviation and the Ministry of Finance are working closely with other related departments to revise the Measures for the Administration of Special Government Finance Funds for Poverty Alleviation, and to strengthen the responsibility of departments involved in fund supervision in order to ensure a proper project-based management and accountability system.
We will promote the consolidation of rural funds among poor counties. We are launching relevant programs this year in all poor counties nationwide. Measures have been designed to ensure funds are concentrated solely on poverty alleviation. These include helping local governments to improve the compilation of their targeted poverty alleviation plan, building a poverty alleviation project library, and accelerating the construction of county-level poverty alleviation funds and project management platforms.
We will strengthen performance evaluation of poverty alleviation fund use. We work with the Ministry of Finance in self-inspection on special government funds for poverty alleviation, and conduct performance review on the management and use of the special funds in each province, providing for both sanctions and rewards. Currently, we are revising the Performance Evaluation Method on Poverty Alleviation Fund Management.
We will continue to improve project fund publicity. Providing the public with full access to information on poverty alleviation policies, measures, fund use, and results can help improve the efficiency and transparency of fund use. Distilling the wisdom of the public and respecting the leading role of the poor in the war against poverty thereby become manifest. We will strengthen daily supervision and evaluation and improve poverty alleviation information management to improve information-based management of project funds.
Education against corruption is another important task. We will conduct awareness campaigns in poverty alleviation departments nationwide to enhance the accountability system, ensure clean governance, and build a clean, devoted team with a sense of the worth of their contribution.
The measures detailed above are designed to lay a solid foundation from inside by strengthening self-restriction and self-supervision. At the same time, external supervision is indispensable, and we have introduced social supervision to prevent fund abuse.
We have set up a "12317" hotline for reporting corruption related to poverty alleviation. We received 13,705 calls between December 15, 2014 and the end of December 2016, of which 9,620 were complaints and 4,085 were requests for more information. We have investigated more than 100 cases, and severe punishments have been dealt out to those involved in malfeasance.
We have worked with the Supreme People's Procuratorate in preventing and punishing duty-related crimes. We have strengthened cooperation with the procuratorate department and set up a communication mechanism to exchange information on annual project funds and a mechanism allowing exchanges of information on duty-related crimes.
Our discipline inspection and supervision departments have strengthened the accountability system and devised strict auditing procedures on poverty alleviation funds. Severe punishments are issued to any violators in this area to deter potential corruption.
In consequence, in the recent, past management of poverty alleviation funds has improved every year. Looking to the future, we plan to enforce the most strict evaluation and supervision mechanism and mobilize all social resources to make every penny count in the war against poverty.