One for all, and all for one
p.china.org.cn,October 25, 2017

Adjust font size:

Through the efforts of a strong anti-poverty work group stationed in Lintong District, Xi'an, capital of northwest China's Shaanxi Province, local residents have been able to free themselves from poverty and can welcome a more prosperous lifestyle. Thanks to the approach adopted by its twin Chan-Ba Ecological District (CBED).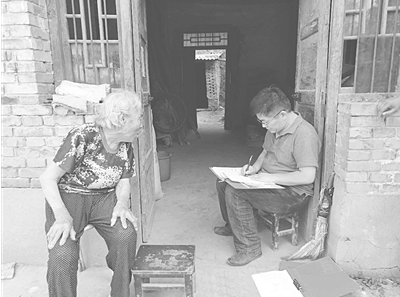 Nie Liang makes notes about the poor household of Liu Yulan. [Photo/tuanjiewang.cn]
It is hard for Nie Liang to count how many times he has visited Tuqiao Village in Lintong since he took up his post as an anti-poverty cadre member from the CBED this June.
It must be dozens of times by now, which is much more often than he has visited his own parents, comments 75-year-old Liu Yulan, a poor woman living in Tuqiao.
Liu has serious physical disabilities and is incapable of working. What shocked Nie most was the family's poor conditions, including Liu's home—a dilapidated traditional stone house that leaked heavily during rainstorms.
Helping the family of three generations to renovate the house was one of Nie's first priorities. Decent housing can be a path out of poverty and give people hope. Before the height of the rainy season in August, Nie worked together with local cadres to remodel the three-bedroom house.
"Liu had three sons," explains Nie. "The oldest suffered a combination of physical disabilities; the second moved to live with his wife's family far away; while the youngest took ill and died. The two grandsons are too young to support the family." Nie adds that his heart ached every time he visited the family.
Nie thought a new home would not of itself resolve the problems of a poverty-stricken family, unless they could develop an adequate source of income. He therefore taught the family how to plant walnuts and pepper, while helping them rent 1.5 mu (0.09 hectares) of land from the local government.
"These plantings are able to survive with little watering and tending," says Nie. "Having been planted last autumn, they will provide a generous harvest in three years."
In July, Nie spent 400 yuan (U.S. $60) to bring a team of village cadres to help the family harvest their first crop, which was at risk of rotting on the vine due to a lack of labor. To ease the family's burden, Nie spent a total of 1,600 yuan (U.S. $240) of his own money purchasing three dairy goats.
"It is easy to raise goats," he says. "The family can expect to see some kids next year. They will have come a good way by then and they can make money by selling goat's milk as well as the kids. I will play the role of middleman to keep in touch with the suppliers."
Liu is delighted that Nie was able to serve as a go-between to earn the opportunity for her grandson Zhu Junjun enlist in the army. Nie also persuaded Liu's youngest grandson Zhu Xin—who might have dropped out of school because of the difficulty in paying school fees—to receive education, while also helping him apply for school grants.
Nie's arrival has brought hope not only to Liu's family, but also to the whole village.
Villagers living in the upland areas of Lintong have never had proper access to safe water. Locals were heavily dependent on the water reservoir there, but it failed as a result of damage to supply pipes.
In July, Nie initiated a clean water project. After seeking advice from water experts, he organized a group to dig several wells, and lay and connect supply pipes.
Nie anticipates that the water shortage can be resolved this September. He also believes that providing safer water to the rural poor is another most effective way to eliminate poverty.
"We all belong to one family," replies Nie, when asked why he has dedicated himself to lifting poor farmers and their communities out of extreme poverty.