Lintong escaped the crushing weight of poverty
p.china.org.cn,October 23, 2017

Adjust font size:

Through the efforts of a strong anti-poverty work group stationed in Lintong District, Xi'an, capital of northwest China's Shaanxi Province, local residents have been able to free themselves from poverty and can welcome a more prosperous lifestyle.

Thanks to the approach adopted by its twin Chan-Ba Ecological District (CBED), villages in Lintong now have new houses, solar power plants, irrigation systems, tap water, street lighting and Internet access, greatly improving local living standards.

It's learned that earlier this year CBED enlarged its scope to partner with 15 villages in Lintong hosting 201 poor households. As of the end of 2012 the area has almost 590,000 rural poor, over 5 percent of whom still live below the poverty line on an annual per capital income of less than 2,500 yuan (U.S. $375).

Since partnering with the Lintong area, CBED has provided 32 village-based cadres, who teamed up with members from the sub-district and village offices to help the poor households.

Established in 2004, the CBED has been transformed from an unregulated dumping site into a green development zone, with a tremendous economic impact. It has a wealth of experience in the fight against poverty, and has now begun to share with its twin district.

Officials and village cadres from CBED have committed themselves to helping locals escape the crushing weight of poverty, which prevents huge numbers of people from meeting their life aspirations.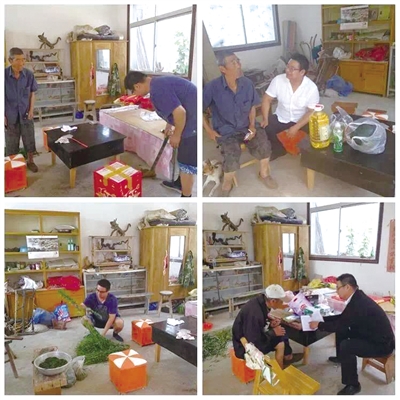 Officials and village cadres from the CBED help locals in Lintong District with everyday activities. [Photo/epaper.xiancn.com]