Fang Ruibiao: Spring in the Mountains
China Pictorial,October 18, 2017

Adjust font size: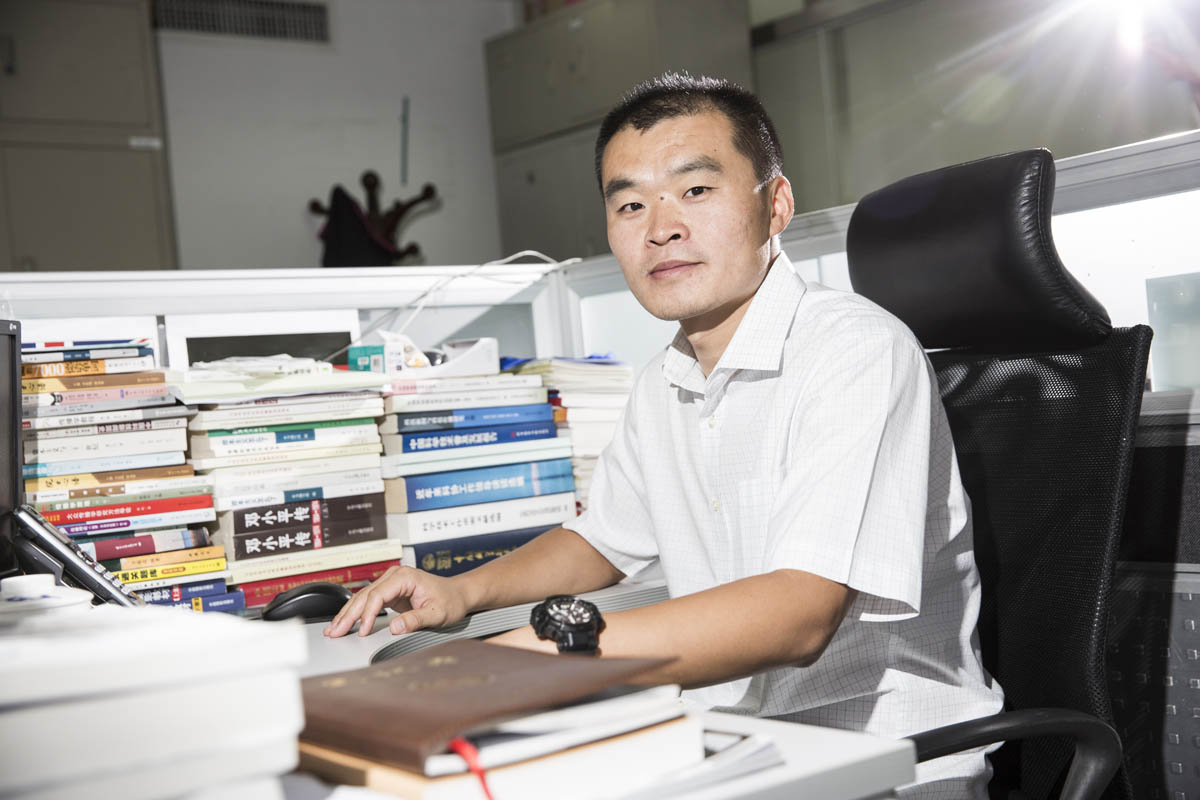 Whether an information collector or First Secretary, Fang Ruibiao always considers CPC member one of his most important titles. by Qin Bin
Loufangping Village, located in Lanxian County, Luliang City in the northern Chinese Province of Shanxi, is an enchanting mountain village with typical local characteristics. Limited by special geological and climate conditions, the village has been haunted by poverty for many years.
In 2015, Chinese President Xi Jinping stressed the importance of poverty relief work on many occasions and called for implementing targeted and effective measures to fight against poverty in rural areas. That year, the Organization Department of the Communist Party of China (CPC) Central Committee and several other central departments decided to send excellent CPC members to serve as First Secretary to support the 14 national contiguous poverty-stricken areas. Fang Ruibiao, an outstanding CPC member and information collector from the China Association for Science and Technology (CAST) was chosen to be the First Secretary of Loufangping Village and led the villagers in a war against poverty.
Building a Smart Village
Surrounded by tall mountains, Loufangping Village is isolated at a high attitude of 2000 meters above the sea level with only about 95 frost-free days a year. From October to April most years, the village is sealed in by heavy snow and completely cut off from the outside.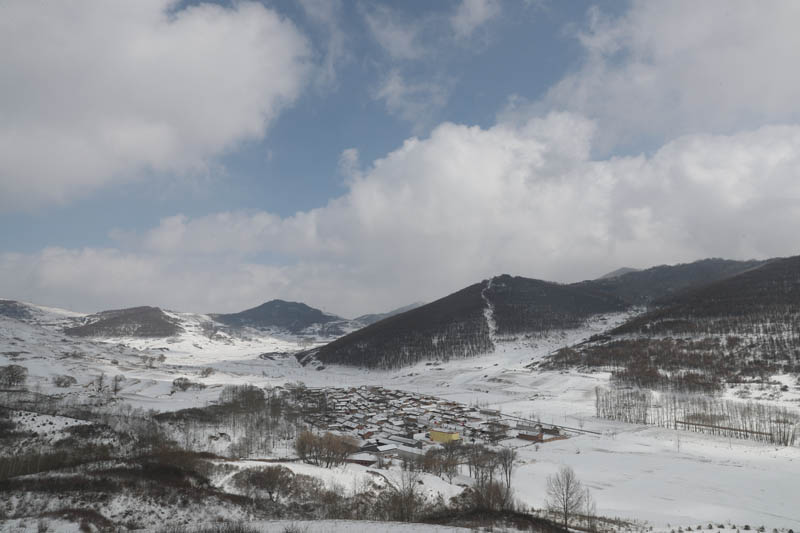 In October of 2016, Loufangping Village was listed by the National Tourism Administration and other 12 departments as one of the major villages for poverty alleviation to promote local tourism. courtesy of the CAST
At the end of July 2015, FangRuibiao arrived at Loufangping to officially assume office with great ambitions to really make a difference for the poor. However, within a month of his arrival, the village was already blanketed in snow and entering the long off-season. To make a living, most working-age men in the village had to leave to work in the city, leaving the young and old behind. The whole village became more desolate and quiet, as if hibernating.

"Born in a small village in Shandong Province, I lived in a rural area for many years when I was young, so poor and hard living conditions are not new to me," revealed the new First Secretary."But considering the complicated situation in each village, I think it's more important to get close to the villagers to understand their real needs and expectations before just starting work quickly and randomly."
As an administrative village, Loufangping has a total of 80 permanent households spreading across two small communities with a distance of five kilometers between them. However, no matter how brutal the weather became, Fang always walked to each house regularly to talk with the villagers.
"Far from standoffish, many were quite interested in talking with me and curious to know what was happening outside the mountain—they have such little exposure to the outside that it greatly limits their vision and cultural literacy," said Fang.
In fact, mobile phones are hard to use there because of weak signals, and the whole village has just one computer using dial-up internet, which is also quite unstable."The spiritual poverty worried me even more than the material poverty," Fang sighed."Reducing poverty must begin with reducing ignorance." Fang vowed to tackle the signal and network problems first no matter how difficult it turned out to be.

During the long and cold winter, Fang and his colleague, the Party Branch Secretary of Loufangping Village, went to Taiyuan, the capital of Shanxi Province, many times to seek help and support from the provincial Association for Science and Technology and the Mobile Company. After unremitting efforts of several months, they finally secured a scientific promotion project of the CAST in Shanxi Province, named E Station for Scientific Promotion in Rural China (E Station for short). As a supportive service of the project, in June of2016, mobile broadband was finally connected to the village. One month later, much to the surprise of the villagers, Fang purchased routers with special poverty alleviation funds and covered the whole village with WiFi. People were thrilled by the huge change in the small mountain village."It's unbelievable!" exclaimed Wang Jianzhong, a local resident."In the past, we couldn't even make a phone call smoothly. But now we can get on the internet anywhere in the whole town."
In July2017, the E Station for Scientific Promotion in Rural China officially opened to the public in Loufangping Village, making it the first wired village in the contiguous poverty-stricken areas of the Luliang Mountain region."As an information platform, the E station provides all kinds of agricultural messages, scientific knowledge and online-expert services, greatly improving the scientific and cultural quality of life in Loufangping and neighboring villages," Fang explained."The E station also features an e-commerce platform, which has been very convenient for farmers to buy agricultural tools and other materials."
Optimizing Advantageous Industries
Loufangping Village has fertile land and abundant water, but because of the cold weather and high altitude, few crops can be grown there except potatoes. In recent years, farmers were mostly planting commercial potatoes, which didn't sell well. To increase villagers' incomes and adjust the traditional planting structure, Fang used the poverty alleviation funds from CAST to establish a660-mu (44-hectare) planting base for seed potatoes, which are more profitable than the commercial crops.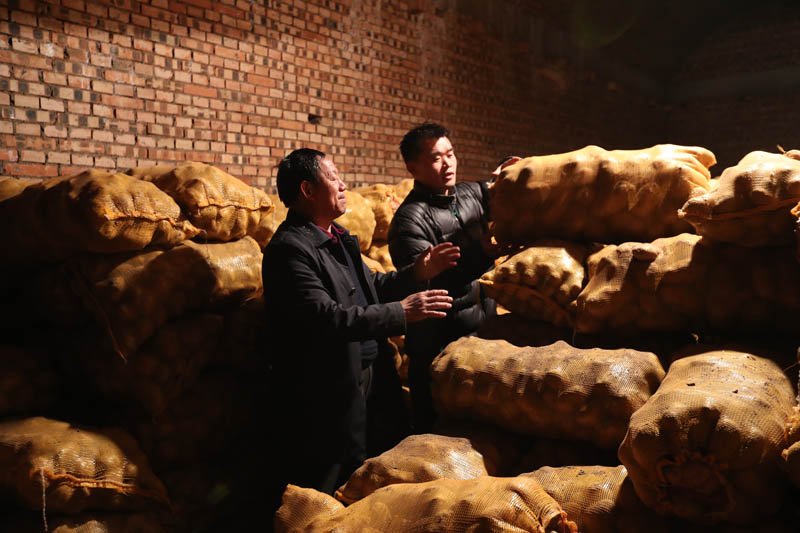 Fang Ruibiao and his colleague check potato packages in one of the 28 cellars that in total can store over 2000 tons of potatoes. courtesy of the CAST
"Our village has a high yield of potatoes," explained Fang."However, harvest season coincides with peak supply time nationwide, especially for commercial varieties, which only sell for a very low price. So even if we increased production volume, the villagers still wouldn't earn a handsome income." Thus, after establishing the planting base for seed potatoes, Fang continued to brainstorm how to avoid peak season and sell the potatoes at a higher price.

With support of CAST, Fang called on the Potato Planting Cooperative in the Loufangping Village to establish28 cellars."When the cellars were ready, we stored potatoes in them until the winter. In winter, the potatoes can sell for a doubled price per kilogram, so the planters doubled their incomes," Fang beamed.
In addition to improving traditional planting industries, Fang also tried to develop new ones. One day, Fang met a young local man who had been planting mushrooms in northeastern China during the off-season for ten years."While chatting with the guy, I realized Loufangping Village has a similar climate to northeastern China, so I thought developing off-season mushroom cultivation could work here," said Fang. He persuaded the young man to stay and cooperate with a local entrepreneur to launch an off-season mushroom cultivation base in the village, including eight greenhouses. To raise local incomes, work at the base-from making mushroom-cultivation sticks to watering, harvesting, drying and packaging the mushrooms-was all performed with local labor and produced a daily income of 80 to 120 yuan (US$12 to18).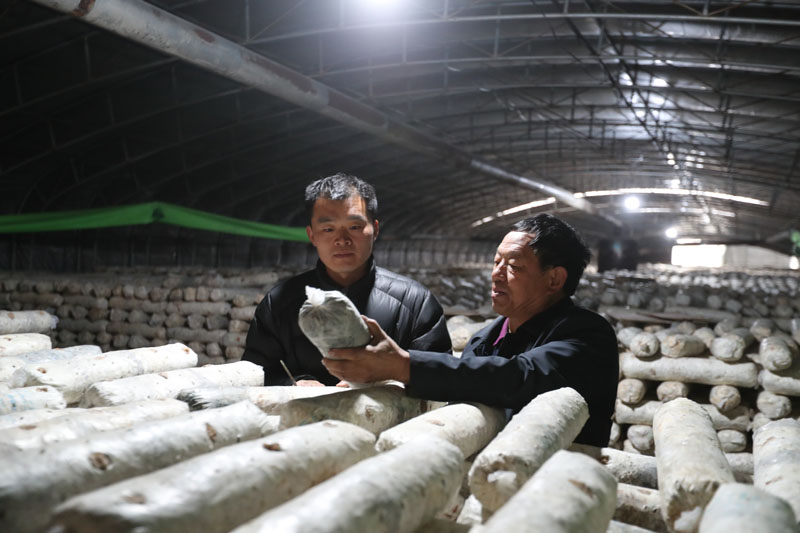 Fang Ruibiao and his colleague check the quality of mushroom-cultivation sticks carefully in a greenhouse. courtesy of the CAST
In 2017, considering the successful attempt of the first year, Fang led the villagers to establish another 10 greenhouses using poverty alleviation funds of about 300,000 yuan (US$45,177). This time, the ownership of the new base belongs to the whole village, so every household can enjoy the benefits.

Sleepy Village Awakens
With Fang Ruibiao's lead, by the end of 2016, just one year after his arrival, Loufangping Village had already shaken off poverty, with its residents' annual per capita income exceeding 4000 yuan (US$604). It completely transformed from a gloomy and stagnant place into a vigorous and dynamic draw.
Gradually, more and more young locals saw the booming development and promising outlook of the village and decided to return from the cities. Some got involved in modern breeding and planting industries and others launched grocery stores, orchards and farmhouse resorts, as increasing numbers of visitors began trickling into the village.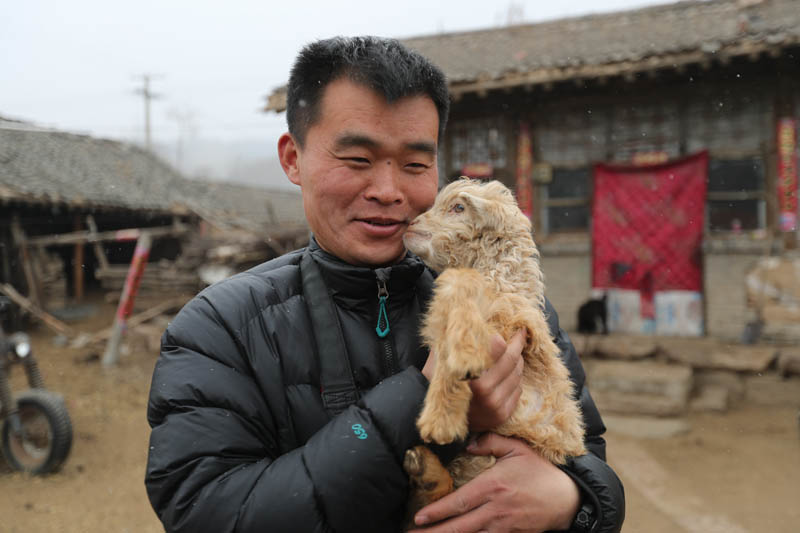 At the end of the 2016, Fang Ruibiao purchased many cashmere goats from Liaoning Province with poverty alleviation funds and gave them to the poor in the village to expand the local breeding industry. courtesy of the CAST
"I worried that villagers might reject new stuff, but I was totally wrong," Fang said."Now, almost all of them have bought smart phones and learned how to use WeChat. Some even post short videos and photos on Wechat to promote family-produced green agricultural products."
However, Fang is most proud of teaching the elderly in the village to use video calling on WeChat so they can"see and talk" with their migrant children when they miss them, which greatly reduced their loneliness.