From Barren to Flourishing
BEIJING REVIEW,October 18, 2017

Adjust font size: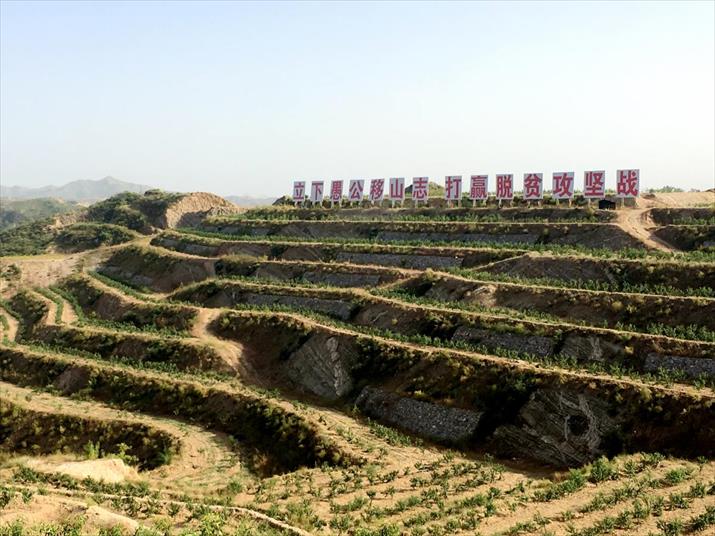 A picture of part of the land reclamation project at Baiya Village in Fuping County, Hebei Province, on September 22 (LU YAN)
There's a well-known saying in Fuping County in Baoding, north China's Hebei Province,"Ninety percent of Fuping's land is mountains, 5 percent water and5 percent arable land." It is an apt way of describing the mountainous region. The total amount of arable land in the county is 219,000 mu (14,600 hectares), far from enough for the county's population of 230,400.
Mainly due to its geographic conditions, the region is still on the list of the poorest counties in China. Among the 209 administrative villages in Fuping, 164 were classified as poor. In 2012, the county's registered poverty-stricken population stands at around 110,000, or 48 percent of its total.
Nevertheless, the county has undergone profound change in the past five years."The change is really remarkable for our town and the whole county in terms of infrastructure and people's life," a young taxi driver surnamed Li told Beijing Review.
Li is from the town of Fuping, which hosts the county government. According to Li, though his hometown still looks a little shabby, its infrastructure has improved a lot, and more people are coming to the county for leisure or business.
The changes started around five years ago when President Xi Jinping, who at the time was the newly-elected General Secretary of the Communist Party of China Central Committee, made an inspection tour of the county in late 2012. When meeting the villagers, Xi said that"the most arduous task facing China in completing the building of a moderately prosperous society is in rural areas, especially poverty-stricken regions." Xi also stressed on many occasions that a well-off society cannot be achieved if people in old revolutionary base areas cannot shake off poverty. Fuping County is one such area.
"President Xi's tour injected new vitality into the development of the county and its poverty alleviation efforts," said Zhao Mintao, Vice Mayor of Fuping County.
Since Xi's inspection, finding internal growth drivers has been a major research topic and key focus of the county, Zhao said.
As a mountainous county that had mainly relied on agriculture before, there are very few industrial bases and no suitable space for industrial development. As a result, the local government has turned to the region's vast mountainous landscape.
Fuping special agricultural products on display at the county's e-commerce public service center on September 22, in Fuping County, north China's Hebei Province (LU YAN)
What the mountains offer
Baiya Village in the town of Datai is located in a valley in central Fuping. The village has a population of around 2,400 and only 1,138 mu (76 hectares) of arable land. In contrast, the mountainous village spans a barren area of as much as 20,000 mu (1,333 hectares). Statistics show that more than half of the local villagers were living under the national poverty line in 2014.
"The only source of income for local villagers is farming," Jia Baosheng, an official from Datai, told Beijing Review.
Jia said that in order to change these conditions, the local government decided to make full use of the mountainous areas after a scientific investigation in 2015.
"Agricultural experts said these areas can be used for agriculture after some development. We were very excited and set about implementing the land reclamation project," said Jia.
Local villagers then became shareholders of the land reclamation project by transferring their land-use right to its investors.
Based on the local climate and land conditions, the previously barren land was transformed into areas suitable for modern agriculture, equipped with water-saving irrigation facilities. By the end of 2016, 3,000 mu (200 hectares) of mountainous area in the village had been turned into arable land, where apple trees, peach trees, cassia trees, peanuts and sweet potatoes were planted.
Villagers who participated in this project benefit the most from the scheme. Each year they earn a basic income of 1,000 yuan ($150) per household. Those who work for the venture, such as by planting seeds or digging, can have an extra income of3,000 yuan ($450) or more. Moreover, when the project begins to pay off, the profit will be distributed between the investors and villagers, with the latter receiving a minimum of 300 kg of corn per mu of land each year.
According to estimates by the local government, by the end of 2020, the time when the land is expected to begin producing yields, each villager can get profits of over 6,000 yuan ($900). By the end of 2016, among the 1,512 registered impoverished villagers in Baiya Village, 1,219 had participated in the project. Their annual average income has increased by more than 10,000 yuan ($1,503), according to Jia."It is a tangible benefit."
This land reclamation model has also spread to other parts of Fuping where barren mountains are suitable for reclamation efforts. According to Zhao, the vice mayor of Fuping, around 93,000 mu (6,200 hectares) of arable land has been cultivated within the county. Some of the new land is being used for modern agricultural purposes, while some is filled with fruit trees or cash crops such as plants that can be used as raw material for traditional Chinese medicine. More than 15,000 villagers can benefit from these land reclamation projects.
Zhao also noted that to avoid ecological damage, over-exploitation is prohibited, and all land reclamation projects are based on strictly scientific research."We cannot afford to develop the economy at the expense of our environment. You can see, these projects have not only brought economic benefits to villagers, but also helped improve the local ecological system by employing modern farming technology and scientific approaches," he told Beijing Review.
Mushroom farming at the mushroom planting industrial park in Tianshengqiao Town, Fuping County, Hebei Province (LU YAN)

The suitable way
Because of its mountainous geography and pollution-free water and soil, Fuping is a suitable place to farm high-quality mushrooms. However, in the past, only a small number of locals grew mushrooms on a small scale. Most of Fuping's farmers didn't realize that mushrooms could someday make them big fortunes.
At the beginning of 2015, the government of Fuping County invited agricultural specialists and heads of some companies to conduct a feasibility study on growing mushrooms on a large scale. They concluded that the mushroom business could be a breakthrough for farmers seeking to shake off poverty. Besides the favorable natural conditions present for mushroom farming, mushrooms were in demand in the market, and they take a short time to grow and harvest.
Through the joint efforts of the county government and Jiaxin Planting Co. Ltd., a leading local company focusing on agricultural industry, a large mushroom planting industrial park covering an area of more than 1,500 mu (100 hectares) was established at Nanliyuan Village in the town of Tianshengqiao.
The industrial park not only employs a large number of locals, but also encourages villagers to join its operations by renting mushroom greenhouses with government subsidies. The park also invited dozens of experts to provide free training for the mushroom growing technology and long-term guidance to local villagers seeking to grow high-quality products.
"As long as the villagers follow our guidance, they can earn money. Our company and the government will take the business risks together," Qi Jianli, Manager of Jiaxin Planting Co. Ltd., told Beijing Review.
The risk-free business model for local villagers comes as a result of government-backed financial policies and government-subsidized insurance. The poverty relief funds have helped villagers start their own businesses, too.
Before operating a number of mushroom greenhouses at the park, Zhao Haidong, a local villager, used to work in several cities for many years. Now he can earn a stable income of around 40,000 yuan ($6,000) per year from the mushroom business.
"I much prefer doing farm work here than working in big cities, because the income is good, while the time is more flexible, and I can be my own boss," Zhao Haidong told Beijing Review.
Qi said that the mushrooms are good quality thanks to a large difference in temperature between day and night in the region and its clean and fresh air.
To make the produce more competitive, Fuping's government made great efforts to promote its local special products. As a result, local producers jointly created a mushroom brand named"Laoxianggu," which means"Fellow Villager's Mushrooms." The government also helped the companies establish a mushroom standard-grading system to ensure good quality. What's more, an e-commerce public service center was built to promote local products such as dates and walnuts as well as mushrooms.
"Now, our products are welcomed in many agricultural product distribution centers in big cities including Beijing, Shanghai and Guangzhou. We have also established long-term partnerships with some supermarkets. Marketing is not a problem," said Qi.
According to statistics provided by Zhao Mintao, since the first large-scale mushroom planting park began operation in 2015, 46 such growing zones have been built in the county, containing more than 3,300 greenhouses. Over 6,260 villagers have become engaged in the industry and about 2,810 poor households have benefited from the project.
"Besides the mushroom industry, the development of other products such as peaches, walnuts and dates is also on our agenda," said the vice mayor.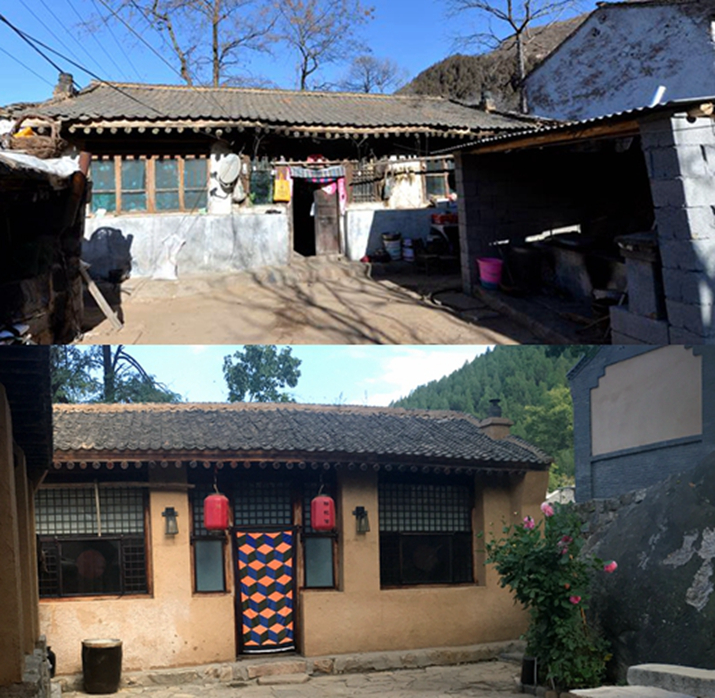 A comparison showing a villager's home before and after renovation funded with government subsidies in Luotuowan Village, Fuping County, Hebei Province (LU YAN)
Preserving rural beauty
The village of Luotuowan in the western town of Longquanguan was also one of Xi's stops during his trip in 2012. The impoverished village, with 245 households and around 560 villagers, is located in a narrow valley. Around two thirds of the villagers have left to work in big cities. The village's per-capita net income in 2012 was merely 1,000 yuan ($150), while the per-capita net income of rural residents nationwide that year was about seven times as much.
Due to poor transportation conditions and lack of arable land, the government planned to relocate all villagers to places with better living conditions. But later when the local government saw the value of the natural beauty and well-preserved ecology of the small village, it decided to build the village into a countryside tourist attraction.
Luotuowan is not far from the county's well-known Tianshengqiao Waterfall Scenic area."More than66 percent of the village is covered by forests, thus if infrastructure is improved, it would be a good chance to develop local tourism," Cao Jianping, Secretary of the CPC Luotuowan Village Branch, told Beijing Review.
Since 2013, with financial support from the government's poverty relief fund, the village's infrastructure has been upgraded. The local government also encouraged villagers to get involved in homestay tourism and invited experts to advise them on how to develop their tourist appeal.
According to Cao, the government gave subsidies to villagers to help them renovate their houses or build new ones. Now most villagers have moved to their new homes.
At the end of 2016, Tang Zongxiu moved to her new six-room house in the village. She told Beijing Review that the new changes are incredible. She plans to open an inn with her daughter.
The county's tourism administration has even provided free cooking lessons to locals who plan to operate inns and will offer them 30,000 yuan ($4,300) per household as initial funding. So far, three inns have started operation, and seven more are in preparation.
"We are trying to change the old'blood transfusion' model of poverty reduction and kick-start people's initiative. So far, it seems effective," said Zhao Mintao, the vice mayor. According to him, poverty in the county has been reduced by almost half in the past five years, and Fuping's overall economy has also grown. Though not suitable for the manufacturing industry, the county plans to focus on the health, tourism and hi-tech industries in the future, said Zhao.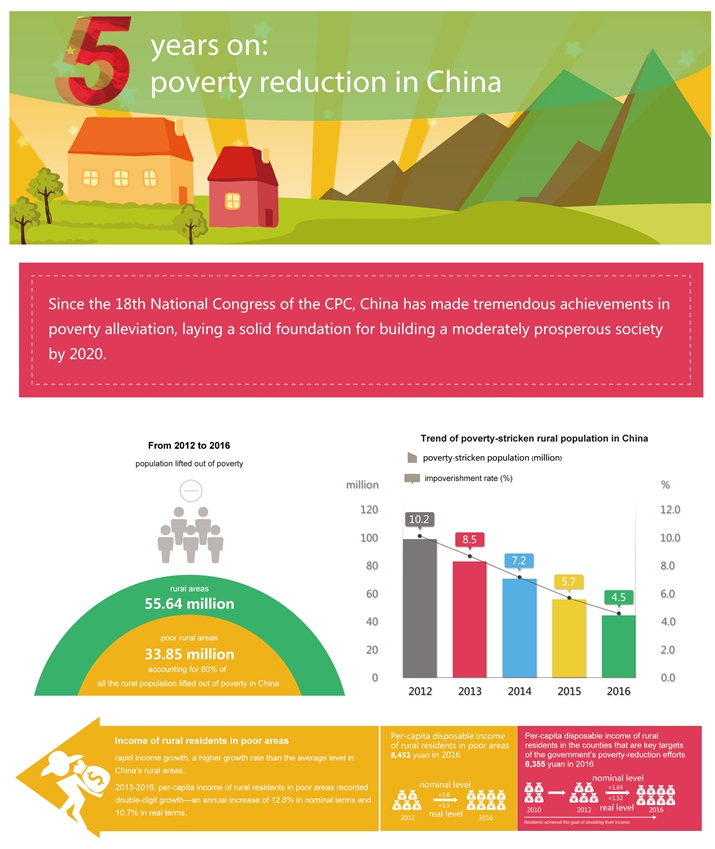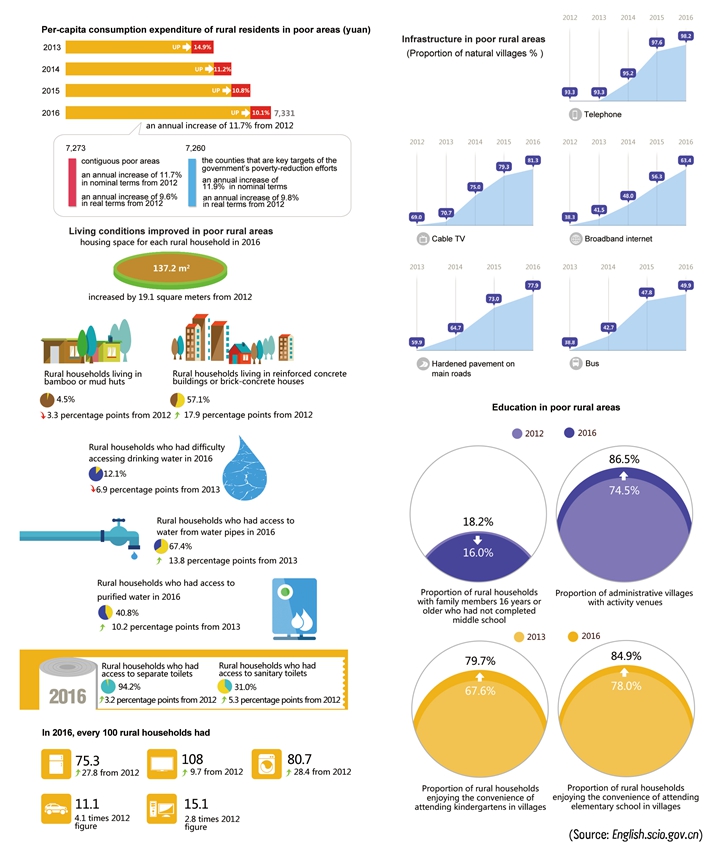 (Reporting from Fuping County,Hebei Province)