Heze customizes financial support for rural enterprises
p.china.org.cn,October 16, 2017

Adjust font size:

Heze, famed for its peony flowers, was underdeveloped due to its disadvantageous location and limited resources. It was therefore targeted as a key area for poverty reduction in Shandong. Poverty reduction through financial services has produced positive results in Heze.

To identify the exact financial needs of different enterprises, the People's Bank of China (PBOC) has taken the lead in setting up a special office to reduce poverty through provision of financial services. It selects and identifies targeted enterprises, and provides customized support. It plans to carry out a poverty reduction campaign across the whole province and provide customized solutions for different areas.

Thanks to this PBOC support, the Poverty Alleviation Office in Heze is encouraging banks to do business based on local conditions. It has set up a "1+N+M" model, under which 1 bank provides credit support and comprehensive financial services for N companies so that M poor households can find work in local companies.

Heze government is also encouraging returned migrant workers and college graduates to start up businesses so that more rural people can be employed there.

In 2014, a villager named Tan Jiangwei set up a factory that produces car seat cushions. It performed well but could not scale up due to lack of financial resources. Government officials learned of Tan's situation and helped him obtain a loan of 500,000 yuan (U.S. $75,000) at a low interest rate. Thanks to this financial support Tan's factory has expanded and now provides jobs for more than 60 poor households, 20 of which are no longer classified as 'poor'. "1+N+M" model produces a leverage effect. It helps more people to emerge from poverty with the application of less financial resources. It has achieved sustainable development.

On the other hand, for households who can and want to start their business but are short of money, Heze government provides "loans to rural households" and "business loans". These financial services support the development of poor rural households and are already helping them to escape from poverty.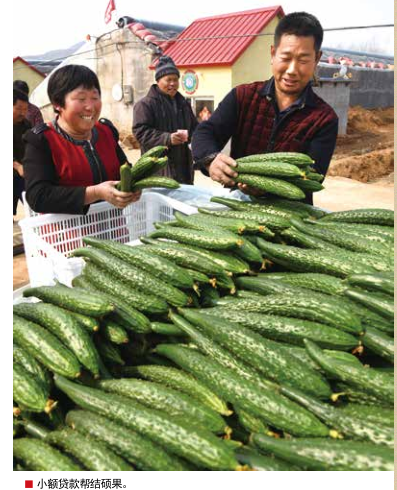 Micro credit helps villagers start a business.
These loans are designed to benefit both rural enterprises and poor households. On the one hand, it is difficult and expensive for rural enterprise to obtain loans. On the other hand, some rural people cannot travel to the cities to look for work, either because they are older, or because they have children to look after. Both problems can be solved through the two forms of loan. To date, "business loans" have benefited over 600 enterprises while "loans to rural households" have directly helped 13,083 individuals and supported 6,154 households.
Heze government also provides other loans such as "e-commerce loans", "universal benefit loans", "double insurance loans", "credit insurance loans", "loans with forestry as collateral", and "loans with water management rights as collateral". All these policies are now blossoming like the peonies of Heze, providing a fragrance that encourages people to strive for a better life.