Pakistan hopes to learn from its 'iron brother'
China Daily,October 12, 2017

Adjust font size: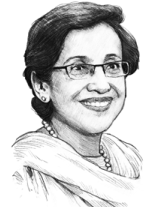 Tehmina Janjua, foreign secretary of Pakistan [CHINA DAILY]
China is a giant that has moved with great ease and has achieved the type of success few other countries have, Pakistani Foreign Secretary Tehmina Janjua has said.
Pakistan can learn from the hard work and the commitment from its"iron brother", she said, as she hailed China's"amazing development".
"With a population the size that China has, it's difficult for that kind of leap forward to be made," she said."China has made that leap. We congratulate its leadership and people for that."
Speaking of the changes that have taken place in China over the past five years, Janjua said lifting millions of people from poverty to a higher level of development is a strategic global event that China has taken the lead in.
She was also amazed at the urbanization programs that have taken place, as"China has done what few countries have been able to do at a national level".
"Take a look at Chinese cities. They match those of any developed country," she said.
Janjua said a key factor is"commitment at all levels".
China has always been an important player on the global stage, but has recently assumed its legitimate and rightful leading role, she said.
"This has been demonstrated not only in its relations with various parts of the world, but also at the United Nations."
The diplomat said China's greater role on the international stage will help in promoting the legal aspects of the global order.
"We are happy with this role because China is a country whose activities are within the UN system and based on the principles identified in the UN Charter," she said.
Janjua said the Belt and Road Initiative is an example of China's readiness to support the rest of the world.
Projects under the initiative, such as the China-Pakistan Economic Corridor, will not only benefit Pakistan and its people, but also the entire region, she said.