Guizhou fights poverty through cloud technology
p.china.org.cn,September 30, 2017

Adjust font size: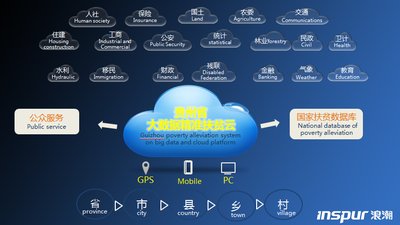 "The key to winning the war against poverty is to identify the problems and tackle them with targeted measures." Complete and precise information on poverty is the foundation of targeted poverty alleviation work.

Guizhou is one of the first provinces in China to have developed a big data industrial sector. Based on its strengths in big data, cloud computing technology and innovative poverty alleviation methods, Guizhou creates a model of "internet+ poverty alleviation" and establishes a cloud platform which has improved targeted poverty alleviation and further inspired people in poor regions to take up arms in the battle against poverty.
At Guizhou Provincial Poverty Alleviation and Development Office, the platform is composed of a big screen with a map of Guizhou province, showing real-time information on people who have left as migrant workers, the overall poverty situation, factors leading to poverty, etc.
Click open the system, there is clear information on poverty metrics throughout the province. Supported by specific explanations and graphics, it is so detailed that people can check the geographic position and industry structure of a single village, and even the housing facilities, family members, and income of every poor household.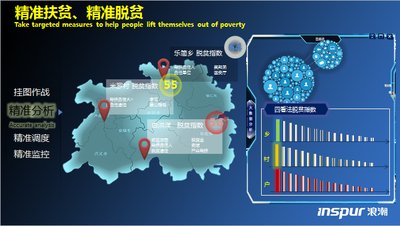 Rolled out in December 2015, the cloud platform has substantially improved targeted, dynamic and scientific management of poverty alleviation work in Guizhou, while presenting more transparent information on the fight.
"The priority in fighting poverty is to identify the poor—doing so through big data is the first step in efficient targeting", says Zhou Xing, General Agronomist of Guizhou Provincial Poverty Alleviation and Development Office. The most prominent feature of poverty-alleviation cloud is establishing a scientific poverty assessment system through a four-pronged analysis of information on poor households.
The system includes 84 indicators providing information on the level of poverty and the geographical configuration of poverty-stricken households at all levels in the form of pie charts. It helps to define measures to be taken to address their problems.
Zhou says the poverty-alleviation cloud integrates various indicators into a single index through big data. Households with scores less than 60 are regarded as poor; those between 60 and 80 are above the poverty line but at great risk of slipping back again; and those above 80 have clearly emerged from poverty. "In the past, a household was regarded as 'poor' if its income and housing fall below a certain standard, and if it has children out of school. But now a wider range of indicators are presented through the new system in a more concrete and balanced way."
Factors causing poverty can also be identified through analysis of data from the platform, providing references for targeted measures to reduce poverty. The system identifies three factors as the top reasons behind poverty: lack of funds, lack of technology, and the burden of education.
"After information collection, we monitor poverty-alleviation projects at all levels, which pair the poor with people or organizations, from draft plans to specific measures being taken. We also watch over the implementation process and identify places where projects are carried out successfully and those where they are not. A clear picture of pairing up can be presented through an analysis of the projects," says Zhou Xing.
Real-time monitoring on poverty-alleviation tasks, responsibilities and project funding can be carried out through the cloud platform to ensure that targeted measures are taken every step of the way.
Statistics show the government allocates about 5 billion yuan (U.S. $756 million) to fund 10,000 to 15,000 projects in the villages of Guizhou. How to make sure these projects are properly executed is a huge challenge.
Inspur Group is the developer of the poverty-alleviation cloud. Its project manager says that the platform is based on Geographic Information System (GIS). With mobile terminal as the carrier, it forms a mobile patrol system on poverty-alleviation work which focuses on documented poor households and project funds. The electronic map of its vector model extends to 16 layers, with targeted monitoring at village level. And it supports random inspection on related projects anywhere, anytime.
At present, Guizhou is striving to build a database on poverty alleviation by developing big data and big projects, with the aim of realizing successful targeted poverty alleviation. The cloud will integrate data resources from all sides to form a platform linking all departments at all levels, making it more targeted and transparent.