Poverty, prosperity cannot co-exist under socialism
China.org.cn by Earl Bousquet,September 27, 2017

Adjust font size: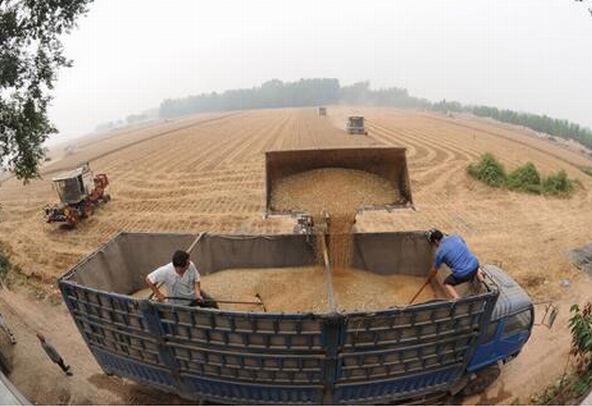 People harvest wheat in Linzhai Village, Shenqiu County, Henan Province on June,5,2012. [Xinhua]
China's performance in poverty reduction on its road to achieving a "moderately prosperous" socialist society by 2020 opens the way to a global discussion on how to approach a problem still seriously afflicting too many countries and people worldwide.
China raised an average of 13.9 million people out of extreme poverty every year between 2012 and 2016, with annual per capita income also simultaneously growing 10.7 percent.
This achievement is even more worthy when seen against the background, that at the start of 2017 there were 43.3 million Chinese living below the established poverty line of 2,300 yuan (US$344.30), amounting for only 3 percent of the population.
Those designing the building blocks for construction of "Socialism with Chinese Characteristics" do not mistakenly measure poverty reduction only by job creation. Instead, over 775,000 skilled persons have also been deployed to most affected areas, with specific tasks and related targets.
Extreme poverty is the primary target for elimination, and services deployed in accordance with local needs include introduction of new "hard" or "soft" skills to help create new learning environments in preparation for appropriate employment.
Efforts across China are also coordinated through adequately staffed central bodies with the necessary authority to enforce implementation.
Such forward planning is key for successful achievement of the key targets necessary for establishment of the envisioned more egalitarian (socialist) society tailored to meet the needs of today's China.
China's poverty reduction achievements will be interpreted (or misinterpreted) accordingly elsewhere, especially by those unwilling to accept that the solution to absolute poverty is not necessarily absolute wealth. The average poor person anywhere doesn't always dream of becoming an overnight billionaire, after all.
Instead, most poor home providers first aspire to live free of big monthly debts and daily costs higher than their lowly incomes; their children having free easy access to health and education; a roof over their heads with enough living space; able to benefit from all available social services; and to put three nutritious meals per day on the home table.
Poverty reduction is more than just a political buzzword or an economic yardstick for measuring social progress. Instead, it requires adequate State-level back-up to present the policies and pilot the laws that will drive the decisions and guide the mechanisms to translate declared political will into national reality.
Central planning is a key to China's speedy and guaranteed success in policy implementation.
Successive Chinese governments have always planned ahead in determined cycles, always certain that their successors will be largely guided by the adopted plans thus inherited.
This isn't the case in the so-called electoral and parliamentary democracies where governments change every five years (o even less) through elections in which parties with the most money win, with outcomes that usually extend to include donors influencing government policy.
It also should be stated that poverty reduction is not (by itself) a panacea.
South American states, for example, have performed well in reducing poverty levels of late, yet haven't been able to generate more jobs to maintain the momentum.
Caribbean island nations are also mainly swimming against the tide, slowly drowning while tirelessly trying to ride constantly rising waves of unemployment. Yet most still treat poverty reduction as an advocacy factor that will (hopefully) grow and incrementally influence national policy direction, over time.
In both cases, however, related poverty reduction policies are also more the results of election campaign promises than a firm ruling party with State policies designed to last beyond the defined term in office.
Cuba is pursuing"Prosperous and Sustainable Socialism" through "Conceptualization of a Cuban Economic and Social Model of Socialist Development" with "Economic and Policy Guidelines of the Party and the Revolution for the Period 2016-2021" as part of a"National Social and Economic Development Plan Through to 2030."
It's also allowing greater levels of individual participation in a much wider range of private income-generating activities.
Venezuela is bravely pursuing "Bolivarian Socialism," mainly aimed at redistributing national wealth to also benefit the poor and the historically dispossessed in a country with the world's largest certified oil reserves.
However, those seeking to turn back the revolutionary process started by President Hugo Chavez and the United Socialist Party of Venezuela (PSUV) since 1998 are not interested in poverty alleviation, as the latest round of economic sanctions imposed by Washington will eventually hit the poorest the hardest.
President Nicolas Maduro and the PSUV plan to deliver on their election promises have been seriously thwarted by a hostile, opposition-dominated parliament bent on competing with and (eventually) nullifying the elected president's executive power.
However, one common lesson from the cited examples is that pursuing socialism (by any name) and socialist objectives (by any means) do require some absolutely necessary mechanisms that include (but are not limited to): State authority, political certainty, popular backing for government policies, advanced central planning, and the State's ability to protect, defend and extend achieved gains.
Beijing's approaches to achievement of set targets on its road to moderately prosperous socialism with Chinese characteristics may not be applied (even if applicable) in places where long-term planning is anathema to partisan short-term re-election prospects and plans.
Yet, China's lightning speed in reducing extreme poverty levels is showing the rest of the world, once more, that whenever and wherever there's political will, ways will always be found to achieve defined national goals.
Earl Bousquet is a contributor to china.org.cn, editor-at-large of The Diplomatic Courier and author of an online regional newspaper column entitled Chronicles of a Chronic Caribbean Chronicler.

Opinion articles reflect the views of their authors, not necessarily those of China.org.cn.