China contributes military aid to African Union
china.org.cn / chinagate.cn by Mary Poni Yugu,September 26, 2017

Adjust font size: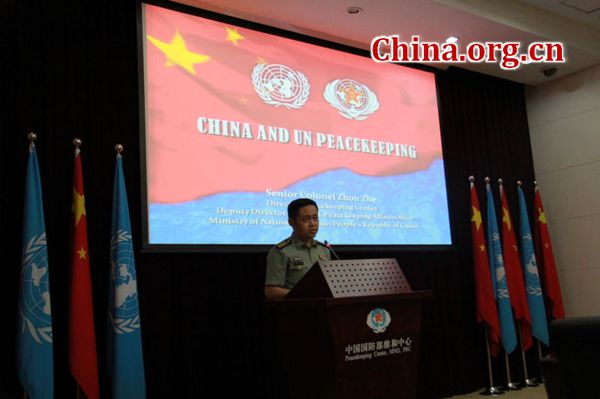 Senior Colonel Zhou Zhe gives briefing to both Asian and African journalists at Chinese Peacekeeping Center on Aug. 22, 2016. [Photo by Mary Poni Yugu/China.org.cn]
As a contribution to global peacekeeping and the assurance of continuous support to the African continent, China pledged a total of US$100 million in military aid, according to Senior Colonel Zhou Zhe, director of Chinese Peacekeeping Center.
The disclosure was made during a visit by African and Asian journalists to the Chinese Peacekeeping Center on Aug. 22.
According to Senior Colonel Zhou, China joined the UN peacekeeping mission on April 21, 1990, and has since participated in 24 missions.
China currently deploys a total of 2,403 military personal in six missions in Africa, a contribution that makes China the second largest contributors of peacekeepers among the five permanent members of the UN Security Council, Zhou said.
Zhou informed journalists that South Sudan was the first place of deployment of Chinese infantry battalion in 2015, which is symbolic for the country's friendship with Africa.
He disclosed that China endeavors to maintain a strong and defensive military compatible with its development goals while striving towards a moderately prosperous society in all aspects.