A sweet business builds a post-85s millionaire
p.china.org.cn,September 19, 2017

Adjust font size: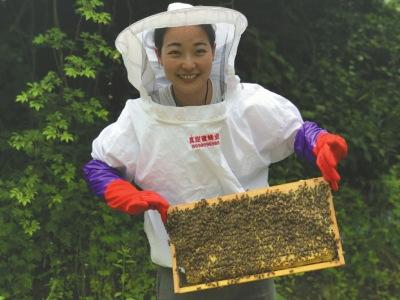 Wang Shujuan and some of her honey bees

Change of destiny
Located in the north of southwest China's Sichuan Province, ancient Qingchuan County is the hometown of Wang Shujuan, a post-85s generation. It was one of the areas suffering worst under the impact of the deadly 2008 Sichuan earthquake. Wang's grandfather, an experienced beekeeper, was a victim, and his death changed Wang's destiny.
Wang was studying music in Sichuan Music Academy at the time of the disaster. The damage done to her hometown affected her deeply, and she felt she must do something to help out. This feeling became stronger as she saw farmers suffering from a shortage of channels to sell their high-quality local products. After graduating in 2009, Wang chose not to continue on the path of music and become a music teacher in the city, but instead decided to go back home and become an entrepreneur.
Internet and agriculture brought Wang success
With professional guidance from the e-commerce giant Alibaba, Wang opened an online shop selling Qingchuan's local specialties. Honey products swiftly became her shop's best sellers, and Wang became one of the earliest online merchants in Qingchuan.
With her business developing quickly, Wang made a decision to further her graduate studies abroad in Australia, this time majoring in media communication. She did not neglect her business back home during the two years she spent studying overseas — she tasted almost all the honey products in Australia and New Zealand, and studied the beekeeping business there. This experience provided Wang with new insights and ideas. After graduating in December 2012, she returned home with new and even more ambitious plans. She expanded her business, established her own brand, opened a physical shop for retail and wholesale of local specialties, formed her own e-commerce team, and launched a professional beekeeping cooperative in 2013.
As the result of establishing cooperatives involving most of the farmers in the region, honey bee farming has become a profitable business in the area. And training in related skills has helped this sustainable business to develop even further.
"I am planning to expand to twenty bee hives this year," says beekeeper Li Changqing. "They will produce 25 kg of honey, providing an additional income of over 2,500 yuan (U.S. $368). That's enough to pay for my daily necessities."
When Alibaba launched the biggest IPO in US history in September, 2014, Wang was one of eight representatives invited to ring the opening bell. In 2015, Wang's team generated revenues of more than 17 million yuan (U.S. $2.5 million), which increased to 22 million yuan (U.S. $3.2 million) in 2016.
New opportunities found
With honey production on the rise, Wang identified a big demand for honeybees in the market, which she viewed as an opportunity for supply-side structural reform. Bee sales alone generated 3 million yuan (U.S. $441,000) in revenues last year. While keeping a close eye on quality, Wang Shujuan has further plans.
"We intend to grow different types of flowers in one of the valleys here, and keep more bees around to produce honey," she says. "It will bring additional income to local farmers, and help develop a sightseeing business as well."
She has installed cameras on 5 beekeeping sites deep in the mountains this year. Customers can watch bees working as well as following the honey production process on their mobile phones.
"The internet brings customers closer to us," says Wang. "It also gives them a greater feeling of trust in our products."
As a fashionable post-85s girl, Wang is conscious that the younger generations spend less time in their kitchens. This has led to falling demand for some agricultural products. She is keen to make local fungus like agaric and tremella into canned soups or porridges that people can drink just like other beverages.
"When Qingchuan is mentioned, people always think of the earthquake, but I want them to start thinking about our high-quality agricultural products and our beautiful landscape," says Wang, whose dream is to let Qingchuan's fine agricultural products be shared as widely as possible.