"Teach to fish" as arts and crafts-based poverty alleviation
p.china.org.cn by Li Danni,September 18, 2017

Adjust font size: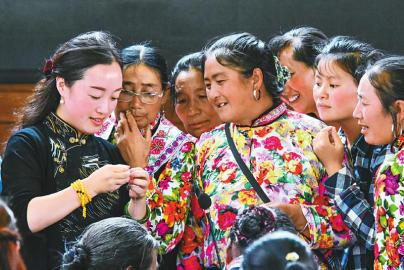 Zhou Jing teaches female embroiderers the new style of embroidery.

On June 21st, Qiang embroidress Li Xiaoqing in Li County received a set of pictures from Zhou Jing, the "new Qiang embroidery" teacher. Instead of the gaudy and showy bright reds and greens of traditional Qiang embroidery, the cheongsam in the picture is plain in color, which gives it an air of elegance. "It does indeed look more attractive than the pieces I made," sighed Li Xiaoqing. "I will use this style from now on."
Two weeks ago this Qiang embroidery training course started as an arts and crafts-based poverty alleviation project piloted by Sichuan Provincial Federation of Literary and Art Circles. 83 Qiang embroidresses were invited to attend the training course, whose goal was to adapt local traditional Qiang embroidery to new market tastes in designing, creating, mounting, and so forth. In spite of only one day and a half of professional training time, the gate to these new markets was opened for the participants.
The search for teachers — New Qiang embroidery brings about new concepts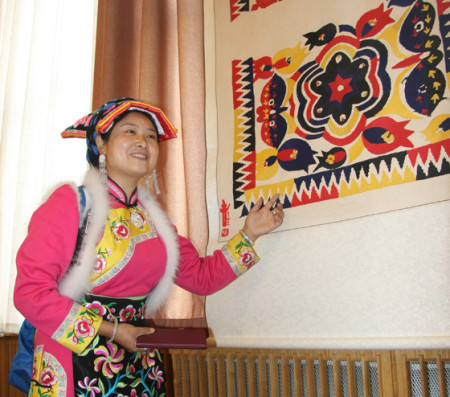 An item of national intangible cultural heritage, Qiang embroidery shows its strongest features in powerful colors and unique indigenous flavors. But the aprons and insoles whose patterns and colors vary little, and the full-color ornaments embroidered in woolen yarn, do not appeal to modern tastes. "They don't sell well!" sighed Zhang Ying, the first secretary of Jiashan Village in Li County. She is accredited by the Provincial Federation of Literary and Art Circles.
How can arts and crafts play a role in targeted poverty alleviation? As an accredited poor relief organization of Jiashan village, the Provincial Federation of Literary and Art Circles were keen to invite Zhou Jing, the founder of "new Qiang embroidery" and the vice chairman of Mianyang Folk Literature and Art Society, to give a class. Having considered the condition of the local industry, 83 Qiang embroidresses from several villages were invited to take a free off-job training course.
Zhou Jing had asked trainees to prepare their own Qiang embroidery works beforehand. Although neat and skillful, most of these works come from people living at subsistence level in mountainous regions; they are far from the modern aesthetic. "Whether aprons or insoles, they have immaculate needlework, yet no composition or layers of colors, nor any creativity in mounting."
During the training course, Zhou Jing made a comparative analysis on selection of raw materials and stitching methods, as well as the approach to composition and mounting.
Trainee Pan Yunlan, a highly-regarded embroidress in the locality, was left wide-eyed by Zhou's new embroidery. "We used to lay out the pattern of our plums evenly — this required a lot of work and looked less attractive than a more natural presentation. Never did we think of using different hues of red to reflect levels of red plum from bud to full bloom."
By embroidering only a scattering of petals, Zhou Jing's peony formed an abstract silhouette. The mounting has also endowed the peony with additional decorative effect. "Qiang embroidery had maintained its original form as handed down over the generations," said Li Xiaoqing. "Nobody had ever thought of trying something different."
Looking for markets — Precise training before taking orders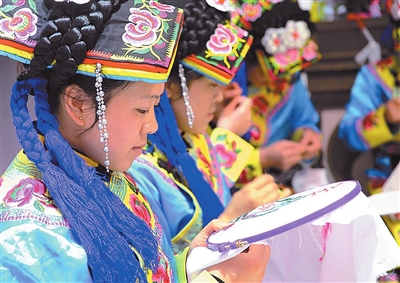 Zhou Jing explains that traditional Qiang embroidery was for flowers on aprons, insoles, or collars. This helped these parts to better withstand wear and tear. However, only by upgrading the embroidery and converting a practical craft into an ornamental one can it take its place in modern life. "The same apron can become much more elegant by making the color of the flowers softer and lighter," says Zhou.
Qiang embroidery's simple compositions, narrow themes, and basic stitches are not as rich as those of Shu embroidery. This limits its appeal to modern markets. In response, Zhou Jing has tried to incorporate more than 30 Shu embroidery stitches into Qiang embroidery, such as the rolling pin pattern and the seam pattern. Moreover, she expands the themes and range of products, which has led to a significant increase in orders. Clothing and daily goods that incorporate elements of Qiang embroidery are growing in popularity. During the training in Li County Zhou wore a Qiang embroidery cheongsam that she herself had designed, on which the scattering of flowers was graceful against the black silk background. Several people placed orders for the cheongsam on the spot.
According to Ping Zhiying, the Party secretary of the Provincial Federation of Literary and Art Circles, Qiang embroidery is one of the most traditional handicrafts in Sichuan. To renew and revitalize the old craft, a different type of organization is a must. And to allow the local craftswomen to earn money, innovation is a must.
Zhou Jing explains that the demand for 'new Qiang embroidery' now exceeds supply: "Once the craft has completed its transformation, the county can develop as a production base for the new embroidery, which will enables people to make a living at home."