A Tibetan family lifted out of poverty
China.org.cn,September 05, 2017

Adjust font size: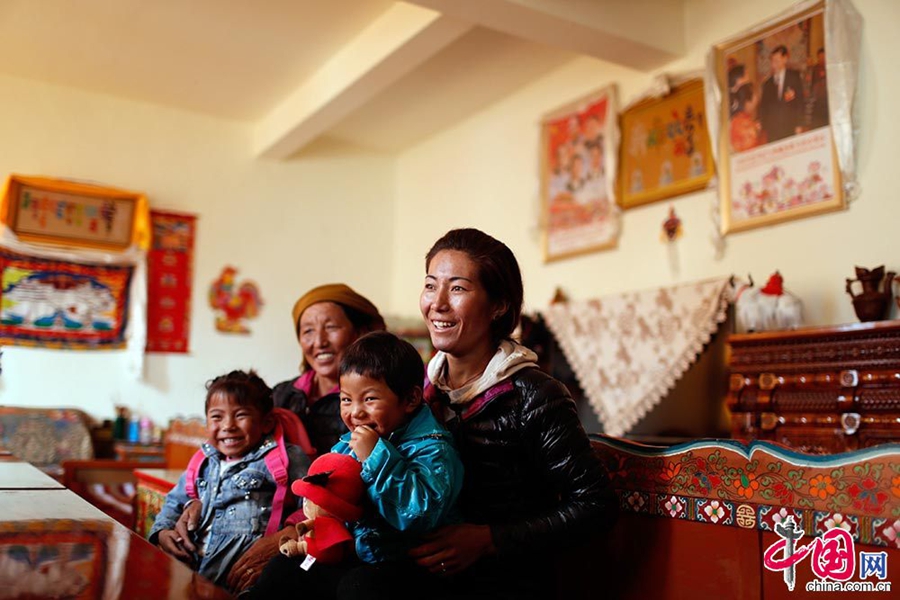 Nima, her daughter and granddaughters pose for a picture at their new home. [Photo by Yang Jia/China.org.cn]
Autumn in Lhasa is a scene of dazzling beauty. The high mountains and lofty ridges are veiled in white clouds. The mighty waters of the Lhasa River roll on incessantly, while herds of cattle and sheep graze on the vast grasslands.
There is a small residential area - Sanyou Village - built next to national highway 318 and the bank of the Lhasa River. It is about 60 kilometers from Lhasa, capital of Tibet Autonomous Region.
The village is under the jurisdiction of Qushui County. The houses are Tibetan-style, with white walls and red eaves. Currently, 184 families have settled in the village, including that of 53-year-old Nima.
They were among 1,000 families relocated from impoverished mountainous areas to the new residential areas through a local housing project aimed at low-income Tibetan residents.
Nima's family lives in a two-story 144-square-meter building with a courtyard. She, her husband, daughter, son in law and two granddaughters used to live in a shabby hovel in a poor village in Chabala County far away. They moved to the new village about 10 months ago.
Before moving, Nima's family faced a very hard life. They had three-mu (about 0.2 hectares) of farmland and the main crops were wheat, barley and potatoes. Sales were almost impossible because of low crop yields and poor transportation.
The main source of family income came from Nima's husband Buqiong, who made furniture for villagers earning only 5,000-6,000 yuan (US$757-908) a year, which meant a real struggle to afford the tuition fees of their son, who is studying in the Xiamen University. Nima's family was one of the poorest families in the county depending on local government aid.
Great changes have taken place since the family moved to the new village. Nima's husband works at his old job, but his income is improving. Nima works in the nearby Xinqiang Cooperative Farm raising cows, with a monthly income of 2,100 yuan. "It's going up to 3,100 yuan soon," she told a reporter. Nima's daughter also has got a job in the village's kindergarten to take care of the village children with a monthly income of 2,500 yuan.
In addition, Nima's family also benefits from the village's dividend system payable at the end of the year. There are three cooperatives in the village. A total of 30 percent of their profits are used for circulating and management funds, 10 percent for public utilities, while 60 percent goes to needier families.
There will be more ways to increase villagers' incomes. A village official said that a hand-weaving cooperative to be established soon will further help the villagers move out of poverty.
Pulu is a woolen fabric made in Tibet and widely used in sewing and processing traditional Tibetan clothes, hats and boots. Nima, a dab hand in weaving Pulu, will be able to further increase her income through her skills.
Nima is very grateful for the government to help her family to escape from poverty and live a good life.
Sun Jinling, deputy director of the Finance Department of the Tibet Autonomous Region, said that, in 2016, the region invested 126 billion yuan in the field of people's livelihood involving poverty alleviation and the implementation of housing projects aimed at low-income residents. Thanks to the projects, a total of 77,000 people have been relocated.
Jiang Taiqiang, deputy director of the Development and Reform Committee of Tibet Autonomous Region, said that, up till now, the region has established a total of 125 leading enterprises in the farming and stock breeding sector, and more than 6,200 cooperatives involving farmers and herdsmen, laying a solid foundation for overall poverty alleviation of the region.