Organic agriculture: A new approach to poverty reduction
p.china.org.cn by Xiang Ting & Li Danni,August 24, 2017

Adjust font size:

The 4th International Forum of Organic Agriculture opened in Datong on August 19. Themed with "Organic Dry Farming & Construction of Affluent Society", the event examined how to improve the technical system of organic dry farming, providing a new approach to poverty alleviation in China.

The forum was co-hosted by the Institute for New Rural Development of China Agricultural University, IFOAM Asia, China Association for Quality (CAQ), and Datong government. It has attracted more than 100 participants, including government officials, experts, and practitioners in the field.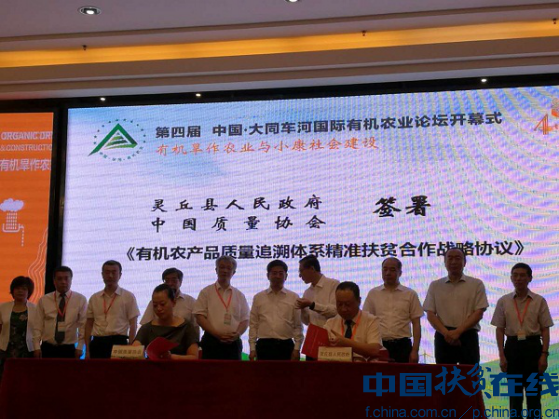 CAQ signs a strategic cooperation agreement with Lingqiu government to target poverty alleviation
In his opening remarks, Duan Yonggang, Vice President of CAQ, introduced the tracing system and explained how it would contribute to targeted poverty alleviation. On top of that, CAQ signed a strategic cooperation agreement on the quality tracing system with Lingqiu government.
Based on natural ecological resources, Lingqiu has established organic agriculture as its pillar industry, which has started to play a role in poverty alleviation. Chehe Organic Community is a good example. With an investment of 380 million yuan (U.S. $56.8 million), the program aims to reconstruct local villages by developing organic planting and breeding, and building ecological tourist facilities and new dwellings.
Organic eggs from Chehe
It's estimated that the annual output value will reach 142 million yuan (U.S. $21.2 million) within five years after the project is completed. Corporate profit would be 30 million yuan (U.S. $4.5 million) while net income per capita would be 58,000 yuan (U.S. $8,700). The model of "organic agriculture, ecological tourism and village reconstruction" not only improves the residential environment, but also helps farmers overcome poverty.