Poverty allayed as tourism develops in Shaoyang
p.china.org.cn by Xiang Ting,07 25, 2017

Adjust font size: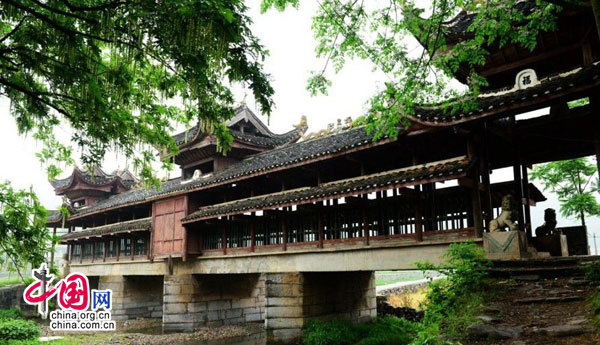 With a big smile, Chen Xiangyang—head of Qiaotou Restaurant in Yuantou Village, Hebo Town, Shaoyang County in central China's Hunan Province—saw off the last batch of customers at 9:00 p.m. on June 14, then took out his plump wallet and started to count his day's income.
"Three tables for lunch and one table for dinner. Gross income of 1,200 yuan [U.S. $178]," Chen said in satisfaction.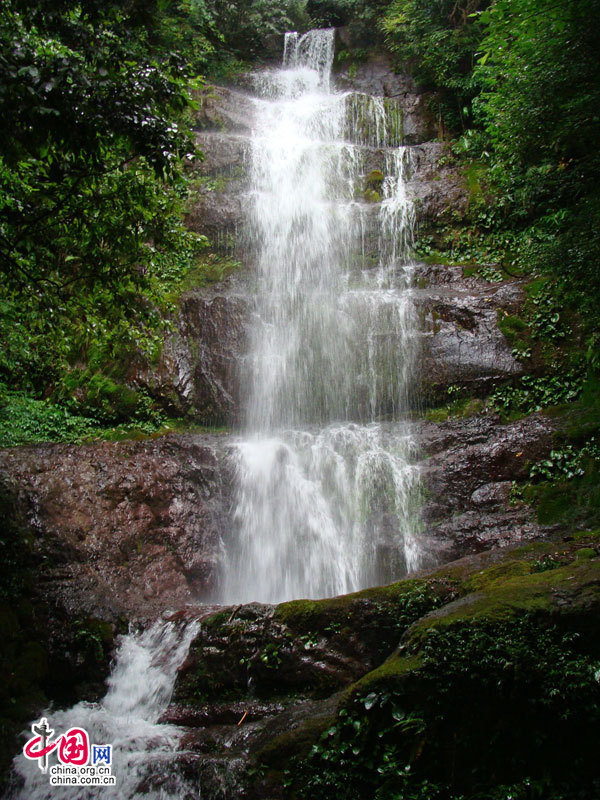 Chengbei Village in Hebo Town is the hometown from which Chen hails. In his younger years, while living in Guangzhou and Zhangjiajie, he worked in 4-star restaurants. With sharp cooking skills, his salary was high.
"I have two children studying in the Central Primary School in Hebo Town, one 10 years old and the other 8. Both of my parents have passed away. For the better development of my children, I decided to start a business back home. But also, the Heboling Scenic Spot is attracting more and more tourists, and the government has launched a favorable policy of 'poverty alleviation with tourism', from which we've benefited a lot," explained Chen.
According to Chen, the gross income of his restaurant reached more than 30,000 yuan (U.S. $4,446) in May and 15,000 yuan (U.S. $2,223) before June 14th. Seeing his flourishing business, the landlord of Chen's restaurant is thinking of taking the lot back to start the very same business.
"I've chosen another preferred piece of land and plan to construct a bigger building with both a restaurant and hotel in the future," Chen said.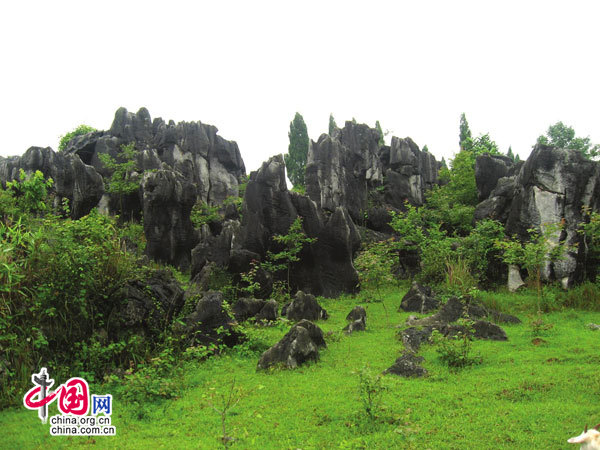 Located in the south of Shaoyang County, Hebo borders Xinning County and Dong'an County in Yongzhou, among which lie Shaoyang County's peaks: the Heboling Mountains.
With an altitude of 1,455 meters, Heboling, originally named Wumaling, is the north branch of the Yuechengling Mountains, which is one of the five mountains in Chairman Mao Zedong's poem. It is also where Shi Dakai, one of the most highly acclaimed leaders in the Taiping Rebellion, defeated the Qing troops; and where CPC leaders Ye Jianying and Bo Gu guided guerrilla wars.
With Heboling as their centerpiece, the mountain ranges rise and fall in the fairyland—like Heboling Scenic Spot, where ancient trees tower into the sky. A typical area of karst topography, Heboling is studded with various caves, of which Xiangshui is regarded as the second Huanglong Cave in Zhangjiajie. Heboling is adorned with scenic landmarks—such as the Wuhuang Temple, the Jigongyan cave, the Yangqing stone forest, and the Jiujiliansheng waterfall—and is interspersed with cultural landmarks, such as the Yi ancestral hall, built during the reign of Daoguang Emperor in the Qing dynasty; the Yuantou Bridge, built during the reign of Guangxu Emperor; and historic residences to Xi Baotian, Tang Shengzhi, Lü Zhenyu, and others. Meanwhile, the ancient Smoke Salt Road, the Wanmu Bamboo Sea, Qianmu Azalea and Qianmu Crimson Maple forests, and the Xiangyang Lake are becoming more and more popular among tourists.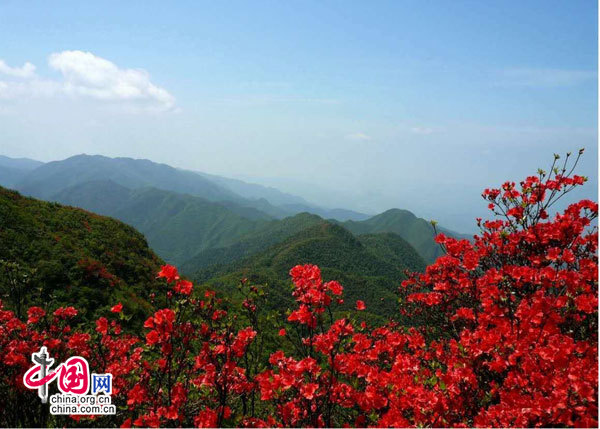 "In late April this year, I followed an old herb-gathering man up into the mountains and discovered the Qianmu Wild Azalea landscape, so I posted several photos to my WeChat moments. To my surprise, they drew attention that I never expected," said Jiang Jun, deputy Party secretary of Hebo Town.
"We had tourists come to see the azaleas during their flowering from late April to late May, every day. During the short May Day break, hundreds of cars, more than a thousand people, came into the mountains on average daily. More than 300 cadres and volunteers in our town had to give up their holiday to guide vehicles and separate crowds in different junctions," added Jiang.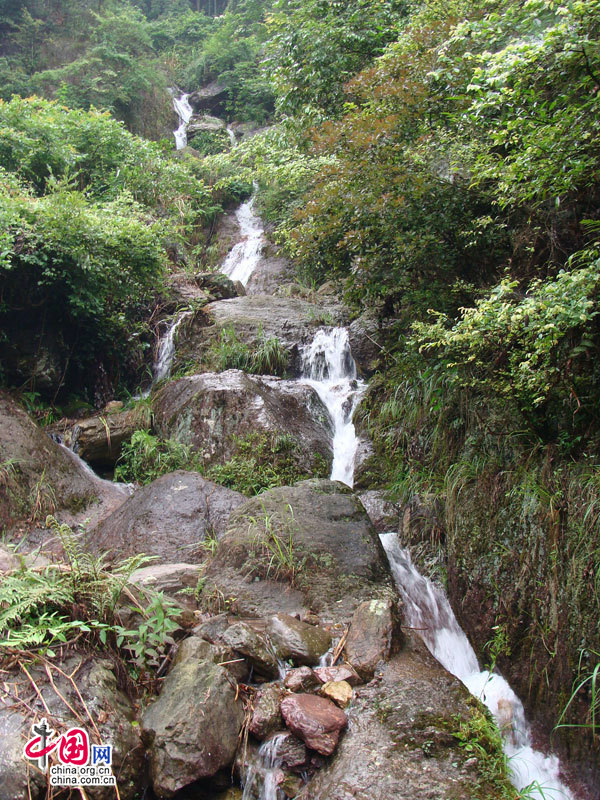 "The Heboling Scenic Spot was unknown to a wide range of tourists due to inconvenient transportation and lack of publicity. Only a small number of nearby visitors came for tourism," said Lv Tianni, Hebo Town Party secretary, who took office at the end of 2016.
"Most villagers benefited in some capacity from the increase in tourists during the May Day holiday, so they became keen in protecting the natural scenery and in exploring new sceneries in the mountain. They all hope the 'poverty alleviation with tourism' policy can lift them out of poverty," Lv said.
There are currently three county-level impoverished villages and four town-level ones in Hebo. By the end of May 2016 there were 2,023 registered impoverished households, representing 7,386 impoverished people.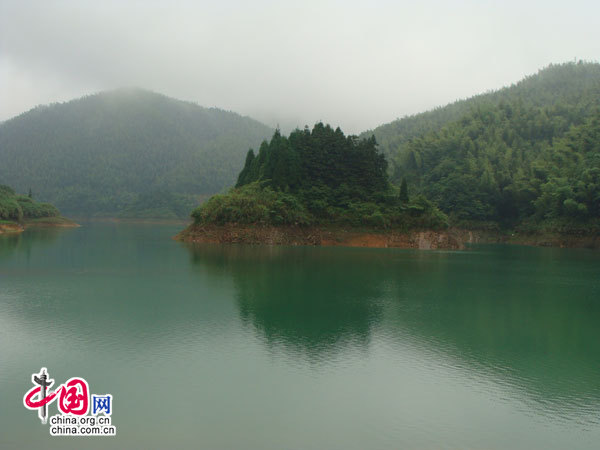 "While the city of Shaoyang welcomes back fellow townsmen, some able Shaoyang people working elsewhere are planning to invest back in the Heboling Scenic Spot. The Shaoyang government also pays particular attention to all-for-one tourism: It adopted many favorable policies to support investors in 'poverty alleviation with tourism' while also providing a good platform for villagers to obtain loans," said Lv with great joy.
Founder of the Huaxingbole Travel Development, Yi Jiayun is one of the backing investors. From Yongxing Village in Hebo, Yi is now a CPPCC member of Shaoyang County, headmaster of the Changsha branch of the Huatu Education Group, as well as one of its shareholders.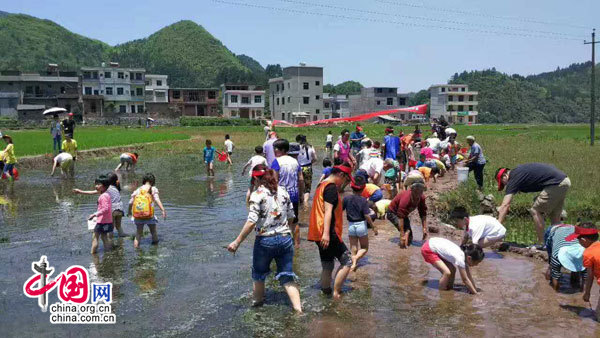 "We are striving to build Heboling into a modern scenic complex with 18 scenic views and pastoral sights as well as truly famous scenery of Hunan. According to the preliminary plan, we are prepared to invest 150 million yuan [U.S. $22.23 million] into the basic construction of scenic spots, trails, and sanitation facilities. The total investment may exceed 1 billion yuan [U.S. $148.2 million]," said Yi, full of passion.