Poverty relief: Achievements in 5 years
China Today, July 18, 2017

Adjust font size: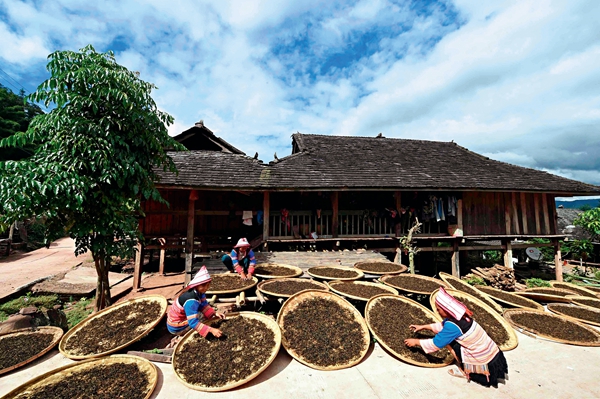 Women of the Jinuo ethnic group dry tea leaves in the sun in a village of Jinghong City, Yunnan Province on September 18, 2015. Planting tea and rubber trees has helped to improve local people's living standards. [Photo/China Today]
In 2015 the CPC and the Chinese government put forward the goal of lifting everyone in the countryside above the country's poverty line by 2020.
Since 2013, about 55.64 million people have shaken off poverty, equivalent to more than 80 percent of the total population of France. It will not only benefit the Chinese people, but also represent China's contribution to the evolution of human society if the largest developing country wins the battle against poverty and completes the building of a moderately prosperous society.
Targeted poverty alleviation works
On December 29, 2012, President Xi Jinping, who had been in office for 40-odd days, made an inspection tour of Fuping, an impoverished county in Hebei Province. Fu-ping was the capital of the Shanxi-Charhar-Hebei Border Area, the first revolutionary base from which CPC leaders directed battles during the Chinese People's War of Resistance Against Japanese Aggression (1931-1945). Xi chose it as his destination with the aim of understanding the real situation of the people living in the poorest areas in China and probing the weaknesses of current social and economic development, so as to discuss how to build a moderately prosperous society. Xi went to Luotuowan Village and Gujiatai Village, where the annual per capita net income was less than RMB 1,000. "I selected two typical examples to understand the entire situation of the vast poverty-stricken areas in China," said Xi.
Over the past five years, Xi has made more than 30 inspection tours across the country and has stressed poverty alleviation almost everywhere he has gone. He has personally visited 14 contiguous poverty-stricken areas and encouraged the CPC cadres to regularly visit impoverished areas and chat with local people.
In November 2013, Xi first put forward the concept of targeted poverty alleviation during his visit to Xiangxi Tujia and Miao Autonomous Prefecture in Hunan Province. "Targeted measures should be made based on practical situations, and empty slogans should be avoided," he said. In June 2015, he pointed out at a symposium with local Party leaders of Guizhou Province that the success of poverty alleviation relies on whether targeted assistance can be provided.
In November 2015, the Central Committee of the CPC and the State Council released a statement entitled "Decision to Win the Battle Against Poverty," which explicitly put forward precise policies on poverty relief. It stipulated that the real conditions of impoverished people must be inspected, and targeted measures carried out to address their practical needs. Furthermore that funds must be used effectively, cadres assigned according to their professions and the work requirements, and their productivity and efficiency evaluated. Efforts should be made to reduce poverty through industrial development, labor transfers, resettlements and ecological protection projects. Moreover, a system should be established to provide service and care to left-behind children, women and senior people, as well as the disabled.
In order to promote these provisions on poverty relief, from April to October of 2014, the government departments working on poverty alleviation organized about 800,000 cadres to launch on-site inspections to identify 128,000 impoverished villages and 89.62 million poor people. They created profiles for the impoverished population and figured out the key factors that cause poverty in those households. Based on this analysis, they implemented targeted measures by improving education, healthcare, financial services, science and technology, as well as inviting private enterprises to support poverty eradication.
Those efforts have paid off. The past four years have seen the lifting out of poverty of over 10 million rural people every year. Take Hebei Province as an example. In the first half of 2016, the per capita disposable income of rural residents in impoverished counties reached RMB 4,811, a year-on-year increase of 13.3 percent.