[Poverty Alleviation Through a Lens] Stories of poverty alleviation in the Luoxiao Mountains
p.china.org.cn,07 03, 2017

Adjust font size:

The city of Ruijin is located at the southeast border of Jiangxi Province, in the western region of Mount Wuyi. With an area of 2,448 km2 and a population of 700,000, Ruijin administers 17 townships, 223 incorporated villages and 16 residential committees. In China, it's famous for its role as a base of operations during revolutionary periods. And it's key to alleviating poverty in the areas surrounding the Luoxiao Mountains. By the end of 2015, 18,435 households (or 56,345 people) and 49 villages were registered as impoverished in Ruijin City, making a poverty incidence of 10.09%. After the CPC Central Committee and the State Council announced the Decision to Win the Battle against Poverty, Ruijin set poverty alleviation as its first development, livelihood and political priority. The city then worked to target poverty on all levels and achieved remarkable results. In 2016, it managed to lift 8,199 households (or 28,353 people) and 29 villages out of poverty. The poverty rate fell from 10.09% in late 2015 to 5.02%.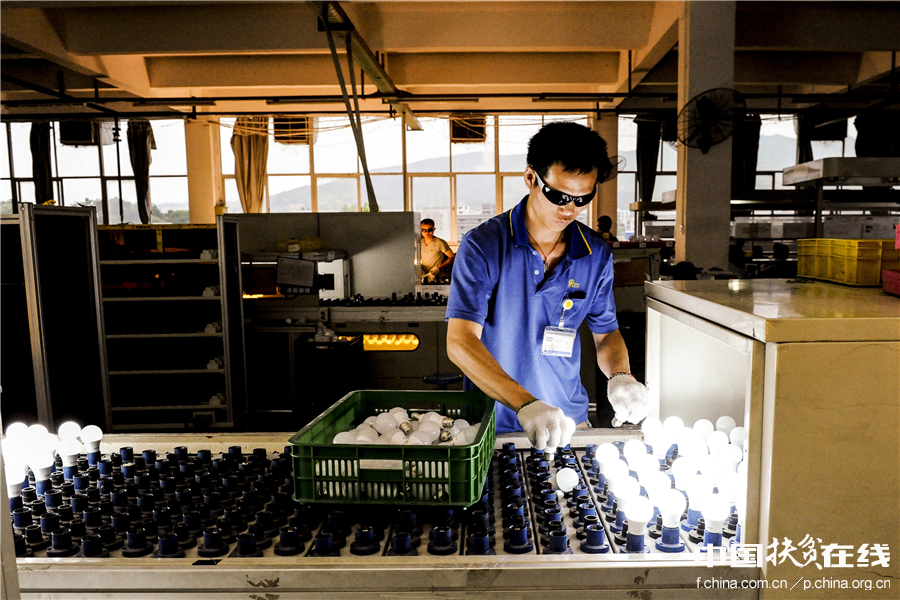 Workers at the lightbulb manufacturer Tospo in Ruijin, Jiangxi perform quality inspection prior to shipment, on May 19th, 2017. [Photo by Peng Kaijian]