Relocated villagers celebrate new life
China Daily, January 25, 2017

Adjust font size: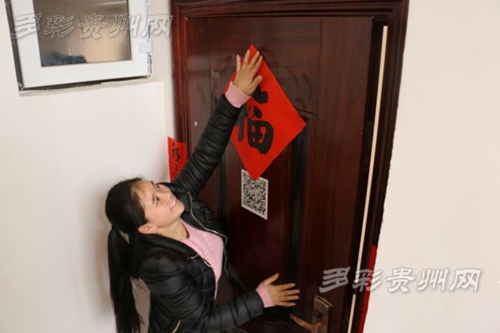 A resident pastes the character "fu", meaning good fortune, on her new front door. [Photo/gog.cn]
Hundreds of residents at Mingtian Migration New Area in Qiannan Bouyei and Miao autonomous prefecture celebrated their first Spring Festival at the new living area on Jan 22.
The residents, who used to live in conditions of poverty, moved to the new area from more than 30 villages in Huishui county's mountainous regions.
To celebrate the beginning of their new life and the upcoming Spring Festival, the newcomers gathered at the area's cultural square in the morning and performed dances and songs. Some games were also arranged with neighbors getting the chance to interact with each other. Several craftspeople also showed their embroidery and sewing skills at a contest held on the day.
As day drew to a close, rows of tables were laid out at the square dressed with a range of homemade dishes. People sat together, enjoying the gathering time and looking forward the new life.
Xiong Shimei, moved to Mingtian from Yanxia village. She was impressed with her new living environment, fitted with street lamps, parks and public play areas. "I never thought I would live in such a good house," said Xiong.
Providing new houses for impoverished populations are just one step in the government's poverty alleviation plan. Assistance is also provided to help people find jobs. Xiong now works as an embroiderer for a local cooperative, which can earn her 1,000 yuan ($148.9) per month and allow her to look after her children and parents by not having to work so far away from home.
The Mingtian Migration New Area has 1,095 apartments with 3,750 residents occupying 893 of them.