China-Africa Cooperation in Full Swing
China Today by HE WENPING, January 23, 2017

Adjust font size:

Deepened Economic Cooperation

Growing mutual political trust between China and Africa has laid firm foundations for the two sides to increase trade and economic cooperation. Over the past year, the China-Africa economic and trade cooperation has been transformed and upgraded. On July 29, the Coordinators' Meeting on the Implementation of the Follow-up Actions of the Johannesburg Summit of the Forum on China-Africa Cooperation was convened in Beijing. The meeting led to the two sides' signing 63 cooperation agreements with a total contract volume of US $18.287 billion, of which direct investment and commercial loans from Chinese enterprises to Africa amounted to US $16.228 billion, accounting for 88.74 percent of the total value. According to incomplete statistics, since the conclusion of the Johannesburg Summit, China and Africa have signed 245 cooperation agreements that involve a total amount of US $50.755 billion. The volume of direct investment and commercial loans from Chinese enterprises to Africa exceeded US $46.553 billion, accounting for 91.73 percent of the total. China's aid to Africa, however, amounted to just 1.07 percent, and its preferential loans to 6.24 percent. This change of structure shows that China-Africa cooperation has undergone a transformation – from government aid to investment and business financing; from merchandise trade to industrial capacity cooperation and processing trade; and from contracting projects to investment and financial cooperation.

Over the past year, China-Africa economic cooperation on the African continent shifted into top gear. On October 5, 2016, the Chinese-built Ethiopia-Djibouti railway linking Addis Ababa, capital of Ethiopia, to the Red Sea port of Djibouti became fully operational. With a total investment of around US $4 billion, it has a total length of 752.7 kilometers. The Ethiopia-Djibouti railway, together with the previously built Abuja-Kaduna railway in Nigeria and the Benguela railway in Angola, in their capacity as main transportation modes, are integral to Africa's burgeoning industrialization, and prime examples of China-Africa cooperation on industrial capacity.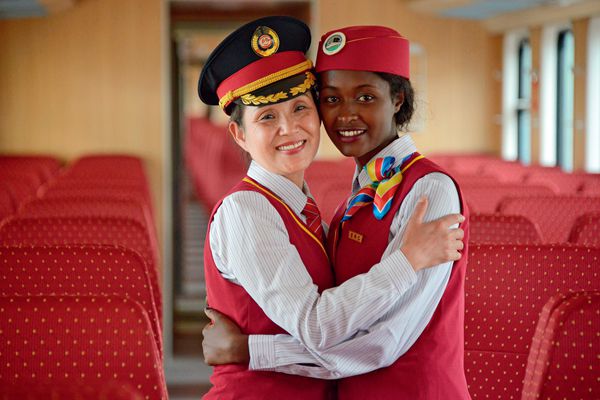 On October 5, 2016, the Chinese-built Ethiopia-Djibouti railway became fully operational. Chinese conductor Ding Jihua hugged an Ethiopian attendant.
The Ethiopia-Djibouti railway is another cross-border railway that Chinese enterprises have built in Africa since completing the Tanzania-Zambia Railway (TAZARA).The line has slashed the logistic costs of imports and exports and streamlined freight transportation by cutting the travel time between the two countries from seven days to 10 hours. The railway is expected to boost both countries'social, economic, and industrial development, and its inauguration is considered a milestone in African countries' road to industrialization.
Unlike previous projects, Chinese companies involved in the Addis Ababa-Djibouti line will be responsible for the subsequent operational management after its completion in the coming six years as a transition period. During that time, the Chinese company will help to train local technicians and management professionals, so enhancing the technological and management capacity of Ethiopia and Djibouti. This marked China's first exportation of an entire railway industrial chain, covering financing, construction, and operateration.
China can now ensure safe railway operations and generate more economic and social benefits. Meanwhile, better demonstrations and training will be achieved during the six-year transition period through actual operations in Ethiopia and Djibouti which will bring about technological transformations and lay solid foundations for independent railway operations. The railway's construction created more than 3,000 job opportunities for local people, a figure that rose to 16,000 after it began running. These workers are the first in the two countries to be skilled in the operation of modern electrified railways.
The Addis Ababa-Djibouti Railway pattern has drawn attention throughout Africa and the world as a whole. Countries like Uganda, Rwanda, South Sudan, Togo, and Kenya have sent delegations to study the project and accumulate relevant experience and accordingly formulate domestic railway planning.
Over the past year, China has stepped up economic and trade cooperation with Tanzania and Ethiopia. They have signed production capacity cooperation framework agreements and have also confirmed a group of key cooperative projects, including railway renovations, a K3 natural gas power station, and power transmission and transformation from Dares Salaam to Arusha. Of the 64 Chinese enterprises that have entered Ethiopia's Eastern Industrial Park, 31 have started production, with a total investment of US $220 million, creating more than 8,000 job opportunities.