IN 2016, the year after the Johannesburg Summit and the 6th Ministerial Conference of the Forum on China-Africa Cooperation (FOCAC), the Chinese government made considerable headway in its implementation of the Belt and Road Initiative. That year also saw comprehensive expansion and enhancement of China-Africa relations, expedited through stepped up reciprocal visits between state leaders. More frequent China-Africa political interchanges have generated greater interconnectivity and cooperation on industrial capacity, and also facilitated dynamic development of people-to-people and cultural exchanges.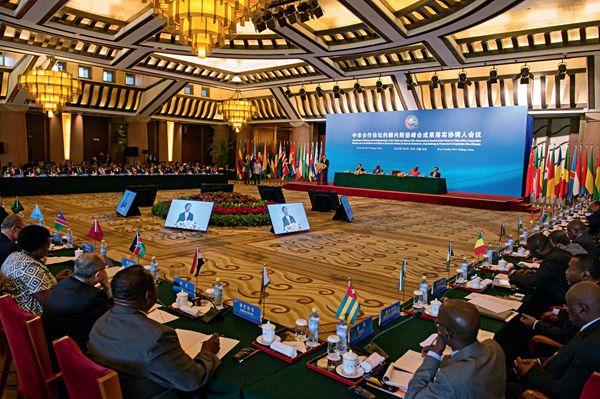 On July 29, 2016, a Coordinators' Meeting on the Implementation of the Follow-up Actions of the Johannesburg Summit of the Forum on China-Africa Cooperation, was convened in Beijing.
Consolidated Political Mutual Trust
Frequent high-level reciprocal visits have taken place between China and Africa since the Johannesburg Summit. In early 2016, Chinese Foreign Minister Wang Yi followed the diplomatic practice (initiated in 1991) of starting the New Year with a tour of countries on the African continent, and visited Malawi, Mauritius, Mozambique, and Namibia. Shortly after, in March, Zhang Dejiang, chairman of the Standing Committee of the Chinese National People's Congress (NPC), went to Zambia, Rwanda, and Kenya. In April, Yu Zhengsheng, chairman of the National Committee of the Chinese People's Political Consultative Conference (CPPCC) paid an official goodwill visit to Gabon, Ivory Coast, and Ghana. Wang Yi went to Africa a second time in August to visit Kenya and Uganda, and last November Chinese Vice President Li Yuanchao visited South Africa, Ethiopia, and Djibouti. Several state leaders of African countries, in turn, visited China in 2016, and attended various international and bilateral conferences. Nigerian President Muhammadu Buhari came to China in April, Togolese President Faure Gnassingbe in May, and Republic of Congo President Denis Sassou Nguesso in July. In September, Chinese President Xi Jinping met with South African President Jacob Zuma, Senegalese President Macky Sall, Egyptian President Abdel-Fattah al-Sisi, and Chadian President Idriss Deby Itno at the G20 Summit in Hangzhou. In October, Premier Li Keqiang met with Prime Minister of Mozambique Carlos Agostinho do Rosário, who was in China to attend the Forum for Economic and Trade Cooperation between China and Portuguese-Speaking Countries held in Macao. Guinean President Alpha Conde visited China at the end of November, and President of the Republic of Gabon Ali Bongo Ondimba came in early December. Moreover, high-level leaders of African countries, notably South African President Jacob Zuma and Beninese President Patrice Talon, actively participated in the second Investing in Africa Forum convened last September in Guangzhou City.
Also worth mentioning is that China, as host of the 2016 G20 Summit, took the initiative to build a platform and design agendas for the event. The country proposed "support industrialization in Africa and least developed countries" as an important topic for discussion, and was the first to include this task in the G20 Leaders' Communiqué. China thus provided a platform for African countries and G20 members to communicate and conduct exchanges. Besides South Africa, which is a G20 member, China also invited Chad, whose president currently chairs the Assembly of the African Union; Senegal, whose president is the chairperson of the New Partnership for Africa's Development (NEPAD); and Egypt, an important country in North Africa, to the G20 Summit. In so doing, China underlined the great importance it attaches to Africa's development, and provided African countries with opportunities to have a say on improvements to global governance.