China's 'rust belt' shows sign of modest recovery
china.org.cn / chinagate.cn by Guo Yiming, January 17, 2017

Adjust font size:

China's "rust belt" has moved past its toughest times as structural reform is taking hold and the economy is picking up in the northeastern province of Heilongjiang.

Once known as China's industrial heartland, the province has experienced a faster economic downturn than the rest of China, mostly due to energy and heavy industries.

According to recent figures, however, the painful transition is finally paying off and the economy is showing signs of recovery, just as their famously tough inhabitants survive the region's brutally cold winters.

In the first three quarters of last year, Heilongjiang's GDP climbed up to 6 percent, with the primary and tertiary industries increasing by 4.8 percent and 8.5 percent, 1.3 percentage points and 0.9 percentage point higher than the national average, respectively.

Industrial structure is gradually optimizing as the energy sector now accounts for less than 10 percent of the GDP, compared to over 20.1 percent in 2012, revealed Li Haitao, Heilongjiang's vice governor, as he stressed that the province is gradually shaking off its over-reliance on heavy industries through structural reform.

"The total GDP is estimated to have increased by 140 billion yuan (US$20.33 billion) from 2012 to 2016, during which time production values dropped 160 billion yuan (US$23.23 billion) in the energy sector," said Li.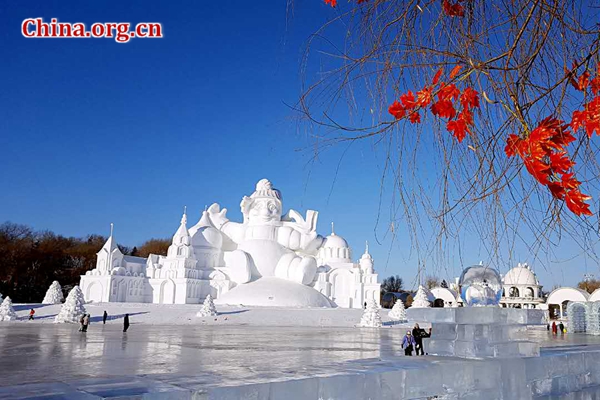 Tourists visit the Sun Island Park in Harbin, China's northeastern province of Heilongjiang on Jan. 10. [Photo by Jiao Yang/Provided to China.org.cn] 
Winter economy heats up the frozen land
Tourism, among other sectors, has become a silver lining that has shored up the province's slowing economy and counteracted negative growth in heavy industries.
Harbin's International Ice and Snow Festival is drawing global tourists with its shimmering castles, huge towers and thrilling slides, all made of ice and snow.
From Q1 to Q3, the province received 103 million domestic and overseas tourists, up by 15.61 percent year-on-year. The tourism revenue in the period registered 120.3 billion yuan (US$17.46 billion), up by 17.54 percent.
The winter economy, in particular, has contributed much to heating up the "frozen" land. Driven by tourism demands, the Harbin airport received 16.27 million passengers in 2016, up by 15.8 percent year-on-year, making it among the top of all air fields in China's northeastern region.
From Nov. 16 to Dec. 27, 2016, the number of tourists visiting the Snow Town, the Ice and Snow World, the Sun Island Park and Yabuli International Ski Resort recorded year-on-year growth of 77.3 percent, 21.72 percent, 38.24 percent and 154.8 percent ,respectively, prompting 42.3 percent more banking transactions from non-local visitors.
Harnessing its cold climate with a yearly average temperature of 3 degrees Celsius, the provincial capital of Harbin is working to become a base for cloud computing, as low temperatures help save on the cost of operating heat sinks and other units required to keep massive banks of computers from overheating.
The "China Cloud Valley," launched in late 2010 and targeting modern information technologies like cloud computing and IoT, has attracted over 300 companies to the industrial park, including Fortune 500 companies like Intel, China Mobile and HSBC.