Farmer photographer records village life
china.org.cn / chinagate.cn by Jason Lee, January 17, 2017

Adjust font size:

Xie Wanqing, 61, a farmer in Longxian, Shaanxi Province, became deeply attached to a Hongmei-brand camera in 1978, and married his wife, An Guiqin, in 1980. The former has given him more than 20,000 photos, while the latter has produced two daughters and a son with him.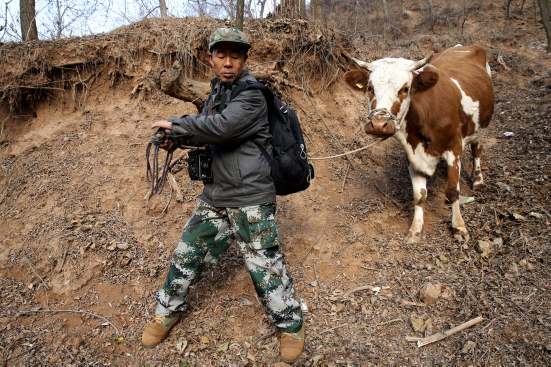 Xie Wanqing brings a cow to drink the water at the bottom of a trench near his home in Longxian, Shaanxi Province, on Jan. 5, 2017, with a Sea Gull camera hung on his neck. [Huo Yan / China.org.cn]
Xie finally managed to lift his family out of poverty last year by planting trees. However, he thinks photography raised him out of spiritual poverty a long time ago.
When the reporter met Xie on a cold winter's morning in his village, he was bringing his cows to drink water at the bottom of a trench in the loess plateau, with an old-fashioned Sea Gull 4B camera hung around his neck in a most inopportune manner.
"I was pasturing cows when I saw camera for the first time in 1969," he recalled.
At 14 years of age, he came across a young man from Xi'an, or an educated youth as they were called during the Cultural Revolution (1966-76), who was drawing pictures on the mountain slope, with a Hongmei 120 camera beside him.
Xie had never seen a camera before and was extremely interested in the "magic" machine. The young man invited Xie to take a photo of him while he was painting, and patiently taught the boy how to operate the camera.
At the moment Xie pressed the shutter, the snapping sound penetrated the innocent boy's heart and soul. "It was from that moment that I decided to have a camera of my own," he said.
Xie worked hard for the commune to earn money. The income from cattle pasturing was too low, however. In the late 1970s, the government implemented new policies determining that "the more you work, the more you earn," ending the former rigid equalitarianism.
Xie went to work on construction sites undertaking the heaviest work. "Some chronic diseases of today developed at that time," he added ruefully.
In 1978, he finally accumulated 70 yuan (US$9), and went to buy camera in the county department store. However, the Hongmei 120 camera was priced at 74 yuan. He went to the store many times to bargain with the store manager. The 23-year-old farmer's sincerity finally touched the manager, who agreed to sell the camera at 70 yuan. It had taken him nine years to realize his first camera purchase dream.
During that time, Xie, who had only spent four years in primary school, never ceased thinking, pondering what to photograph, how to shoot and develop a film. Although he still lived a farmer's life, what he thought was obviously quite different from his fellow villagers.
Buying films became a practical problem. A roll of film cost about one yuan. To save money, he walked 34 kilometers to the county seat to save the bus fare, and ate only one meal a day on the journey to buy films.
He bought a book "Introduction to Photography," which became his bible in the years that followed. "I read it numerous times. It became like an addiction," Xie said.
At this moment, a calf jumped into the water to play. Xie quickly took out his camera and focused on the animal, murmuring: "This makes a good photo."
After marriage and the birth of his children, Xie felt the burden on his shoulders become heavier than before. However, he tried his best to protect his photography kingdom.
"My wife said I was grudged buying her some cheap cream, and my children always complain that I did not buy them candies," said Xie, recalling the life in the 1980s and 1990s.
An Guiqin, with a smile on her face, observed: "Those things have passed. Now, I can understand him very well. This is his hobby, and as long as he likes it, he deserves the freedom to do it. Photography is better than drinking and gambling."
Xie replaced his old home with a new building, equipped with heated brick beds. He displayed his cameras to me on his bed, and said his education mentor is Liu Daguang, an official of the provincial labor union. Liu was sent to the county labor union in Longxian during the Cultural Revolution, and was good at photography, painting and calligraphy.
"I learned all rudiments of photography from him," Xie said. "I took many photos of farmers and their work and life. Liu liked my photos and often taught me. I made great progress under his instruction."
Xie learned to develop films with vinegar and fertilizers, and expose the films with oil lamp in those days before the village had electricity.
"It is not that my photos are good, but I took them early," Xie said. Local newspapers started using his photos from the late 1970s, and he was already a star farmer photographer in the county by the 1980s, when he learnt he was engaged in documentary photography -- historical records of social development.
His works are also exhibited in the Milan Expo in March 2015. Last year, with the help of his friends in Xi'an, Xie had the first personal photography exhibition in a park in the provincial capital, showing 150 photos taken over more than three decades.
When asked why a farmer would do this, Xie said: "I am telling stories through the photos about what happened in the rural areas that the urban residents do not know."
Xie does not use digital camera. He said that's not photography, but computer stuff. He still develops films at home himself. He does not shoot other things except farmers and village life. Those, he said, are his roots that cannot be severed.