Liu Shi: Surviving as a gay and HIV carrier
china.org.cn / chinagate.cn by Lin Liyao, December 12, 2016

Adjust font size: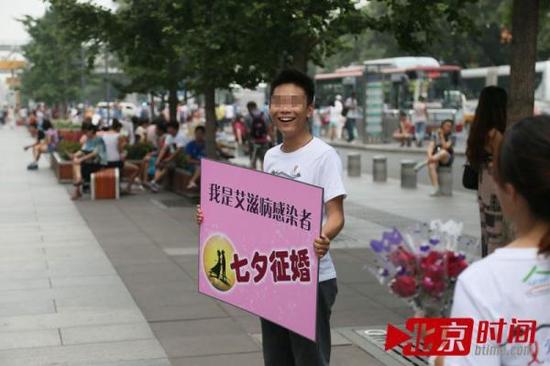 Liu Shi stands at a Beijing street holding a slogan, saying "AIDS Victim Seeks Marriage," on the Qixi Festival, Chinese Valentine's Day in August 2013. [Photo/btime.com]
"When I first heard I was infected with HIV, the only idea in my mind was death," Liu Shi said calmly.
Wearing a pullover and sport pants, Liu is not very tall but looks very energetic. Four years ago, when he was 20, he learnt he was an HIV carrier.
Thoughts of suicide
In July 2012, Liu felt extremely uncomfortable after having high-risk sexual behavior with his gay partner. He went to a hospital for an HIV check-up.
At first, a doctor advised him to stay in hospital for further treatment. However, after the HIV diagnosis was confirmed, the doctor persuaded him to go home.
Liu resigned from his company on the excuse of suffering from lymphatic leukemia, and began planning to commit suicide. "All I wanted was to find a way to die that would not be so painful," he said, "The best suicide site for me, I decided at that time, was a seaside villa."
Liu revealed his illness to a good friend, who immediately visited him and looked after him for a long time. "He stayed with me for the whole month; we did everything I wanted to do and tasted every food I wanted to try." Liu said in recalling the days spent with his friend that became a turning point in his life.
"After all, I want to live, that's the words from the bottom of my heart," he added.
Telling his family
Liu's uncle works in medical field, and knows more about HIV/AIDS than the general public. Liu told his uncle first, but begged him not to pass the news on to his parents, worrying they couldn't accept their only son s both a gay and a HIV carrier.
But one day when his mother cried behind him when he was getting on a bus, Liu suspected she had known the truth and his suspect was later confirmed by his uncle.
Before his parents were informed of his conditions, they always bothered him with caring questions whenever he felt under the weather. . However, they no longer do so after learning the truth.
"Since then, they became more and more careful when talking with me, and made all efforts to cook various and delicious food for me," Liu said, "The most they would say was to suggest I eat more to increase my immunity and wearing more clothes when it turned cold.
"My parents cried a lot, but never in front of me. You know, that was like receiving end-of-life care from your parents."