Huamao village: A rags-to-riches story to tell
China Daily,September 14, 2016

Adjust font size: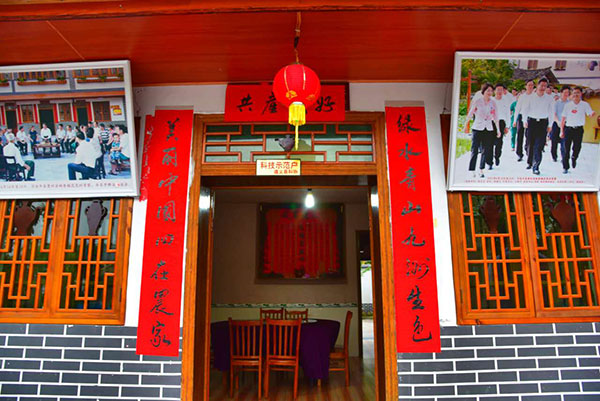 One family hotel has hung the photos of President Xi Jinping's visiting on their houses on the wall for memory. [Photo by Zhang Xingjian/chinadaily.com.cn]
One year ago, President Xi Jinping made a stop in Huamao village of Zunyi city that has been lifted out of poverty in recent years.
He visited greenhouses, financial centers, bamboo and poverty workshops to learn how poverty reduction projects were running. Xi also spoke with the villagers, saying the Communist Party of China (CPC) central committee cares a lot about farmers, particularly those in poverty, and has enacted various policies to boost rural development.
One year later, I had the chance to visit Huamao village on my Long March trip in Southwest China's Guizhou province and found a rags-to-riches story to share with you.
Clean and tidy streets, neat and beautiful dwellings, white clouds and green mountains as well as simple and nice locals, all these mixed together render me a sense of peace and belonging.
They form my first impression of Huamao village.
"Our village was once called Huangmao Tian, which literally means a desolate and uninhabited place for human beings. Later, we changed the name into Huamao, a symbol of prosperity and flourish. And it really works," one local people said to me.
In recent years, the local government has taken a series of measures to reduce poverty and support the poor by developing efficient modern agriculture and guiding local to explore rural tourism.