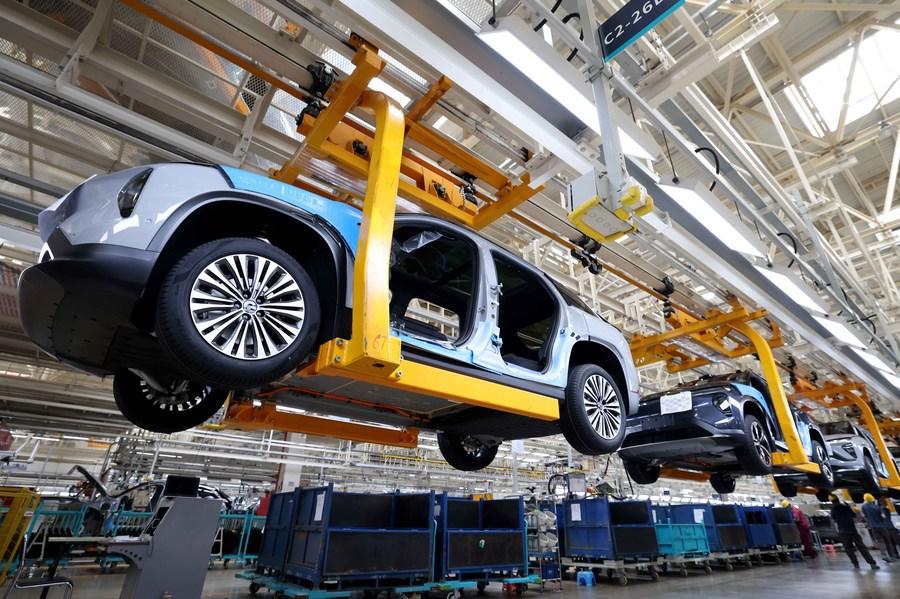 Photo taken on Aug. 28, 2022 shows a complete vehicle production line at a new energy vehicle factory in Hefei, east China's Anhui Province. (Photo by Xie Chen/Xinhua)
Since the establishment of a public charging station in Wushan Township in June, Yang Shuquan, a rural resident living in east China's Anhui Province, only needs to drive 4 kilometers to charge his electric car.
"It is incredibly convenient," said Yang, noting that he used to drive more than 20 kilometers to the city for charging.
"I have seen many villagers, including my nephews, buying electric vehicles (EV) this year. The younger generation lives and works in the cities on weekdays and returns to the town on weekends. They can now charge their EVs at the station," Yang said.
The newly constructed public charging station in Wushan Township is part of an expanding charging infrastructure network in rural areas across the province, which aims to meet the growing demand for EV charging in such areas.
China's new energy vehicle (NEV) industry has experienced rapid development in recent years. The output and sales of China's NEVs reached 3.78 million and 3.74 million units, respectively, in the first half of 2023, up by 42.4 percent and 44.1 percent year on year, data from the China Association of Automobile Manufacturers shows.
However, compared to urban areas, the NEV market in rural areas has not been fully tapped. In 2022, only 4 percent of total auto sales in rural areas were NEV sales.
To address the imbalanced development in the NEV market between urban and rural areas, a slew of supportive policies have been carried out to promote NEVs sales and enhance charging infrastructure.
Official figures show that, as of May this year, China had established more than 6.35 million charging piles nationwide, although most of them are located in urban areas.
To improve the situation, Anhui Province has been taking concrete action to increase the number of charging stations in rural areas.
In 2022 alone, Hefei, the provincial capital, invested 340 million yuan (about 47.5 million U.S. dollars) in upgrading its rural power grid, including the expansion of transformer capacity and changing power lines, to support the building and operation of more charging facilities.
"We have built 50 such stations at local power supply centers in Hefei's rural regions, with a total of 196 charging piles. We have also set up 717 charging piles in rural public transport hubs, tourism spots and large communities in accordance with requirements," said Wu Wei, marketing director of Anhui Hefei Power Supply Company of the State Grid.
Charging infrastructure remains one of the primary concerns for NEV buyers. Apart from building public charging stations, power companies are facilitating the installation of private charging piles for rural customers.
"We have cooperated with over 20 NEV shops, offering one-stop services to consumers when they purchase NEVs," said Wu, adding that the number of private charging pile applications in rural Hefei rose by over 50 percent this year.
Anhui has set the goal of building itself into an NEV-friendly province. It plans to provide charging facilities to cover 75 percent of all townships in the province by 2024, achieving full coverage by 2025.