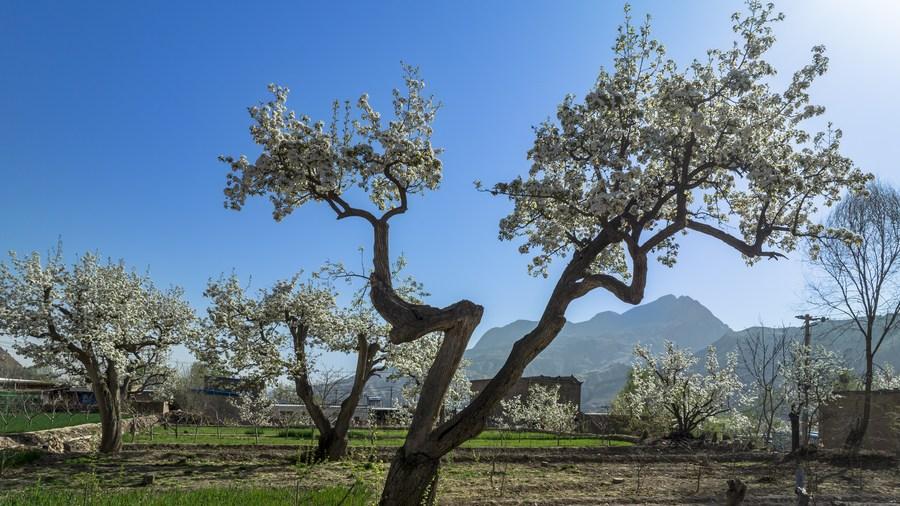 Pear trees in Qiaotou Village, April 25, 2023. (Xinhua)
Tucked away in the mountains at the eastern gateway to the Qinghai-Tibet Plateau, Qiaotou Village is rich in pears and almost every household is engaged in its farming.
However, there was a time when selling pears proved challenging in this underdeveloped village in Minhe Hui and Tu Autonomous County in northwest China's Qinghai Province. Recalling the struggles, villager Zhao Jifa said, "Half of the fruits would end up rotting in yards."
Recent years have witnessed a transformative shift, thanks to the establishment of a fruit processing factory by local resident Jing Xiufang. Determined to make a difference, Jing invested her life savings of over 25 million yuan (about 3.5 million U.S. dollars) to bring this vision to life.
During the harvest season, truckloads of pears are now delivered to the factory by villagers, and on average, each household receives a payment of over 10,000 yuan per year.
"I just wanted to do something for my hometown," Jing said. As someone who grew up seeing the abundance of pears, she had always dreamed of "making the nutritious and delicious pear benefit more people."
In 2018, 46-year-old Jing gave up her career in the lucrative building industry and livestock farming and returned to her hometown to set up the factory.
Initially unfamiliar with the food industry, Jing reached out to Yun Jianmin, a professor at the food science and engineering college of Gansu Agricultural University in the neighboring Gansu Province, expressing her wish to establish a collaborative partnership aimed at developing a pear beverage
Though Yun held doubts regarding Jing's ability due to her lack of expertise in the food industry, Jing's profound love for her hometown and her determination to help her fellow villagers deeply resonated with him.
Thus, Yun and his team began to develop the beverage and a promising product with considerable market potential emerged from their lab about six months later.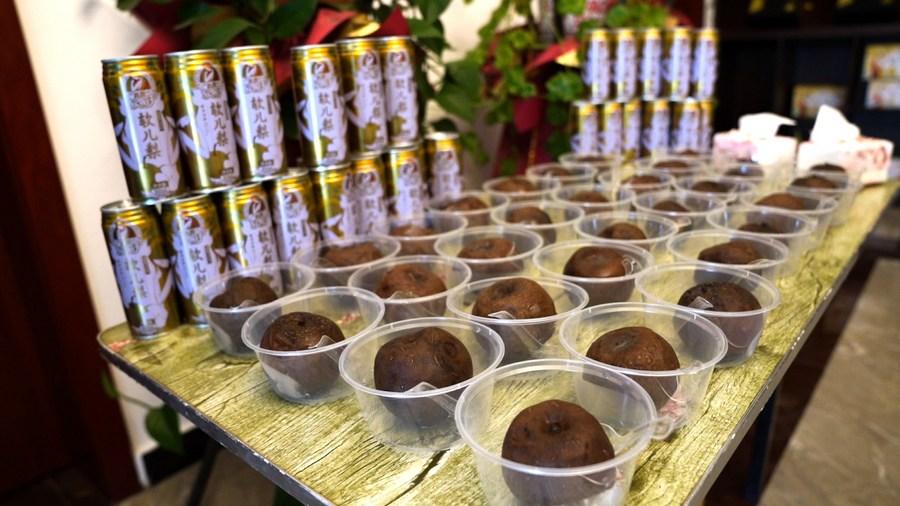 Pear beverages and frozen pears are showcased in an office of the factory, June 27, 2023. (Xinhua)
Overwhelmed with joy by the initial breakthrough, Jing promptly acquired the necessary equipment and started to set up the factory.
The factory provided employment opportunities to 50 locals who were previously living below the poverty line. One of them is Zhao, who found a new livelihood through this venture.
Zhao worked at the factory whenever he had free time, earning an income of over 10,000 yuan a year. The factory also hired five long-term employees who earned an average annual income of 23,000 yuan.
The factory purchases pears from five nearby villages, and the purchase price is 2 percent higher for impoverished pear growers than the market price.
"The policy continues to this day. Even though all villagers have been lifted out of poverty, there is still a higher price for them," said Li Chenglong, Party chief of the village.
"In the past, the pear wasn't worth a penny, and we were reluctant to prune the pear trees," Zhao said. "Today, they become cash cows and we are happy to tend them."
With the improved income, Zhao has planted a dozen more pear trees in his yard, along with grape, peach and walnut.
To promote the pear beverage, Jing started an account on the popular Chinese video-sharing app Douyin, the Chinese version of Tik Tok, capturing the attention of multiple dealers. Local governments at various levels also helped in finding potential buyers for the product.
With this year's harvest season still three months away, the factory has already received orders for 100,000 boxes or 1.2 million cans of pear beverage, some of which have come from as far as east China's Jiangsu Province and the southwestern Yunnan Province, Jing said.
Just like Jing, an increasing number of people are returning to their native villages to develop distinctive industries in recent years. In the county where Qiaotou Village is located, university undergraduate Mao Rui built an orchard and a livestock farm, creating jobs for more than 300 people a year.
According to the report to the 20th National Congress of the Communist Party of China released in October last year, the Party is committed to advancing rural revitalization across the board, and fostering rural industries with local features to create more channels for increasing rural incomes.
Today, various industries are thriving throughout China's expansive countryside, bringing jobs and prosperity to local people.
Driven by her aspiration to expand the reach of her pear beverage to distant locations, Jing has taken the initiative to enroll in multiple sales classes, aiming to hone sales skills.
"The pears in my hometown are so good. I want more people to know about them and love them," she said.