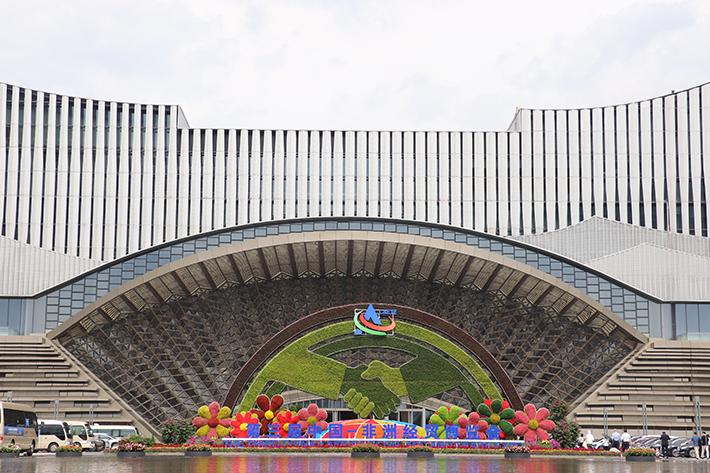 The opening ceremony of the Third China-Africa Economic and Trade Expo is held at Changsha International Convention Centre in Changsha, Hunan Province, on 29 June (Hu Fan)
Cameroonian exhibitor Emmanuel Acho Njikabia was pleased to have removed a big irritant in communicating with his Chinese customers who tried to make a good deal at his booth at the Third China-Africa Economic and Trade Expo (CAETE) in Changsha, capital of Hunan Province in central China, as they don't speak English. He could merely type the bid on his phone to keep the negotiation going.
Representing a Cameroonian firm producing hand-made clothing and ornaments that is attending the expo for the first time, Njikabia has high hopes for the business opportunities brought by the event. "By making physical contacts with investors and clients here, we can expand business for our products," he told ChinAfrica.
The expo was kicked off on 29 June and is scheduled to last until 2 July. As one of the leading economic and trade cooperation platforms under the framework of the Forum on China-Africa Cooperation, the biennial event has provided a premier stage for African commodities and services to widen their access to the Chinese market. The current edition of the expo has seen a big increase in the number of attendees. Around 1,500 exhibitors signed up, up 70 percent over the previous edition.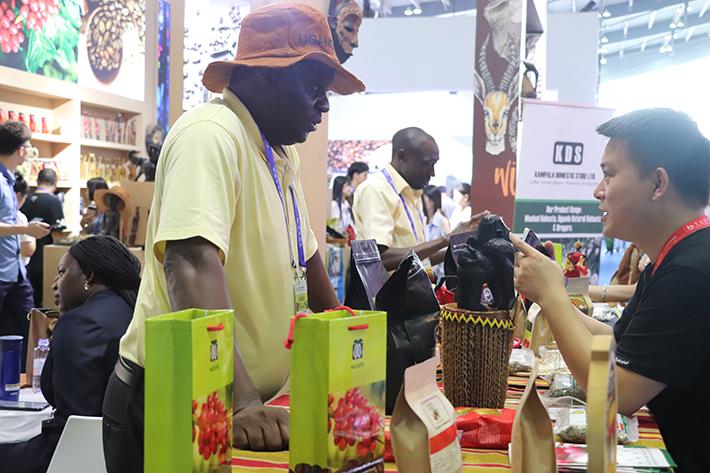 Ugandan exhibitor Joseph Nkandu promotes coffee to a visitor during the Third CAETE in Changsha, Hunan Province, on 29 June (Hu Fan)
Among the exhibitors is NUCAFE, Uganda's national association of coffee farmers, which produces, processes and exports coffee directly to buyers and consumers without any intermediaries. Joseph Nkandu, CEO of NUCAFE, who attended the event for the second time, promoted the association's coffee products at the booth in person. His trick was to let in air in a package of coffee and squeeze it in front of potential buyers to lure them with the fragrance of roasted coffee beans. He told ChinAfrica that the association has achieved remarkable sales to Chinese buyers and consumers and aims to export more. "CAETE is very important in that it has improved the visibility of our brands," he said.
South Africa's Standard Bank joined the expo with a group of its clients, which exhibited various products ranging from wines to fruits and nuts. Ellen Ho, Standard Bank's staff for Africa-China banking, told ChinAfrica that the bank organised its banking clients to display their products and services at the expo to broaden sales channels. "The market of South Africa is not big enough. By attending the expo, we wish to bring our clients more business opportunities from China, which is the largest trading partner of Africa and South Africa," she said.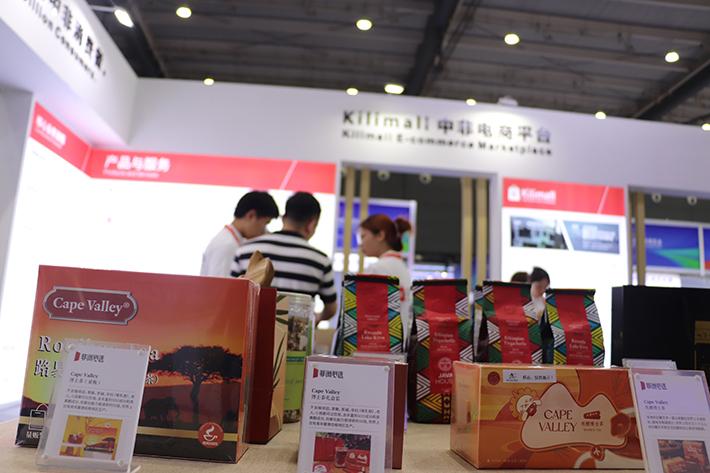 African products are displayed at the booth of Kilimall during the Third CAETE in Changsha, Hunan Province, on 29 June (Hu Fan)
At the booth of Kilimall, a leading e-commerce platform in Africa, commodities from both China and Africa were displayed. As the first Chinese firm to enter Africa's Internet and e-commerce sectors, the Changsha-headquartered company has been operating to bring Chinese products to African consumers. However, importing African products to China has also become a focus of the company, according to Kilimall's Business Manager Yi Yi. Through its import platform, Chinese consumers can order African commodities such as aloe vera gel and wine from South Africa and coffee and handicrafts from Ethiopia and Kenya.
"This has allowed us to help African products to reach China, while bringing in good African commodities for Chinese consumers to enjoy," she told ChinAfrica.