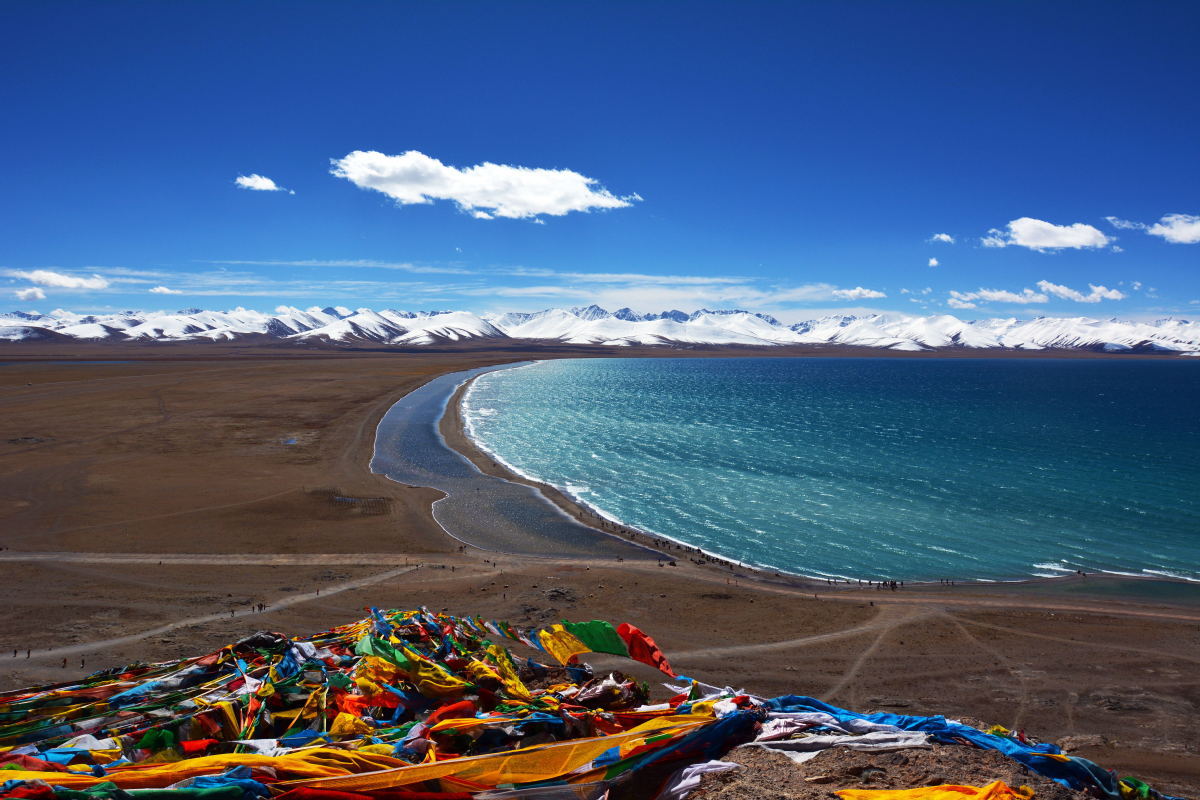 A view of Lake Namtso in Tibet. [Photo/Xinhua]
Young scholars and experts actively involved in ecological protection in the Tibet autonomous region hope their passion and fresh ideas can help the region better achieve sustainable development, participants of a forum on the region's development said.
Zhou Xiongdong, a water conservancy scholar from Tsinghua University, shared the findings of his research group on the geological conditions of the rivers in Tibet during the 2023 Forum on the Development of Xizang, China, (Xizang is the name of Tibet in Chinese) which opened on Tuesday.
Most of the key members of the team are from Generation Z (those born between the mid-1990s and the early 2000s), said 32-year-old Zhou, who has been to the Qinghai-Tibet Plateau 21 times for research projects.
He added that he is deeply inspired by Tibetans who devote their lives to protecting the environment of the mountains, rivers and wildlife in the region.
"Young scholars have a strong sense of responsibility about making contributions to China's ecological protection and sustainable development. At the same time, we can offer new ideas on such issues and are keen to use interdisciplinary knowledge to gain insights," Zhou said.
Zhou hopes the studies of his research group can help the region better achieve sustainable development of its water resources.
Shi Changsheng, Party chief of the China Railway Construction Corporation's Youth League Committee, said at the forum that the corporation set up a plateau environmental protection technical team in 1985.The average age of the current team members is 32. And they are very innovative and proud of their role.
"The team is now able to use satellites and remote sensing technologies to obtain multi-dimensional geological data without causing damage to the surface environment during the construction of railways in plateau areas. It's a breakthrough in solving the conflict between environmental protection and large-scale exploration projects," Shi said.
When surveying the site of the Medrogungkar station on the railway linking the regional capital of Lhasa and Medrogungkar county, the young team members noticed that three black-necked cranes were searching for food, which means the originally planned site was a part of the natural habitat of the crane, which has been listed as an endangered animal in China. The team immediately decided to adjust the construction plan and suggested building the station in a tunnel to protect wildlife, Shi said.
He added that the team has also developed the latest sets of equipment used in constructing tunnels that run on electricity, significantly cutting carbon emissions and noise pollution.