Dr. Reehana Rifat Raza, Regional Director of the Asia and Pacific Division at the International Fund for Agricultural Development (IFAD) arrived in Beijing on May 3, 2023, and started herweek-long visit to China. This is her first official visit to China since she took up appointment of the APR Director of IFAD in May 2022.
Dr. Raza and her team first visited the Multilateral Cooperation Center for Development Fund(MCDF) located at the headquarters of the Asian Infrastructure Investment Bank (AIIB). She expressed her gratitude to the MCDF Governing Committee for accrediting IFAD as its implementing partner, which will grant IFAD wider access to financing in a number of areas, including preliminary preparation for sovereign financing projects and strengthening the capacity building of recipient countries.
Dr. Raza also expects IFAD to join hands with other international financial organizations and development financial institutions, taking advantage of the platform MCDF provides to carry out high-quality infrastructure and connectivity building projects, so as to connect the "last mile" in rural areas of developing countries.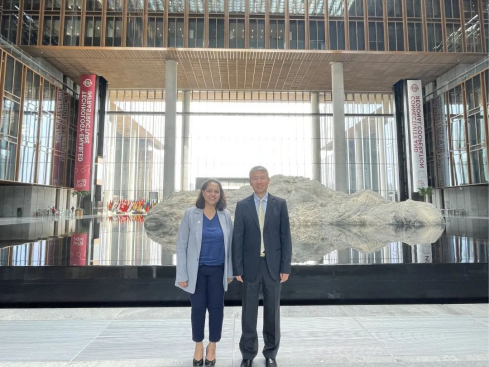 Dr. Reehana Razar, APR Director of IFAD, visits Mr. Wang Zhongjing, CEO of the Multilateral Cooperation Center for Development Finance(MCDF).
In the following four days starting May 4th, Dr. Raza visited Guang'an, a prefecture-level city in Sichuan Province, and Zhenxiong County in Yunnan Province, and Yunnan's capital city Kunming. Through field visits, and discussion with project staff and beneficiaries, she saw first-hand how IFADprojects can assist smallholder farmers to link to the specialized agricultural industries in the two provinces. With her extensive experiences in investing projects in many countries, Dr. Raza wasdeeply impressed by the great achievements China has made in rural development in her first visit. She is confident IFAD will help Sichuan and Yunnan accelerate improving their industrial value chain, building up capacity of farmers' cooperatives and their standardization, further fostering the high-quality development of advantageous characteristic industries in rural areas and their ability to benefit and increase income for smallholders, so that to fully achieve the goal of consolidating poverty alleviation achievements and promoting rural vitalization through industry development.